The Prince of Wales got eye-to-eye with an intense looking bald eagle at Sandringham Flower Show on Wednesday.
Charles held the two-year-old eagle, Zephyr, as he and the Duchess of Cornwall came to the end of their tour of the show at the Queen's Norfolk retreat.
As he held the bird, which weighs more than 10lbs, Zephyr flapped her wings and the Prince was almost clipped by her impressive four-foot span.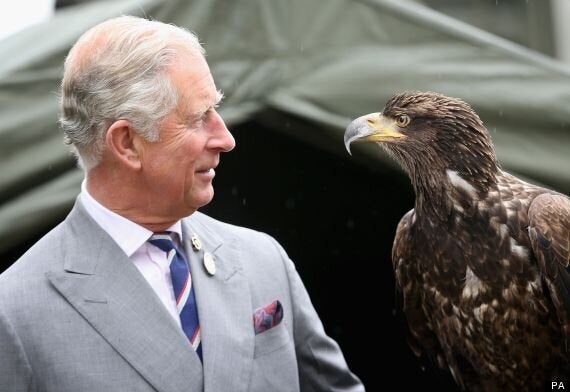 Lisa Falco, from the Imperial Bird of Prey Academy in Billericay, Essex, said: "We are hoping Zephyr will become the official mascot of the Army Air Corps.
"We are awaiting royal approval so hopefully this meeting will help with that."
About 20,000 people attend the annual show and many braved heavy rain to offer their congratulations to the new grandparents.
Ann Whiting, of Castle Rising, Norfolk presented the couple with a crocheted shawl, which she had spent six months making.
Charles was heard saying the Duke and Duchess of Cambridge would be "thrilled" by the present.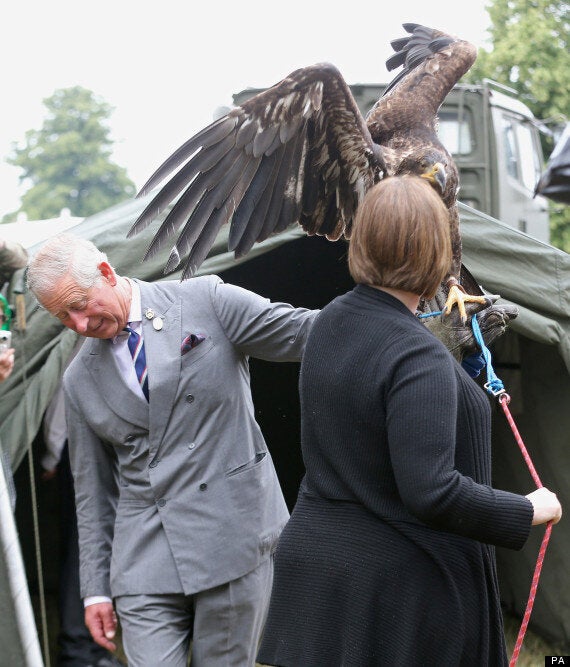 Charles had to avoid showers all day and by the loos of it, perhaps something else
The Sandringham Women's Institute member said: "I started soon after the announcement that she was pregnant was made.
"I wanted to give them something special but which they could also use. He seemed pleased with it and said he would pass it on."
Dame Maggie Smith was among the couple's guests at the show, along with Dame Judi Dench and television food critic Matthew Fort, who also attended a charity concert in the village of Salle on Tuesday night.
She said: "We had a wonderful night last night and are hoping for a wonderful day today but it's a bit damp."
The Duchess was also heard commenting on the weather, remarking how the event normally enjoyed bright sunshine.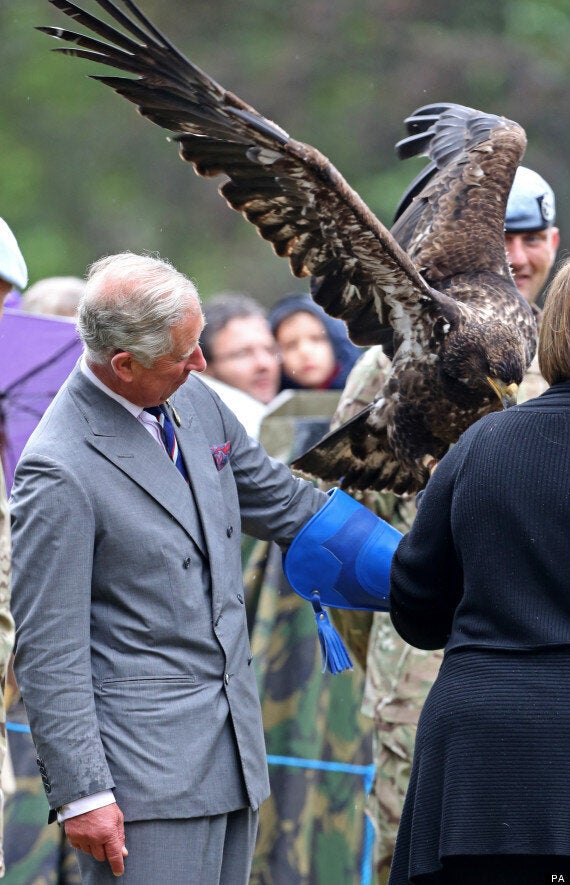 "Yes, it's definitely a girl"
Evelyn Holt, 22 months old, presented Charles with some blue crocus bulbs as he told members of the public that his new grandson, George, was "doing very well".
Her mother, Victoria Holt, from Wymondham, Norfolk, said: "He seemed very interested in Evelyn and gave her lots of attention."
Sheila Clarke, 55, travelled from Glasgow to hand over a teddy bear wearing a bib, which she had embroidered with the name George.
The prince asked her: "Did you place a bet on the sex and name?"
Afterwards, she said: "I told him a bought the bib a little while ago but waited until the birth to embroider the name on it. He seemed very happy with the present."
The Duchess of Cornwall posed for a picture with Jack Russell Scooby.
Scooby's owner, Yvonne Harradine, 66, from Terrington St Clement, Norfolk, said: "She likes Jack Russells and I took a picture of her with Scooby last year but when it came out I realised I had cut her head off.
"It was very kind of her to agree to pose for another picture and I think it worked this time."
The Sandringham Flower Show takes place every year in Sandringham Park against the backdrop of Sandringham House.
The couple, which arrived and left by horse and cart, viewed competition entries including vegetables, fruit, flowers and floral art.
The profits from each show are donated to local charities and since 1977 the show committee has given more than £500,000 to good causes.
The prince took particular interest in a garden to honour the Prince's Trust. It showed an area of wilderness linked by bridge to a more ordered garden to symbolise the part the trust plays in turning young people's lives around.
Popular in the Community