One Direction's Louis Tomlinson is set to become a professional footballer, after signing to Doncaster Rovers.
The singer played for his home team in a charity match earlier this year, and has now signed to the club as a player on a non-contract basis, so he is able to fulfil his 1D commitments.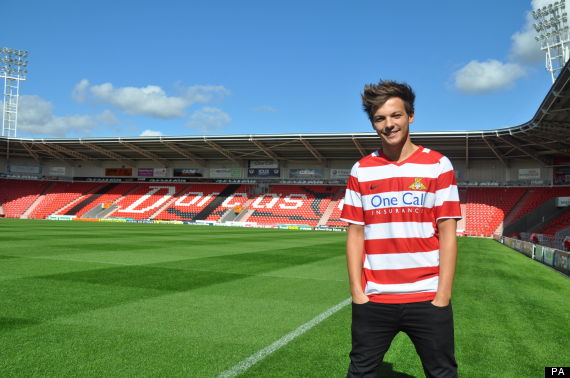 Louis Tomlinson of One Direction
It is hoped that Louis will play at some point in the forthcoming season in aid of Bluebell Wood Children's Hospice, and has been given the number 28 shirt.
Louis - who used to work at the grounds on match days as a teenager - said in a statement: "This has always been a childhood dream for me. I feel very honoured to have been asked to sign for Rovers and being able to help both the club and the amazing charity Bluebell Wood is what it's all about."
Media Manager Steve Uttley added: "Louis and I organised last season's charity game, in aid Bluebell Wood Children's Hospice, which was a big success with over 9000 fans attending.
"It was natural to follow on from that and Louis wanted more involvement to raise the profile of his home town club and Bluebell Wood.
"What started out as light hearted banter on text has moved on to reality, which is a great coup for the club. Our next step is to get Louis on the pitch again in a Rovers kit."

LIKE US ON FACEBOOK | FOLLOW US ON TWITTER