Liverpool have tabled a £21.8 million bid for Atlético Madrid striker Diego Costa.
The 24-year-old Brazilian, who made his international debut this year, has been identified as a forward to either complement or replace wantaway striker Luis Suárez.
Even if Suárez stays at Anfield, he is suspended for Liverpool's first six domestic games of the new campaign, while Daniel Sturridge is still recovering from an ankle ligament problem and has not featured in the Reds' pre-season.
In Costa, Liverpool would be getting a suitable heir to, or partner for, Suárez.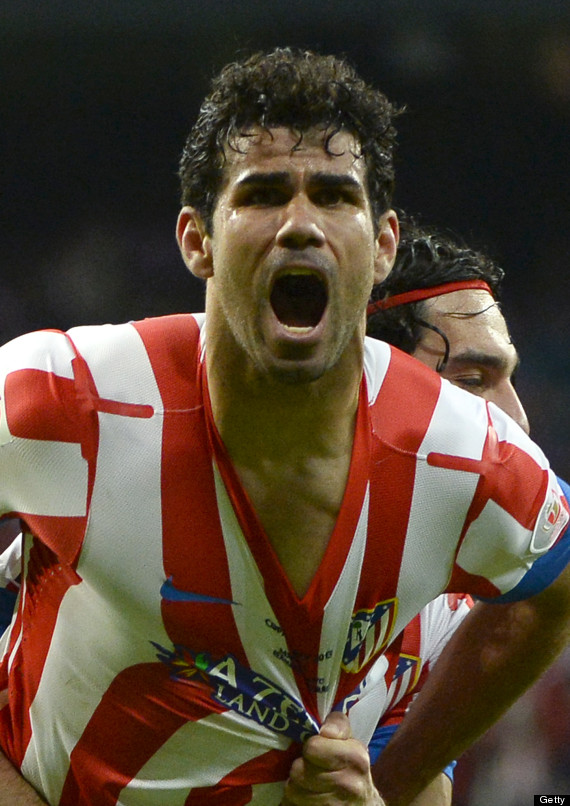 Costa celebrates his Copa del Rey final goal against Real Madrid
Costa is regarded as one of the Primera Liga's "finest wind-up merchants" and Marca once aptly labelled him "Dr Jekyll and Mr Costa".
With the exception of a brief loan spell with Portuguese side Braga, he has spent the past six years in Spain. He re-signed for Atléti in 2010 but was loaned out again, missing out on a 2012 Europa League winners' medal.
However it was Costa who equalised in last year's Copa del Rey final at the Santiago Bernabéu as Atlético survived a tidal wave of Real Madrid pressure to record a first win over their city rivals since 1999. Then they partied as if it was 14 years ago.
Costa hit 20 goals last season (from 44 appearances) as he played second fiddle to the sensational Radamel Falcao, and it is possible he could adopt a similar role under the shadow of recent arrival David Villa, even if the Spaniard is seven years his senior.
The concern, from a Liverpool perspective, is they are overspending again. Their year under Brendan Rodgers' management has been as prudent as Kenny Dalglish's second tenure was extravagant.
The signings of Sturridge and Philippe Coutinho in January are held in such a high regard not just because the duo have excelled but because they were bought for such a reasonable price.
Costa only hit the 20-goal mark for the first time in his career last season. Should Reds fans be looking for omens, all 20 strikes came in victories.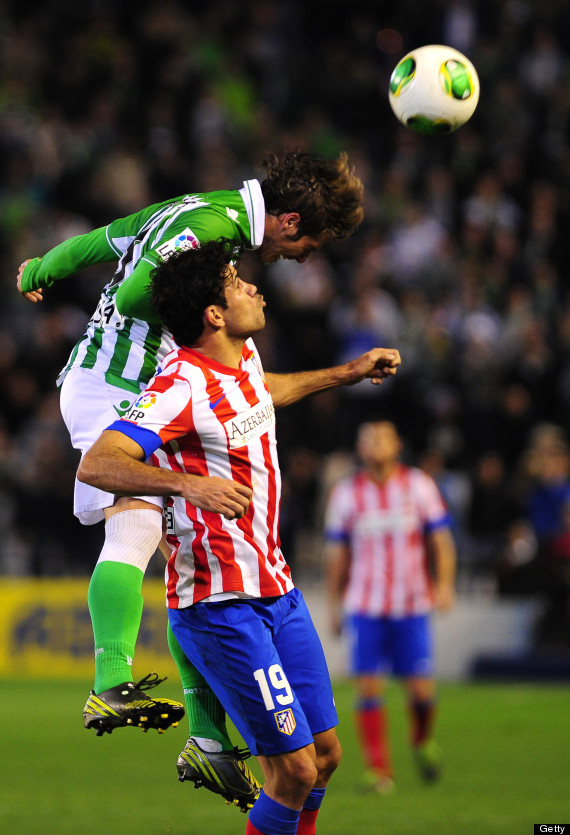 Costa was spat on during a victory at Real Betis
But the price aside, there is also that image. Liverpool's banned language sheet leaked this week highlighted their PR offensive nearly two years on from the disastrous handling of the Suárez race row and, to a lesser extent, the bizarre disaster former director of communications Jen Chang was involved in last year.
At the Vicente Calderón, Costa thrived under the management of Diego Simeone, who is as much of a nuisance on the touchline as he was on the pitch. The same can't be said for Rodgers.