Anti-fracking protesters have clashed with police as drilling began in Balcombe, West Sussex.
Energy company Cuadrilla started exploratory oil drilling in the countryside as the high-profile protest entered a ninth day.
Police have had to throw up a daily security operation around the test site's entrance as dozens of anti-fracking protesters have turned out to halt deliveries.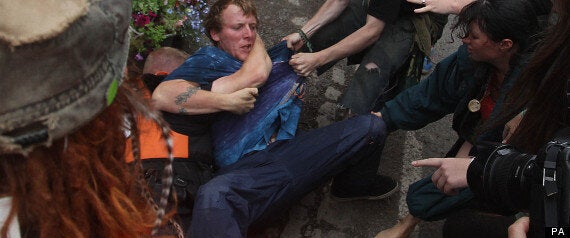 There have been nine days of protests
More than 30 people have been arrested since last Friday, mainly on suspicion of obstructing deliveries, including
Natalie Hynde, 30, the daughter of the Kinks' Ray Davies and the Pretenders' Chrissie Hynde.
Natalie Hynde's boyfriend, veteran eco campaigner Simon "Sitting Bull" Medhurst, 55, was also held after the pair superglued their hands together around the gate for around two hours. Two people were arrested on Friday
The project has been subject to days of delays because of protests designed to halt delivery of trucks and equipment to the plant.
On Friday a Cuadrilla spokesman said: "We started test drilling at 11.15am, and we will do a 3,000ft vertical well. We will be there for two to three months."
Campaigners fear the project could lead Cuadrilla to go on to conduct hydraulic fracturing, or fracking.
The controversial method of fracking involves high pressure liquid being pumped deep underground to split shale rock and release gas supplies.
Opponents have highlighted concerns about potential water contamination and environmental damage, as well as small-scale earthquakes. Critics claim fracking could contaminate water
The sensitivity of the subject was highlighted after former Government energy adviser Lord Howell issued an apology for suggesting fracking could be used in "desolate" north east England without any impact on the surrounding environment.
Lord Howell went on to provoke further criticism when he tried to clarify his comments by suggesting he actually meant "unloved" areas of the country such as Lancashire.
His attempt at clearing up the controversy prompted Deputy Prime Minister Nick Clegg to urge Lord Howell to be quiet.
Clegg also suggested on his regular LBC radio phone-in that the Conservatives were getting "over-excited" about the controversial extraction technique's potential benefits.
Reacting to the start of drilling, Vanessa Vine, of Frack Free Sussex, said: "I'm absolutely livid and incredulous. This is a violation of our geology that could threaten our water, fresh air and our children.
"I cannot comprehend why the people in Government who are supposedly responsible for protecting the people have not only allowed this, but forced this through.
"There is a political mania around this. I have no faith in our governmental process, and I feel like Balcombe is sacrificial.
"This is going to spark the biggest environmental movement we have seen."
Sussex Police said two people - a 19-year-old woman and a man - were arrested at the site today, both on suspicion of assaulting police.
Related