When a magazine published the millionth story claiming Jennifer Aniston is pregnant earlier this week, we admit we rolled our eyes. However, our suspicions were raised somewhat when she made an appearance on the red carpet clutching her tummy on Thursday night.
The former 'Friends' star - who has been at the centre of pregnancy rumours for longer than we can remember - was attending the world premiere of her new film 'We're The Millers' in New York, with her tight dress appearing to show a swollen stomach.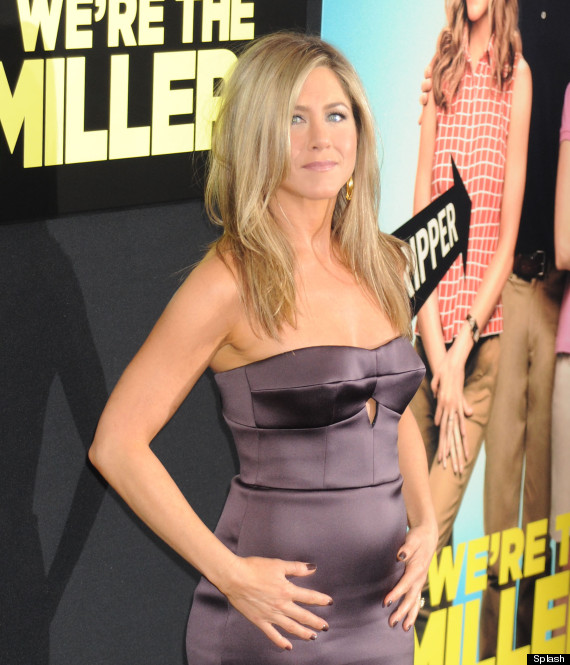 Pregnant, or pasta belly? Jennifer Aniston
Now, we don't know if Jen just had a particularly carb-laden lunch, or whether she really is with child, but InTouch magazine recently claimed she has begun IVF treatment with fiancé Justin Theroux.
Jennifer was sporting a slightly swollen stomach at the premiere
A source on the set of film 'Squirrels and Nuts', which she is currently shooting, told the mag: "She definitely seemed to have gained some weight.
"She knows the clock is ticking - she's well aware of it. She's also done her homework. She's explored all methods for having a baby and knows what her options are with IVF. She's educated herself," they added.
Indeed, the figure Jen showed off on the red carpet on Thursday is markedly different to how she appears in 'We're The Millers', where the very-trim star plays a stripper.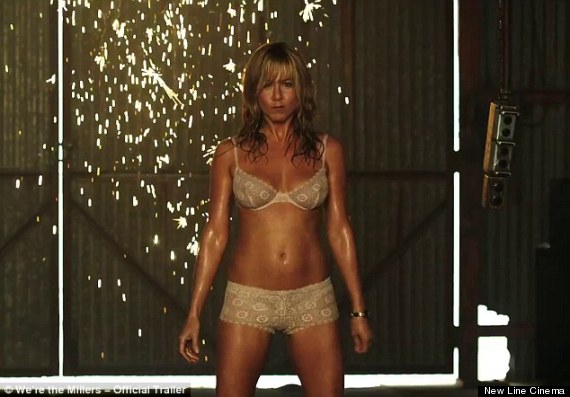 Jen in 'We're The Millers'
However, given the number of false reports over the years (as you can see in our gallery below), we're not believing anything until we hear the happy news from the horse's mouth...

LIKE US ON FACEBOOK | FOLLOW US ON TWITTER