Jan Ullrich believes Lance Armstrong should still be regarded as a seven-time Tour de France champion and that the results should not have been removed from the record books.
The American was stripped of his record seven yellow jerseys following an investigation by the United States Anti-doping Agency and has subsequently admitted to doping throughout the run of success, from 1999 to 2005, when Ullrich was one of his closest rivals.
Armstrong's revelation was the highest profile of a series of disclosures as the true scale of performance-enhancing drug use during the 1990s and early 2000s has become apparent.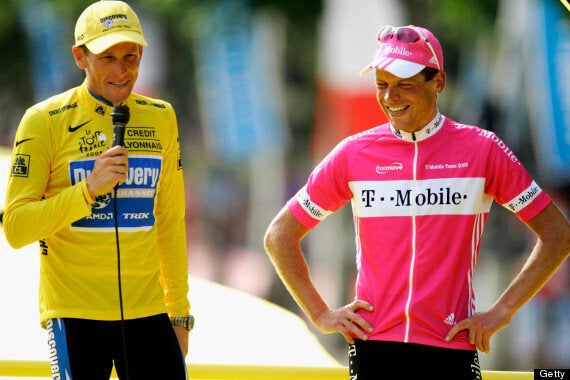 Armstrong and Ullrich on the podium after the 2005 Tour
Ullrich does not think Armstrong should be denied his titles, which were expunged from record books rather than redistributed.
The German, who finished second to Armstrong three times, told Bild: "If it were up to me, I'd give Armstrong back his victories in the Tour."
Ullrich pointed to precedent which saw Bjarne Riis restored to the roll of honour for his 1996 win, 12 months after the Dane's doping confession.
Ullrich, who was runner-up to Riis and won the 1997 Tour, added: "Bjarne Riis was given back his victory from 1996. That's how things were at the time.
"It's not helping anyone to have lines struck through the roll of honour."
Ullrich finally confessed to being a client of disgraced Spanish doctor Eufemiano Fuentes in June.
He insisted he does not wish to benefit from Armstrong's fall.
He added: "I'm not claiming any of those (Armstrong) wins.
"I just want the victories that I obtained on the bike. I don't want to win anything by default."