A new exhibition in Edinburgh is demonstrating the remarkable accuracy of 500-year-old anatomical drawings by the Renaissance genius, Leonardo da Vinci.
The Queens Gallery Palace of Holyroodhouse will display the incredible sketches of the internal human body alongside modern MRI and CT scans.
Leonardo da Vinci: The Mechanics of Man' shows how he "foreshadowed the work of today's leading anatomists to an astonishing degree".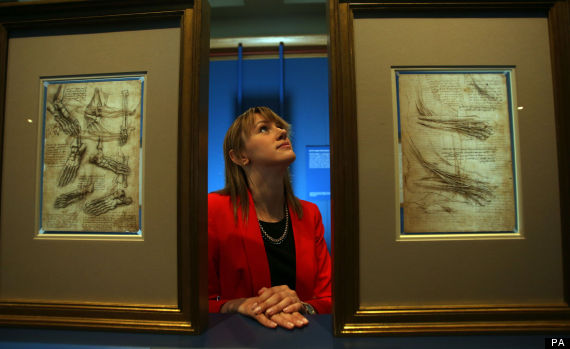 Staff member Sophie Lawrenson looks at some of the works on display
As well as his more famous works such as the priceless Mona Lisa, da Vinci also produced over 240 anatomical drawings accompanied by over 13,000 words of observations.
In order to do this he was given permission by Hospital of Santa Maria Nuova in Florence to dissect more than 30 corpses in the winter of 1511. This drawing of a foetus is displayed alongside a 3D ultrasound scan
A sketch of a foetus in the womb was actually based on the more ethical option of dissecting a cow yet is still anatomically correct.
The rather gruesome project produced sketches far ahead of their time and, as the new exhibition shows, incredibly accurate.
In fact they are still used by to teach medical students today.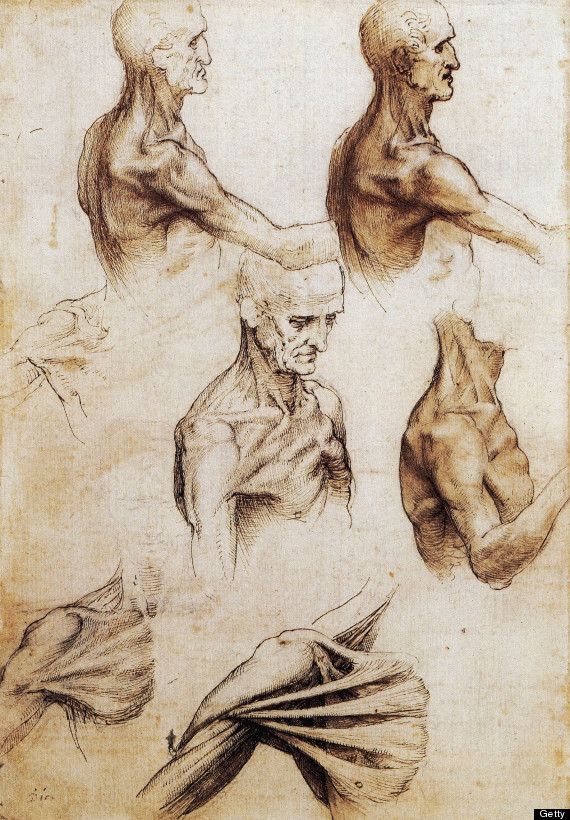 One of the corpses dissected by da Vinci was a 100-year-old man
Professor Peter Abrahams, a clinical anatomist at the Warwick Medical School, said: "In many ways Leonardo predicted the 20th-century revolution in various medical imaging techniques.
"His use of cross sections and slices to show deep internal structures within the body foreshadowed the modern techniques of CT and MRI scanning.
"The anatomical accuracy of Leonardo's drawings has rarely ever been surpassed, and I still use them to teach surgeons and medical students today."
Other drawings focus on the skeleton, muscles, and even blood vessels.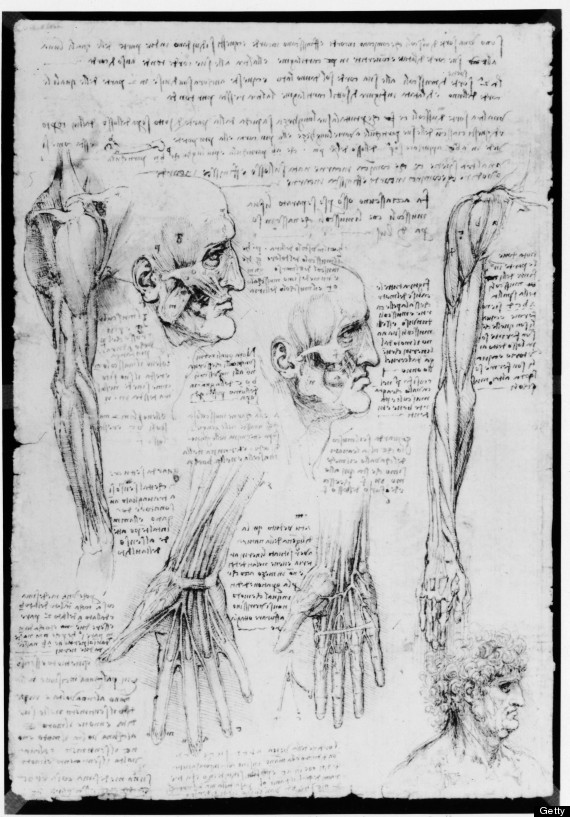 All of Leonardo's surviving anatomical studies arrived in England in the 17th century, bound into a single album as part of a group of almost 600 drawings by the artist.
The album was probably acquired later that century by Charles II and has been in the Royal Collection since at least 1690.
The drawings were removed from the album for conservation reasons, but visitors can see the original 16th-century binding in the exhibition.
The exhibition Leonardo da Vinci: The Mechanics of Man is at The Queen's Gallery, Palace of Holyroodhouse, 2 August – 10 November 2013, and is part of the Edinburgh International Festival. The exhibition will be open late throughout August, until 20:00 on Wednesdays, Fridays and Saturdays.