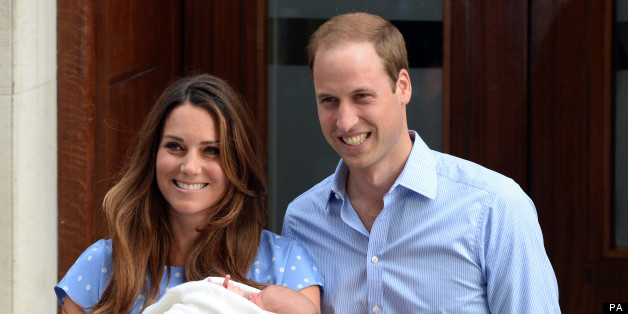 PA
At first glance it's a normal registration of birth certificate - nothing strange going on there. But closer inspection reveals something far more interesting.
The young man named on this form is Prince George - the newest edition to the Royal family and future King of the United Kingdom.
The standard issue white A4 sheet has been signed by his father, Prince William who scribbled the word 'William' at the bottom. Simply William: The Prince signed the registration form
A brief statement from the palace said: "The Duke and Duchess of Cambridge have formally registered the birth of Prince George.
"The Duke of Cambridge signed the birth register at Kensington Palace this morning, witnessed by a Registrar from Westminster Register Office."
The register entry from which the birth certificate is produced was filled in by the registrar. It gives the date and place of Prince George's birth and his full name as His Royal Highness Prince George Alexander Louis of Cambridge.
William's full name, His Royal Highness Prince William Arthur Philip Louis Duke of Cambridge, is also given, along with his place of birth in Paddington, Westminster - he was born at the same hospital. His occupation is listed as Prince of the United Kingdom.
His wife's full name is given as Catherine Elizabeth Her Royal Highness, The Duchess of Cambridge, with her occupation described as Princess of the United Kingdom.
Her place of birth is listed as Reading, and her maiden name of Middleton is also included on the document.
The couple's "usual address" is given as Kensington Palace, London.