There's a lot to love about Becca and Elly's Soul Food Girl's Supperclub in Tottenham, London.
There's the name (doesn't it just sound like somewhere you'd get fed well?) and dishes such as Jamaican popcorn and crab with chilli and coriander are already leading us by the nose to the next event in August.
But most of all, it has to be that outside of their day jobs, the girls are truly following their passion - cooking wonderful meals together and creating a little food community in the heart of Tottenham. Helping them are Becca's husband who is half-Jamaican, half-Zimbabwean, and Elly's boyfriend.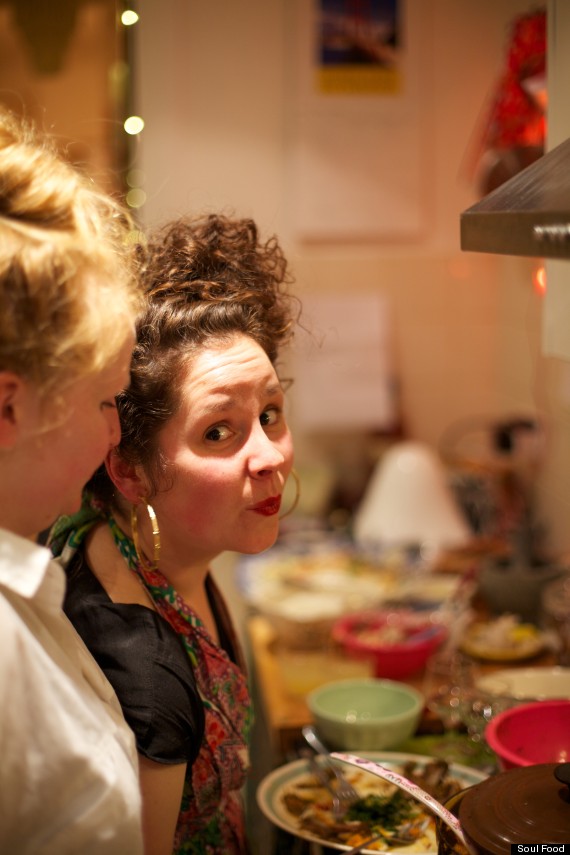 The food is a mix of African, Caribbean and European (watch this space for the review), and they serve 12 in the living room of their house. We caught up with the two to find out how the pursuit of their passion informs their everyday lives, and how exactly they've pulled it off. (We're sizing up our living room as we speak...)
What gave you the idea?
Food is our passion anyway – we'd spend all of Saturday cooking for ourselves and for our friends and would spend loads of money on food and making up events. So in a way, it's been a natural progression for us. We just thought "what the hell, let's go for it", half expecting all of our friends to turn up and to not end up selling any tickets. As it turned out we sold all of them.
What kind of food do you like making at home?
Our cooking has a loose theme – a lot of Caribbean features. We did Chinese last weekend, and then sushi; we prefer lots of strong flavours. But we had to think - well, we know what we like to cook for ourselves, but what would customers like to eat?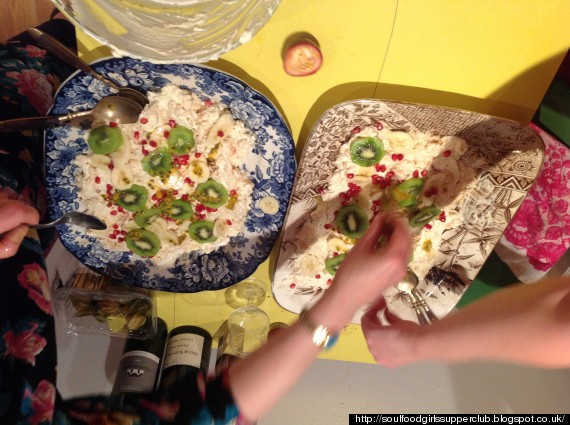 Do you have to get a special license?
There is the food standards agency – there's a funny rule where if you only serve food to people once a month, you don't need to have a proper license. Technically people pay a 'donation'. We have public liability insurance to cover us and any other problems. Because we sell through a ticket website the money is secure, and people can get their money back if they want to cancel after a time limit. If the event didn't take place - like if we had to cancel for whatever reason, people can get their money back.
How do you decide what to serve?
There is a LOT of discussion around the menu. Every waking hour we're thinking of menu ideas. We carry around a notebook, and we always take notes if we're out somewhere. We wanted a summery menu for the last event so the theme was fruits but we had to be careful it wasn't overloaded, and you vary it enough. We had seafood and meat as starters and mains, and we have a big rich pudding.
What's the prep like?
It's different for every event. For one we did infused rum so we started two weeks in advance. The event is on Saturday so we do the main shop on Friday morning and go get the meat and vegetables. But if we're doing a pineapple dish, you have to buy it on Thursday so it would be ripe on Saturday. Once we served cured salmon so that had to be done earlier in the week.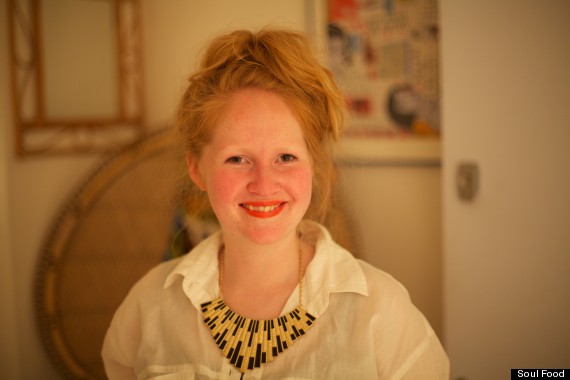 Because we usually do goat curry for the main, we marinate that on Friday. Chicken wings we do the night before and then if we do seafood, we have a good local fishmonger we can visit.
We do sometimes go to Billingsgate at 4am to get oysters and anything else and we do sourdough bread that takes 20 hours so we put that on for Friday afternoon. We have a list on the Saturday for what needs to be done, and at what time. On the day, we get up and start preparing at 6am.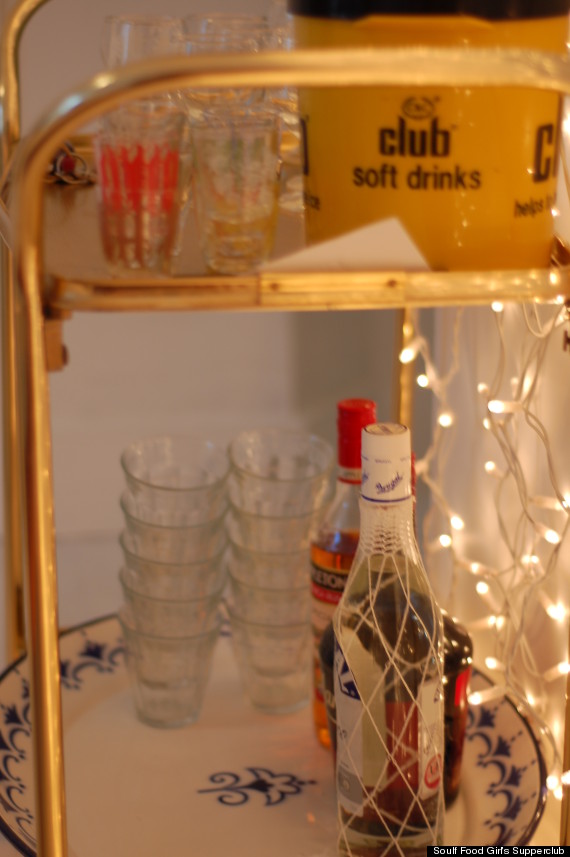 What do you do in your day jobs?
Becca: I work for a Burgundy importer now. We can't serve alcohol but I can recommend two wines a month that can go with it, and we let people know in advance on the site. Spicy food and wine doesn't normally go together. So a Chardonnay is good as you don't want something with high acidity in it. Maybe an Albarino - you want some thing light and zesty that cools you. You don't want something too high in tannins. You almost want the food to do the talking.
Elly: I'm working as the manager for a restaurant.
How did you kit your dining room out?
We bought crockery from car boot sales, and we bought folding tables from Ebay. We cobbled a lot of stuff together, so for instance, we have a bench that turns into seating for two tables.
Why only 12 people?
It was important that there was enough space. We didn't want people to be crammed - we wanted them to feel comfortable.
How are you learning from it in terms of getting better at it?
We've done four events now. The third was the best in terms of things running like clockwork. One of the starters will be a soup or oysters can be shucked before . The mains all are ready before guests arrive. The boys get plates, and then four of us are dishing up. The actual service is frantic and stressful, but after the main we have a glass of wine. Then we know its gone alright.
We're also learning about how to engage with the customers. One woman said 'you didn't come and chat to us' but we didn't want to butt in. But now we have more confidence, we do a speech at the beginning and then we go in at the end, after coffee. Some people stay till three in the morning and it's a bit knackering, but they are here to see us as well as have a good meal, so we don't mind putting in the time.
To find out more about Elly and Becca's Soul Food Girl's Supper Club, visit the website.