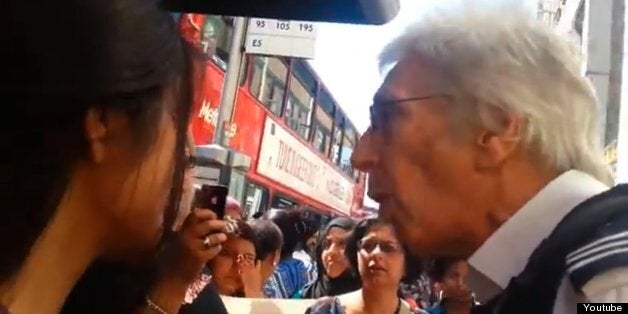 One of the women behind last week's spontaneous protest against immigration enforcers has accused the government of "turning the clock back to the 1970s".
Meena Patel is the operations manager of the Southall Black Sisters, who created a Youtube hit when they accosted two UK Border Agency officials in West London last week.
"They may deny it, but that's what it looks like," she told The Huffington Post UK.
CLICK HERE FOR FOOTAGE OF THE PROTEST
"Look at the targets - East London, Slough, Brent - these are where minority communities are. It's frightening people."
The Home Office has faced accusations of 'racial profiling' after spot checks last week, and the way it trumpeted the operation by tweeting with the hashtag #immigrationoffenders although those arrested had not been proved to be here illegally.
The government's immigration minister defended the tactics, saying people were targeted based on their 'behaviour' rather than their race.
But Patel hit out at the the "racist and discriminatory policies," criticising spending cuts and moves to make migrants learn English.
"People were reporting that people were being stopped on the pretext of checking travel tickets. It's like something
from Nazi Germany," she said.
"It's undermining people's right to live here."
Saying the climate had "echoes" of the 1970s, she said: "We're back on the streets, it looks like it. They were the days when we were fighting the state and its racist policies, people were on the streets, shoulder to shoulder - and it looks like we are back there."
On last week's protest, she said: "We saw the UKBA van near our offices, so we decided we would go out there and raise our voices and tell the public what they were up to.
"We scuppered their operation and they ended up barricaded in a shopping centre."
The women had been given support from passers-by and shop owners, she claimed.
"There will be further [protests], I am pretty much sure they are expecting it. "
Related