If 'Broadchurch' offered us a contemporary variation on Who Dunnit?, and 'The Fall' gave us the horrors of 'Watch Him Do It', 'Southcliffe' promises to slowly explore 'Why He Dunnit', as an ordinary town becomes the tragic scene of a haunting massacre.
'Southcliffe' has much in common with the much-lauded 'Broadchurch' - a seemingly normal coastal community, one that you or I could drive through any day of the week, stopping to admire the picturesque dunes, and failing to spot the hidden hopes, fears and brooding resentments of many a resident.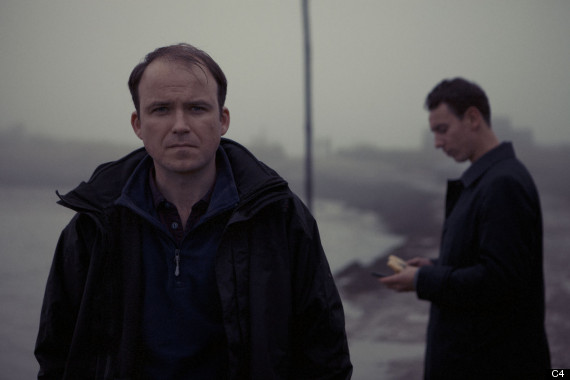 Rory Kinnear plays David Whitehead, a reporter traumatised by his return to Southcliffe
Most marked of these in Episode 1 were those of squaddie Chris Cooper (Joe Dempsie), freshly returned from Afghanistan, cuddling and snapping at his wife by turn, and grieving for a comrade. His only outlet was in a spot of 'special training' with a military-obsessed loner they called The Commander - a tour de force of still despair by actor Sean Harris, as a man pitied, scorned and ultimately feared as his demons slowly but horrifically unravelled.
And so, we saw how a soured friendship ignited a tragedy that would soon engulf this small town, and call on the services of journalist David Whitehead (Rory Kinnear).
Hiding from his wife, drinking late in bars, Whitehead looked like he's got enough troubles already, and that's before he was called back to the place of his own childhood traumas. With all these demons brewing, four episodes probably aren't going to be enough.