Rory Kinnear, who stars in drama 'Southcliffe', currently disturbing and chilling its viewers on Channel 4, tells HuffPostUK that, despite the weighty storyline of a small town ravaged by a random massacre, filming itself was surprisingly upbeat.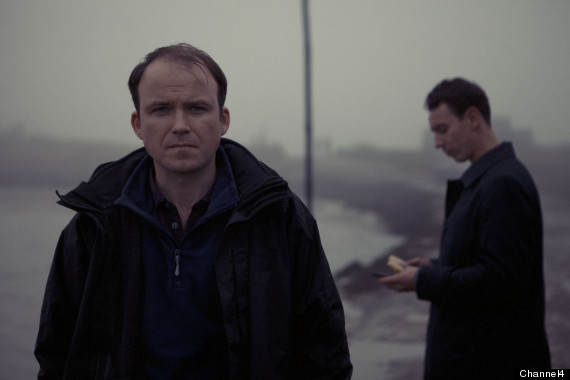 Rory Kinnear stars as weary journalist David Whitehead in 'Southcliffe'
"Actors are happiest when they're working, so there was a good ambience from the beginning, and when it goes well, they stay happier," reports Kinnear of the atmosphere on location in Faversham, Kent.
"We each have a different way of engaging with the material, but it went well, scene by scene, and we all knew from early on, this was different and special, and we trusted everyone involved."
'Southcliffe' isn't the first TV drama this year to delve into the bleak subject matter of a community brought to its knees. Following the huge success of 'Broadchurch' and now this, even darker, tale, why are we so drawn to such shows?
"It's the opposite of 'Midsomer Murders' but you have the same, small kernel of a small community," muses Kinnear.
"We're with the victims most of the way, but this shows how, just because you're a victim of crime, it doesn't mean you're sympathetic.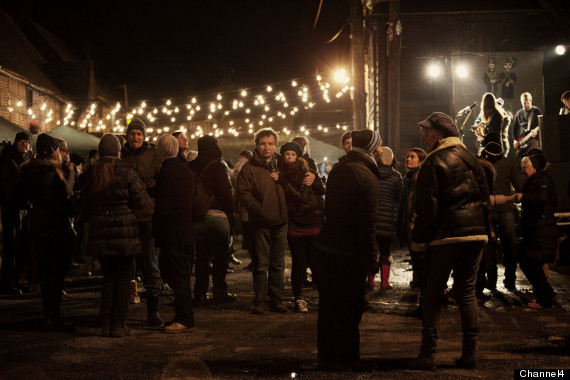 Southcliffe's residents are devastated by the random actions of a demonised resident
"And just being a perpetrator doesn't make you a villain," he adds, something brought convincingly to the screen as demonised shooter Stephen Norton by actor Sean Harris.
"These small communities are maybe easier to unpeel than large cities, but they're all trying to find the same truth of how we affect one another, and how people can fall between the cracks."
Kinnear himself plays journalist David Whitehead, drawn by work back to the town of his own childhood traumas.
"The fourth part is about David's return a year after the shootings. We had to work out how much to reveal over the course of the four parts, what drove him to leave, and why his attitude to the town is so complicated."
REVIEW: 'Southcliffe' Episode 2 - The Thin Line Between Normality And Tragedy
Kinnear is a busy man. After starring in 'Broken' and 'Loving Miss Hatto' earlier this year, he's been filming alongside Olivia Colman in Nick Frost's 'Cuban Fury', as well as dodging queries about exactly what Sam Mendes has planned for the next Bond film.
Kinnear, who played Bill Tanner in the last two 007 outings, claims not to know anything, even that Messrs Mendes and Craig had both signed up again, which is safely public knowledge.
"Scripts get written, and rewritten, so you never know, but should the phone ring… "
Despite his current wave of high-profile projects, Kinnear is adamant it's not anything like as glamorous being an actor as people would believe.
"Cuban Fury wasn't exactly Cuba, we were shooting in Perivale and Greenford. And, even for Skyfall, a few of us got to film in London Bridge, while everyone else was jetting off to Turkey."
'Southcliffe' continues on Sunday on Channel 4 at 9pm.