A surge in house prices and car sales and even signs of a turnaround in Britain's beleaguered manufacturing sector have added to hopes that a sustained economic recovery is under way. The raft of positive data on Tuesday has fuelled hopes that the UK can build on two successive quarters of growth and finally climb away from its prolonged slump - with gross domestic product (GDP) still 3.3% below its pre-recession peak.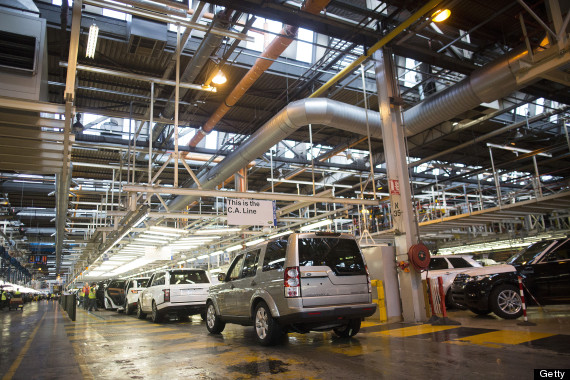 Ranger Rover cars sit on the assembly line at the Jaguar Land Rover Plc plant in Solihull
Retailers cashed in on the feel-good factor provided by sunshine and the royal baby as well as cricket and tennis triumphs as they recorded their best July sales performance - a 2.2% year-on-year rise - since the heat wave of 2006. Meanwhile house prices increased at their fastest pace in almost three years as market activity intensified, according to Halifax.
The 4.6% annual increase was the strongest uplift since August 2010 as greater consumer confidence boosted demand. The housing market has been boosted by the flagship Funding for Lending scheme, which incentivises banks and building societies providing home loans, as well as the Help to Buy programme designed to assist those struggling to find a deposit.
Rising demand has also helped the struggling construction industry but there are fears that the Government initiatives could fuel an unsustainable bubble. Overall growth so far this year has largely been built on the powerhouse services sector which represents three quarters of the economy.
But official figures on Tuesday showed a welcome return to positive territory for manufacturing, which saw output in June increase by 1.9% compared with the previous month - coming after two successive falls in April and May. The rise was especially welcome as it could signal the broadening of the recovery amid concerns it is too reliant on a consumer spending splurge that it is feared may not last.
However, recent figures showed manufacturing was still 10.2% off 2008 levels. Car sales, another key indicator of the nation's health, have also been racing ahead. A total of 162,228 new cars were registered in July, a 12.7% rise on last year's figure, according to the Society of Motor Manufacturers and Traders.
It has now revised up its year-end figure for 2013 to a total of just under 2.22 million, which would be 8% up on the 2012 figure and the best annual number since 2007. The positive figures come on the back of a hat-trick of improvements in the three main sectors of the economy according to monthly survey figures on manufacturing, construction and services - the latter reaching levels not seen since 2006.
The new optimism over the economy comes just a few months after fears that Britain could be about to enter a triple-dip recession with a possible GDP fall in the first quarter. In the event, the economy grew by 0.3% and went on to improve by 0.6% in the second quarter though whether this can be sustained is doubted by some economists - with real wages still falling amid inflation of 2.9%.
Howard Archer of IHS Global Insight said the latest figures suggested the UK was well-placed to post higher growth in the third quarter. Vicky Redwood of Capital Economics said: "On the face of it, services are pointing to a strong GDP growth for July at least. Although other data have generally been positive, I wouldn't say they are pointing to an economic boom."
Consumer spending appeared to have been financed by households eating into their savings rather than income growth, which did not appear sustainable, she added. TUC general secretary Frances O'Grady said any gains appeared to be concentrated in London and the South East.
She said: "Any economic upturn is welcome after years of stagnation but this doesn't feel like a boom to most ordinary people. Unemployment is still over 2.5 million, including nearly a million young people needing a job, and workers are suffering the longest squeeze in wages in over a century."