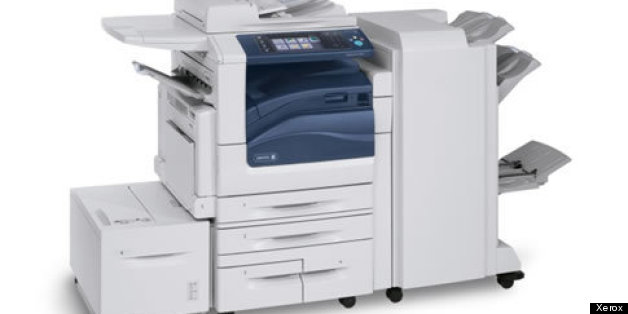 Xerox
CORRECTION: Xerox has clarified on its website that the issue does not affect photocopiers, as originally reported, but only scanners. It adds that users would have to change two settings - compression and image quality - to replicate the issue. A software patch is forthcoming to fix the problem, the BBC reported.
Malfunctioning scanners may be changing numbers on reproduced documents, according to a researcher in Germany.
While you might expect a scanner to copy exactly what's on the page, glitches in some models by Xerox are apparently proving troublesome.
German computer scientist David Kriesel found that copies of construction plans came out with different room dimensions when passed through a Xerox machine:
"Patches of the pixel data are randomly replaced in a very subtle and dangerous way: The scanned images look correct at first glance, even though numbers may actually be incorrect.

Without a fuss, this may cause scenarios like incorrect invoices, construction plans with incorrect numbers... incorrect metering of medicine."
In one test the number six was turned into an eight, apparently at random. Other numbers were also affected. The BBC notes that in one plan, a room which was 21.11m in the original was changed to 14.13m in the copy.
It is thought the issue is caused by complex compression software in the machines, not found in older shoot-and-copy models.
The Jbig2 compression standard is used to make the file sizes of processed documents smaller.
When functioning normally, the software replaces figures with smaller versions so that it can reduce the size without losing quality. But it now appears as if some documents are being swapped incorrectly.
The fault was demonstrated on the Xerox Workcentre 7535 and 7556. Other reports have since emerged of other machines with problems.
However Xerox responded that the problem is both easily fixed and based on technology which is widely used in other brands' machines.
Xerox said in a blog posted on its website:
"The problem stems from a combination of compression level and resolution setting. The devices mentioned are shipped from the factory with a compression level and resolution that produces scanned files which are optimized for viewing or printing while maintaining a reasonable file size. We do not normally see a character substitution issue with the factory default settings however, the defect may be seen at lower quality and resolution settings.

The Xerox design utilizes the recognized industry standard JBIG2 compressor which creates extremely small file sizes with good image quality, but with inherent tradeoffs under low resolution and quality settings.

For data integrity purposes, we recommend the use of the factory defaults with a quality level set to "higher." In cases where lower quality/higher compression is desired for smaller file sizes, we provide the following message to our customers next to the quality settings within the device web user interface: "The normal quality option produces small file sizes by using advanced compression techniques. Image quality is generally acceptable, however, text quality degradation and character substitution errors may occur with some originals.""