The traumatised family of a toddler who was severely injured in a Rottweiler attack have agreed to have their pet destroyed.
The two-year-old, from Thorogate, Rotherham, remains in hospital with relatives by her side as she recovers from her bite injuries.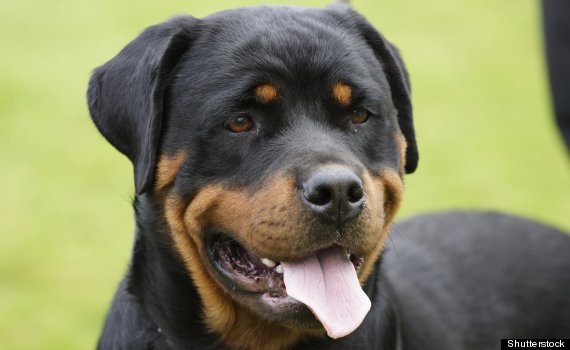 Attack came on the same day as new laws were proposed
They included a split earlobe and leg wounds which needed stitching.
A South Yorkshire Police spokeswoman said: "The whole family has been devastated by yesterday's incident.
"The family remain at the little girl's bedside in hospital today as she is treated for the injuries she suffered. These include a split earlobe, and a number of wounds that required stitches mainly on one leg.
"Yesterday's events have proved hugely traumatic for the family, who ask that the media recognise their primary need is to spend time with the little girl, as they come to terms with what has happened.
"The family has agreed that the Rottweiler shall be destroyed."
It was believed the dog had been on a lead when the attack happened and the little girl was with a woman, not alone.
The toddler was first treated at Rotherham District General Hospital and she was later transferred to Sheffield Children's Hospital.
The attack came on the day the Government announced proposals for life jail terms for owners of killer canines.
It began a consultation following pressure from a number of families campaigning for tougher sentences after a relative was killed by dogs.
Michael Anderson's step-daughter Jade Lomas-Anderson was savaged by four dogs - believed to be two bull mastiffs and two Staffordshire bull terriers - as she was visiting the home of a friend near Wigan, Greater Manchester, in March.
No prosecutions were brought against the owner of the dogs that killed the 14-year-old, as the incident occurred on private property and they were not illegal breeds.
Mr Anderson, 34, welcomed the plans but said more needed to be done to prevent attacks.
"We are still going to be campaigning," he said.
"It's about early prevention, it's about stopping it happening in the first place.
"It's a bigger problem than most people think it is. Nearly a quarter of a million dog attacks last year alone, 6,500 hospitalised, there's a bigger picture."
For owners whose dogs kill their victims, life imprisonment is an option, while 10 years is the maximum term suggested for injuring a person or killing an assistance dog, like a guide dog for the blind.
The new consultation will run to September 1 and will be used to inform recommendations put forward in the Anti-Social Behaviour, Crime and Policing Bill.
Some 16 people have been killed by dangerous dogs since 2005, including Jade.