A water company has apologised after a burst main left residents waking up to "biblical" scenes.
Thames Water said "substantial flooding" had been caused to the road and 36 houses in Herne Hill, south London.
The fire brigade said the water level was 'receding rapidly'.
Residents had woken to severe flooding, leaving the main shopping street covered in water up to a metre deep in places.
London Fire Brigade warned people living in Half Moon Lane, to stay in their homes until the water clears following the mains burst affecting more than 100 metres of road, which left cars and vans half submerged.
One local resident, Fran Graham, tweeted: "Woke up to biblical scenes today, water level is dropping so hopefully I can get out of my flat soon."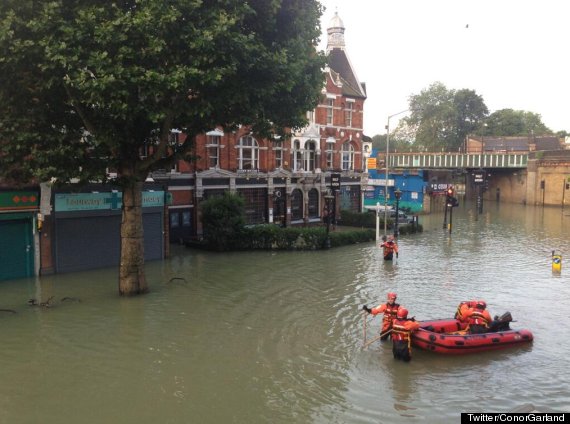 The main shopping strip has been flooded
Crews have used special boats to get around the flooded area.
The service said the large water main had been switched off and the water was slowly receding.
A spokesman said: "Our crews are well equipped to deal with floods, and we have lots of specialist skills and equipment used at the scenes of incidents like this one.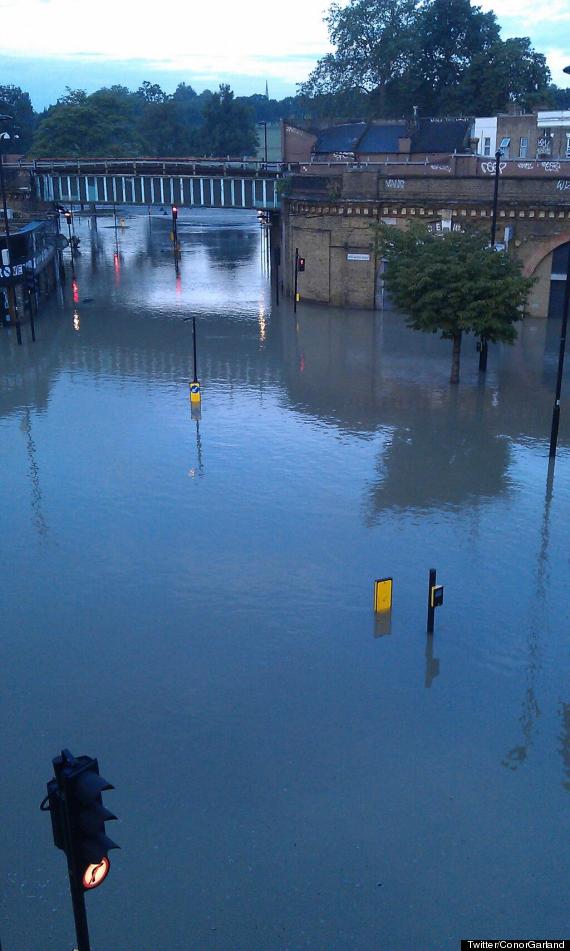 Specialist boats have been used to get to the area
"The most important thing for us is making sure that people are safe, so people who live in the affected street are being advised to stay in their homes until the water is cleared.
"Then we will be helping to clear water out of basements, homes and local businesses."
Craig Rance, a spokesman for Thames Water, said: "A 3ft-wide water pipe burst in Herne Hill at the junction of Half Moon Lane at around 5am today.
"This has caused substantial flooding to the road and 36 properties in the area. We're really sorry to affected customers and we are working hard to put things right as quickly as possible. Our main priority is to get people's lives and businesses back to normal.
"Our loss adjusters are en route and will soon be talking to people to get the insurance process under way.
"Customers should all still have water running through their taps as we have managed to re-route our network."
ends
London Fire Brigade tweeted later: "Crews are still at the scene of the Herne Hill flood. We're advising people to stay indoors until the electricity supply outside is isolated."
The brigade added later on Twitter that the water was receding "rapidly" and a high volume pump was at the scene to pump out basements.