Despite being touted as the future of travel, one of the reasons electric vehicles have failed to ignite the public's imagination is they can run out of juice miles from anywhere to recharge them.
Now scientists in Korea may have overcome this hurdle by successfully testing buses which run on roads that are effectively giant, wireless power sources.
Electric cabling just under the surface transfers power magnetically to the coach - in the same way the new generation of wire-less phone chargers work.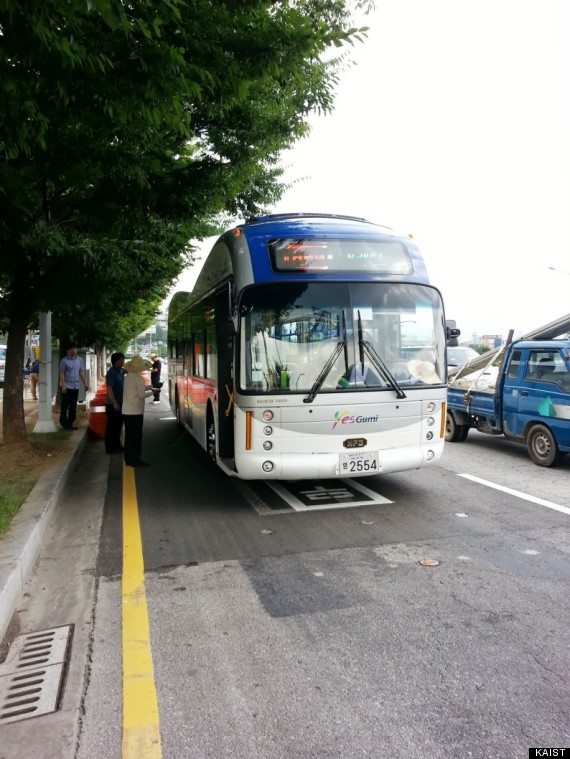 The technology marks an exciting advance in ecological transportation
Power is transferred using "shaped magnetic field in resonance" and works whether the bus is stationary or moving.
Because the Online Electric Vehicle (OLEV) as it's called is constantly being powered, it requires a much smaller battery that traditional electric vehicles thereby reducing weight and improving efficiency.
There are currently two buses in operation but the city hopes to introduce 10 more in the next couple of years.
The technology was developed by the KAIST Graduate School for Green Transportation and could easily be rolled wider - only five to 15 per cent of the roads needs to be modified keeping roadworks to a minimum.
Dong-Ho Cho, a professor who worked on the project, said: "It's quite remarkable that we succeeded with the OLEV project so that buses are offering public transportation services to passengers.
"This is certainly a turning point for OLEV to become more commercialised and widely accepted for mass transportation in our daily living."