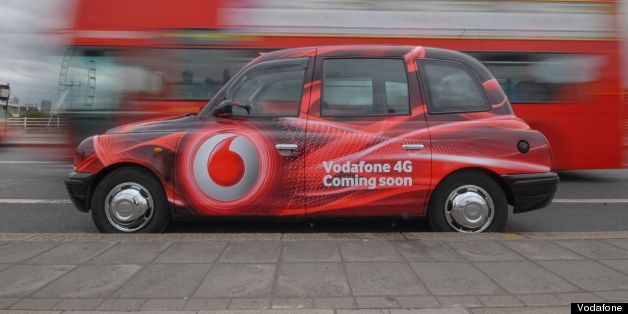 Vodafone
Vodafone is set to go head to head with O2 when it launches high-speed broadband on the same day as its telecoms rival.
The mobile giant will offer 4G to its customers in London on August 29 and plans to extend the service to another 12 cities by the end of the year.
It announced the move after O2 confirmed its own roll-out last week and revealed plans to allow users super-fast music and film downloads. The network will switch on its fourth-generation mobile internet in London, Leeds and Bradford.
The Vodafone "Red 4G-ready" package will offer customers access to either the music streaming service Spotify or Sky Sports. It also promises unlimited UK data for the first three months.
Guy Laurence, chief executive of Vodafone UK, said:
"With 4G, speed is just the start: it's what you do with it that really matters. We are taking 4G into a new league by offering sport and changing the tune with all the music you could want. 4G is finally worth getting and there's plenty to look forward to."
Vodafone's 4G service will equip users with broadband that is around six times faster than standard 3G, the company said.
It will arrive in Birmingham, Bradford, Coventry, Edinburgh, Glasgow, Leeds, Leicester, Liverpool, Manchester, Newcastle, Nottingham and Sheffield before the end of the year.
The company plans to introduce indoor 4G coverage to 98% of the country by 2015. Prices for the new packages will be available on Monday.
O2 promised download speeds up to five times faster than on 3G when it announced its own plans last week. The new network will reach up to five million people at its launch and be rolled out to 13 cities by the end of the year.
O2 and Vodafone follow EE - which launched its own 4G network last year - in overhauling their networks to cater for soaring demand from data-hungry smartphone and tablet users.
Both companies have said packages will start at £26 a month.
Regulator Ofcom's auction of 4G spectrum in February raised £2.3 billion for the Government - less than forecast - with 3 owner Hutchison, BT and EE the other successful bidders.
Ernest Doku, telecoms expert at comparison site uSwitch.com, said Vodafone's package provided consumers with "clear and tangible benefits" and suggested 02 could be "left behind in the 4G race".
"Vodafone has added some fuel to the 4G fire with its new plans," he said.
"As competition finally looks set to heat up, Vodafone has thrown down the gauntlet with deals that offer not only faster data speeds, but more mobile data and - most importantly - a great selection of extra benefits to really make the most of it."
He added: "At a time where many have been unconvinced by the virtue of super-fast internet on their mobile, the pull of having access to millions of songs or all the goals in the palm of your hand as part of your monthly tariff might just be too good to pass up."