Two students got more than they bargained for after discovering the house they had moved into was previously a "massage parlour and escort agency".
Brighton University students Ben Miller and Rebekah Sims have been turning away members of the public eager to visit the "parlour", and have even been forced to put a sign in the window to dissuade the parlour's previous clientele.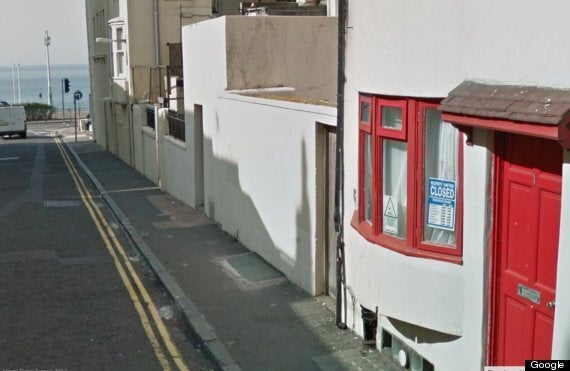 The house on the picturesque Brighton street
"We had no idea that the house had been a brothel – our agent Pavilion Properties never warned us," Miller told student newspaper The Tab. "When we had a look around we thought it was great, really colourful and interesting. It was only after we'd moved our stuff in that we realised something was wrong."
The unfortunate duo found a secret windowless basement crammed full of "strange velvety costumes", sex toys and high heels. The massage parlour Brighton Belles, which is listed in the Sun's business directory, describes itself as having "the best escorts Brighton has to offer" and urges punters to "come visit us for a relaxed personal massage with one of beautiful girls". Its website features scores of semi-naked women in provocative poses.
The student tenants say now feel afraid to open the door: "One of our friends was even punched in the face because the guy through we were trying to keep all the ladies for ourselves," Sims added.
A spokesperson for Pavilion Properties said staff were not aware of the former tenant's raunchy activities. "We have had a number of complaints from the tenants, and we are doing everything we can to help them out," they said."
Popular in the Community