Kevin Rudd made the promise in the first of a series of debates between the two men who hope to be Australia's Prime Minister come September 7. Conservative opposition leader Tony Abbott is known to oppose equal marriage.
"I support marriage equality, I believe this is a mark of decency to same sex couples across the country and for that to be formalised," Rudd said.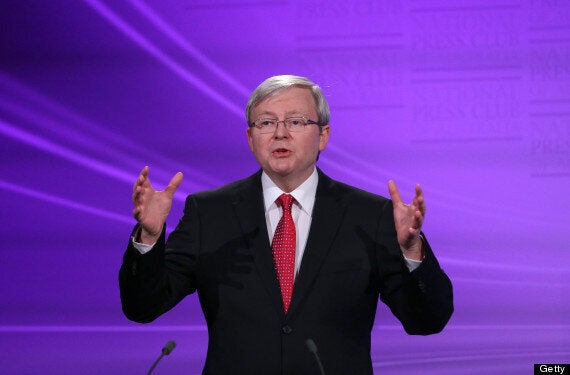 Kevin Rudd, Australia's incumbent, has pledged to legalise same-sex marriage should he win the election
"We will allow a full conscience vote, I would appeal to Mr Abbott to do the same."
Abbott remained coy, choosing to shift the focus of the debate onto the economy. "It's a very important issue, I know how important an issue it is, but it's not the only important issue," he said, saying his priority was "cost of living pressure".
Rudd revealed in late June that he had changed his mind on the issue, becoming the first Australian prime minister to publicly support gay marriage.
He opposed gay marriage during his first term as prime minister but said he changed his mind after discussions with several people including his daughter, Jessica.
"Wherever I go in Australia, it just hits you in the face what young people think about this, which is that our current arrangements are just wrong and offensive to people," he said.
Labor leader Rudd called the election last week, after knifing his party colleague Julia Gillard, winning a shock confidence vote. She had similarly ousted him in 2010.
Abbott, whose party is ahead in the polls but is less popular personally than Rudd, said in his opening speech: "We are a great country but we can't afford another three years like the last six.
"Mr Rudd talks about a new way. If you want a new way you have to choose a new government."
Immigration and the economy are high on the agenda. Rudd has pledged hardline measures against immigrants, who will have their asylum claims processed on neighbouring Papua New Guinea where, if the claim is accepted, they will be resettled.