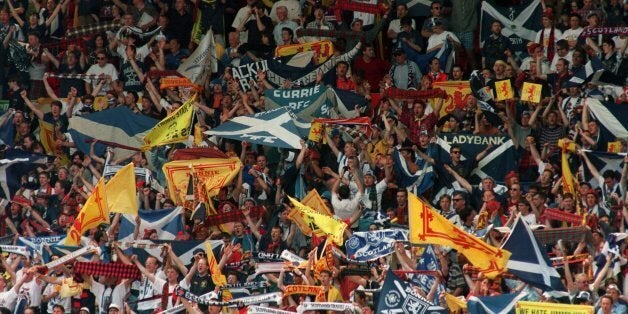 It is purely coincidental, but apt that during the 14-year gap between the last England-Scotland international and Wednesday night's fixture, interest in friendlies has decreased as much as rail fares have increased.
Club football's power and passion has reduced the international breaks to bi-monthly nuisances and these early season internationals, in particular, are utterly superfluous. Established 13 years ago, the Scotland game will be the 11th friendly England have played in August this century. Few England fans will remember who they played in August last year.
However, Fifa belatedly saw sense and announced a year ago this is the last of the international curtain-raisers. From 2014 onwards, club managers can look forward to preparing their squads without the intervention of glacial-paced games across and beyond the continent. Manchester City's David Silva and Jesús Navas will travel to Ecuador with Spain this week.
England's date with Scotland does generate some excitement, though. The wait for one nation to cross Hadrian's Wall and face their foe has been too long, even if in the 14 years that have elapsed Scotland's embarrassments have made England's last-eight eliminations look like stellar achievements.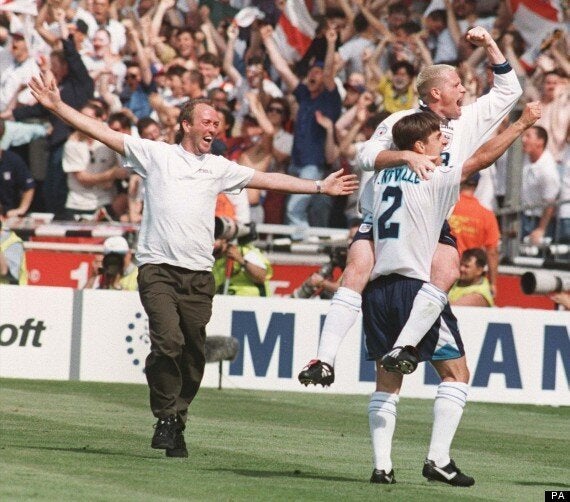 Gary Neville, Paul Gascoigne and fan celebrate Alan Shearer's goal in 96
It is an era peppered with the calamitous and comedic. For every Gary Caldwell or James McFadden winner versus France there is a 2-2 draw to the Faroe Islands and Chris Iwelumo's miss, replete with aghast Sco'ish commentators. For every high (1-0 wins versus Holland and France) there are immediate lows (6-0 and 2-0 defeats to Holland and Ukraine).
The Tartan Army's last appearance at a major finals was the 1998 World Cup, when they opened the tournament with an unfortunate 2-1 loss to Brazil but finished bottom of their group with one point and bore some of the hallmarks which made past Scotland sides such entertaining viewing for an English audience.
Over-the-hill goalkeeper? Check. Luckless own goal? Check. Humiliating defeat to minnows? Check. Craig Brown's 1998 team signalled the beginning of Scotland's demise, although their squad did at least consist of footballers who didn't embarrass themselves in the Premier League, while Celtic and Rangers boasted accomplished players.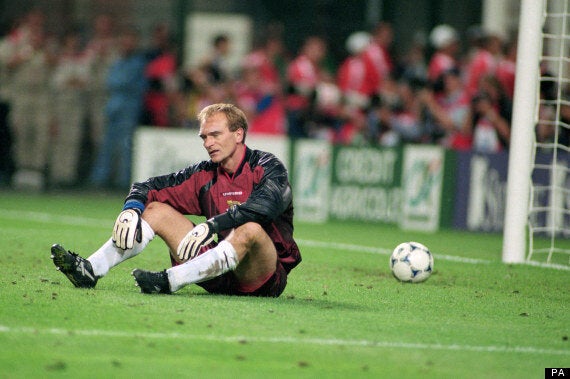 Jim Leighton after another Moroccan goal
Now they have Kenny Miller, plying his trade at Vancouver Whitecaps. Alan Hutton and Grant Hanley, two defenders who struggled manfully in the Premier League, could start at Wembley. Roy Hodgson bemoaned England's lack of options up front, but Scotland have Steven Naismith.
Yet however hapless Scotland are their return to Wembley is a welcome one. Their presence evokes pure footballing romance: of Jimmy Greaves' potency, of Jim McCalliog's winner, of a broken crossbar and tens of thousands of Scots turning Wembley into a festival, and of Paul Gascoigne's lob-and-volley past Andy Goram.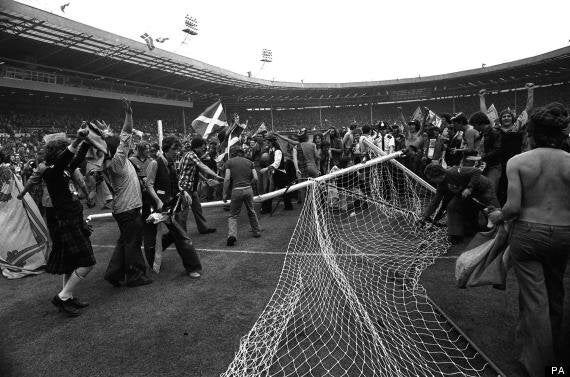 Scotland's support won't take up nine-tenths of Wembley as it did in 1977, but they will demonstrate to the home contingent what an atmosphere should sound and look like. Major tournaments have sorely missed the vibrancy they bring.
England fans meanwhile, with their simple songs and bad band, have come to symbolise modern football's ills. Adults in replica shirts clutching a Shrek toy is not the legacy the football casuals of the 70s and 80s left. Scots may wear kilts for no other purpose than to inform everyone they are Scottish (that's nothing to boast about), but they know how to generate an atmosphere.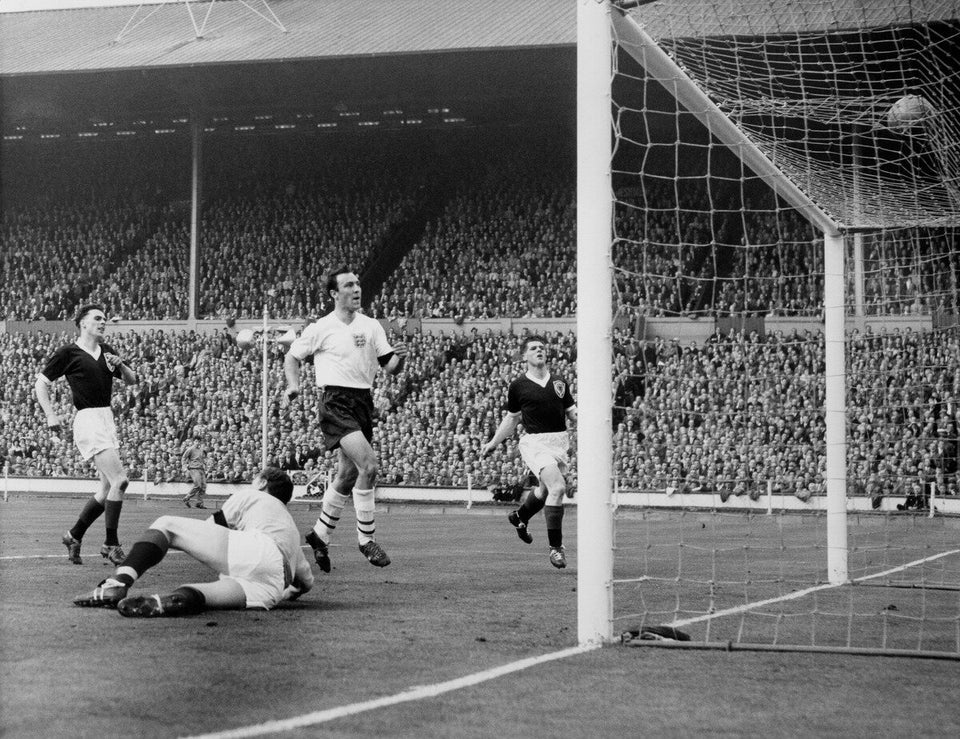 England-Scotland history
You can gauge the shift just from the makeup of the crowd at Wembley in 1996. Seventeen years ago, it was genuine and rowdy, rather than plastic and moribund, and it is as unlikely the new stadium will pay a passable homage to those heady days as it is likely there will be a Mexican wave.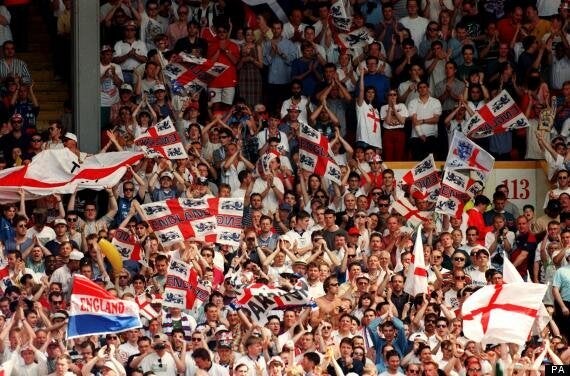 England fans at Wembley in 1996
The possibility of a Scotland victory should terrify England as much as the influx of Scots will worry the local constabulary. Roy Hodgson, who has struggled to convince since his appointment 15 months ago, daren't lose to England's historic rivals.
Don Revie's final match in charge of the Three Lions was the '77 defeat to Scotland and Kevin Keegan never quite recovered from Scotland's fruitless triumph in November 1999, when they beat England 1-0 but lost the European Championship play-off 2-1 on aggregate after Paul Scholes poached two away goals at Hampden Park. England's dire performance didn't go unnoticed by a scathing media and Keegan won just three of his final nine games in charge.
Popular in the Community