'Homeland' Series 3 is making its way to these shores (a little later than in the US this time around, so we're going to have to be on special spoiler alert in a couple of months), and producers have whetted our appetites with a trailer that leans very much to the emotional side of things...
WATCH Carrie, Brody, Saul and Jessica in action above in the trailer for the much-hyped 'Homeland' return, and wonder...
Is this the end (again) for Nicholas Brody and Carrie Mathison?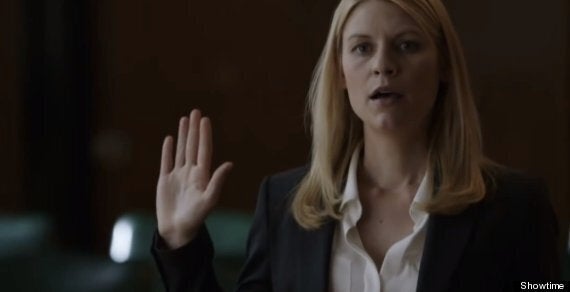 'The truth, the whole truth'... Carrie on the stand
Was this ACTUALLY love - as he declaims - or the lustful attraction of two narcissistic characters, caught up in the machinations of their own importance to national security? Just wondering...
Why is Carrie being arrested?
Where has Brodie got to, now he's a wanted man?
Who is Quinn getting it on with? And how does he find the time for a 'relationship' with all his Day of the Jackal duties, all rifle and rooftops?
Why is Dana sexting? And praying?
Who is Saul being comforted by?
Why is he commandeering an attack of war-like proportions?
Why is he 'so very sorry' for Carrie?
Damian Lewis, whose mantelpiece now has Emmy and Golden Globe awards for his portrayal of the soldier-turned-terrorist, has already hinted that Series 3 might be the last for his character.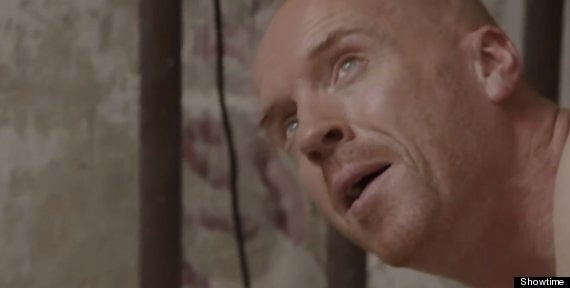 Brody - not at his best in Series 3
And series boss Alex Gansa has confirmed that Brody won't appear in the first two episodes of the new series.
Viewers were left wondering what would become of Brody following the cataclysmic events of the Series 2 finale, which saw him go on the run for an attack he claims he didn't commit. We also watched as his lover Carrie eventually chose to leave his side, and return to her job at the CIA - that of hunting down the world's most wanted terrorist, ie, Brody - even as the firewood in their remote log cabin was still cooling.
With or without Brody, does Lewis think 'Homeland' can continue indefinitely? "I know they won't flog it," he said. "I think once it stops being interesting, they'll leave it alone."
Talking of interesting versus tired, Lewis also spoke to Digital Spy a while ago, when he mused on the prospect of Brody and Carrie ever actually settling down together...
"I think Brody and Carrie are over. I think it's over. I don't think those two can be together - can you imagine them being married and bringing up kids? It wouldn't last long."
'Homeland' Series 3 is on US TV from September, and in the UK from a few weeks later.