The City of London is finally giving visitors somewhere to put their chewed gum, sandwich wrappers and cigarette butts. And that's a serious political statement.
Litter bins were removed from the Square Mile after the IRA's 1993 Bishopsgate truck bomb, which killed a news photographer and wounded 44 other people.
But after two decades, and the subsidence of imminent threats from Irish republicans or Al Qaeda extremists, the city feels safer. And the bins are back.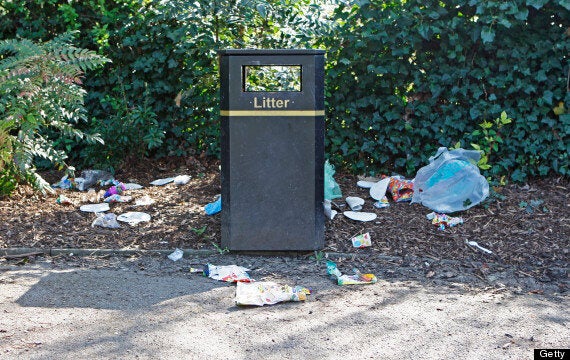 The bins are back in London town
From Friday, 20 bins will be reinstalled along Bishopsgate for a two week trial, due to the increase of late-night rubbish dropping as crowds make their way between Liverpool Street station and the nightspots of Brick Lane and Shoreditch.
Tom Sleigh, a local councillor, told the Evening Standard: "Traditionally the City had a model of Monday to Friday, nine to five, but now lots of people use it throughout the weekend.
"So many City workers, businesses and residents I spoke to raised concerns about the lack of bins in the City.
"Bishopsgate is a bit of a mess and there's gum everywhere.
"I would hope the trial solves the problem we've had with this corner of the City being below parr as the majority of the City is very clean and tidy."
It's a cultural shift that has taken place across the UK, from street railings, to rail stations and airports.
The thinking regarding terror attacks and security in public places has shifted from emergency precautions, to common sense, Network Rail's Kate Snowden told HuffPost UK.
"It's completely changed," she said. "In the 90s, it was the diktat from security forces that bins should not be allowed in stations. But the advice has changed and now it's up to station managers."
Network Rail, who manage 17 of the largest stations in Britain, now have a variety of solutions to rubbish. "Some station managers have bins and have them emptied very regularly, some use clear bags so you can see what is in them, some have no bins still, but have people regularly sweeping up rubbish, 24/7.
"I think that the British Transport Police, like the City of London, do realise that the level of security needed has changed."
It's a view that has been echoed somewhat by the Department of Communities and Local Government, who last year instructed councils to remove many of the railings and bollards blocking British streets, and get rid of unnecessary clutter.
Bollards and roadblocks remain outside high-risk buildings, like embassies or government buildings, but Communities Secretary Eric Pickles declared himself keen to remove "bossy bollards, patchwork paving and railed off roads wasting taxpayers' money."
Popular in the Community