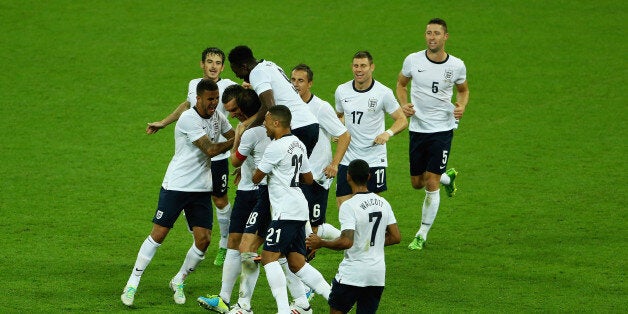 England had to come from behind twice to defeat an industrious but inferior Scotland at Wembley, as Rickie Lambert nodded in the winner on his international debut.
Predecessors Don Revie and Kevin Keegan never recovered from defeats to the Tartan Army and Roy Hodgson avoided writing another humiliating chapter against the old enemy, as England relied on grit rather than guile.
Here are five talking points...
SCOTLAND FANS EMBARRASSED HOSTS
This was a rare England friendly the sceptics could look forward to, chiefly because the tens of thousands of Scots travelled down south of the border were destined to rouse the silent and soulless new Wembley. The Tartan Army's stirring rendition of Flower of Scotland quickly re-emphasised the significance of a rivalry which had spent 14 years in hiatus.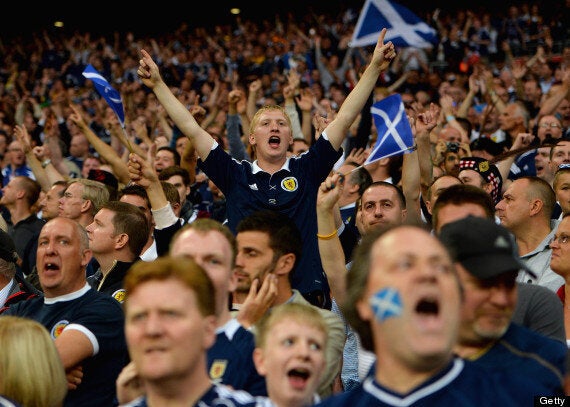 Scotland fans were in fine voice
And then there was the manufactured and monotonous England contingent, whose cheerleaders are attention-seeking dullards wielding instruments, popularising dreary chants, sponsored by pies.
HART SUFFERING FROM LACK OF COMPETITION
Joe Hart's regressive form continued when he spilled James Morrison's shot straight into his own net, in what has become a worrying trend for the Manchester City goalkeeper. His mistakes last season, conveniently overlooked by the patriotic majority, granted him Teflon status. Only Hart became so error-strewn it was eventually impossible for the rose-tinted pundits to defend him.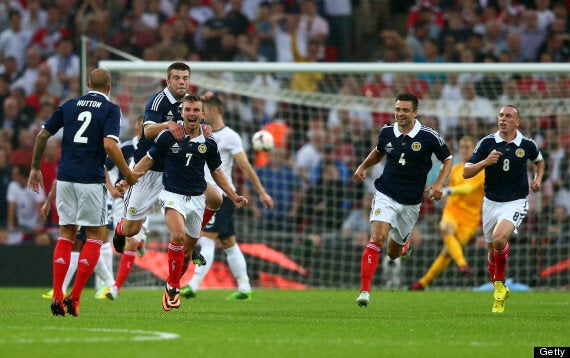 Hart is one of the most naturally gifted goalkeepers in Europe but he lacks competition at either club or international level. Ben Foster has returned to the international fold but will never challenge Hart for a starting berth and the same applies to reliable understudy Costel Pantilimon at City.
The onus is solely on Hart to regain the form which made him such a key component of City's title win in 2012. His cockiness is a strength but it has also proven to be his weakness too, and the kind of mistake he made on Wednesday night is not regarded as uncommon anymore.
HODGSON MUST GIVE UP ON GERRARD
Frank Lampard was introduced to protect the enterprising Jack Wilshere, but seeing him and Steven Gerrard playing for England underlined how hopeless a national side they have been over the past decade. Neither should start at the World Cup but Gerrard's status as captain – an overstated accolade – has guaranteed his spot in the 11 and his displays have not justified it.
The Liverpool skipper had his worst club season in 2012-13 and against Scotland his passing was abysmal and antiquated. England should be using friendlies to hone their passing but Gerrard kept lofting the ball out of play and attacks often broke down with him.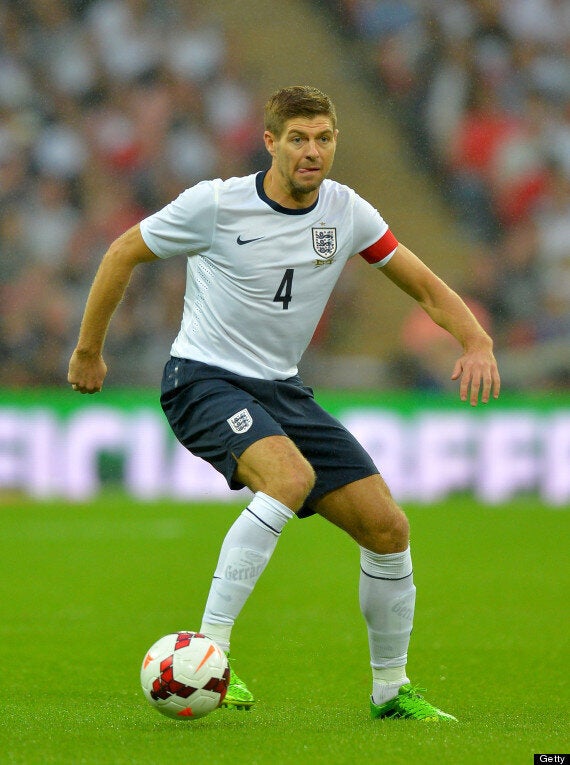 Gerrard struggled against Scotland
Shoehorned into the team by Hodgson at 33, it is surreal a player who contributed to failures at two past World Cups should remain an ever-present.
SCOTLAND NEED TO TREAT EVERY GAME LIKE THE OPPONENTS ARE ENGLAND
The Scotland of Hutton, Martin, Hanley, Miller and the like were, for chunks of the game, excellent. Their opponents may have been erratic England, but Scotland showed a level of gumption they seem to save only for the major nations. They pushed Spain mightily close during the Euro 2012 qualifying campaign and Italy four years earlier, and have beaten France twice and Holland this century. England, perhaps more familiar with the Scottish tendency to punch above their weight than other nations, responded gutsily.
The challenge for Scotland coach Gordon Strachan now is to channel the level of energy and commitment on display against their rivals versus Europe's minnows.
CAHILL IS NOT INTERNATIONAL CLASS
A colleague remarked about Gary Cahill's tendency to get too tight to his opponents in the first 45 and, typically, the Chelsea defender committed the sin after the pause to allow Kenny Miller to regain Scotland's lead.
Cahill is incredibly fortuitous just to be at Chelsea. Unwanted by then manager André Villas-Boas, he has won three trophies in 18 months and contributed little, while his slowness naïve positioning are unlikely to be countenanced by José Mourinho.
For England, he is an unsuitable partner for the solid artisan Phil Jagielka and it is only due to the dearth of English defenders he earned another call-up. Much will depend on his game-time at Manchester City, but Joleon Lescott remains a far superior alternative.