In a way it was fitting that a match between two historic rivals was settled by a towering header from an old fashioned number nine.
As Scotland fans sang and danced in the streets of Central London this afternoon, there was a sense of joy that is all too often lacking in international football. A sense of escapism even, from the disappointment of failed qualification campaigns, underperforming heroes and maligned managers.
Three days before the start of the English Premier League season and two weeks in to the Scottish League season seems an inappropriate time to shoehorn a friendly in to the schedule, especially one between England and Scotland. As expected, both sides wrapped key players in cotton wool and the second half flurry of substitutions threatened the flow of the game.
England 3-2 Scotland: 5 Talking Points
Scotland won the battle of the tube lines and national anthems, but not the battle on the pitch, with England edging a thoroughly enjoyable game which in truth taught us little about either side. For England, Walcott was hit and miss, Gerrard relied too heavily on the raking 60-yard Hollywood pass, Gary Cahill turned slower than a submarine and Welbeck (despite his questionable Man of the Match award) proved why he isn't a starter at club level. The biggest positive for England was Jack Wilshere, who showed real drive in the first half and will be England's key man in the upcoming qualifiers.
Scotland, meanwhile, played with great energy, with Shaun Maloney cleverly pulling strings and the direct running of Robert Snodgrass offering an out-ball which often threatened England. Confidence even spread to the industrious veteran Kenny Miller, who huffed and puffed and blew the house down after jinking past Cahill and driving past Hart.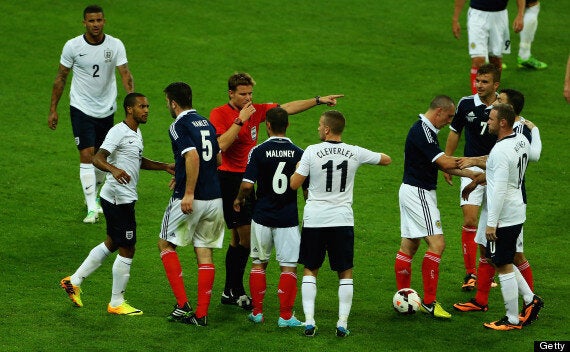 Grant Hanley and Theo Walcott have words
Roy Hodgson will have learnt that Rickie Lambert might provide a decent option off the bench late on, and once the disappointment dies down Gordon Strachan will be pleased with the way his players applied themselves. Indeed, Scotland fans can look to the future with some optimism if their players can channel tonight's efforts into regular performances.
More importantly, this game was truly about reigniting a rivalry that seemed to have faded in the history books. Indeed, it feels like the time has come to make it a regular occasion – ideally without the excessive police vans in Trafalgar Square and the killjoy "no football shirts" signs on the doors of London's pubs.
Tonight, we encountered a semi-memorable game at an ill-advised time between teams with average at best players. The abiding memory?
We should do this much more often.
Related