The Duke of Cambridge has said goodbye to Wales as he confirmed he would be leaving his Anglesey home and moving "elsewhere" when his RAF posting comes to an end next month.
William has almost completed his three-year tour of duty as an RAF search and rescue helicopter pilot and is widely expected to return to London with Kate and baby son Prince George to take on more royal duties rather than stay in the service.
He spoke about his future as he attended the Anglesey Show and joked about his young son.
The Duke, 31, said: "I have to say that I thought search and rescue duties over Snowdonia were physically and mentally demanding, but looking after a three-week-old baby is up there.
"I know that I speak for Catherine when I say that I have never in my life known somewhere as beautiful and as welcoming as Anglesey.
"The views across the Menai Straits are undoubtedly among the most stunning in the British Isles. I know that both of us will miss it terribly when my search and rescue tour of duty comes to an end next month and we have to move elsewhere."
An announcement on William's future in the military is expected in the coming weeks as his posting to RAF Valley on Anglesey will be completed at the end of next month.
Story continues after slideshow...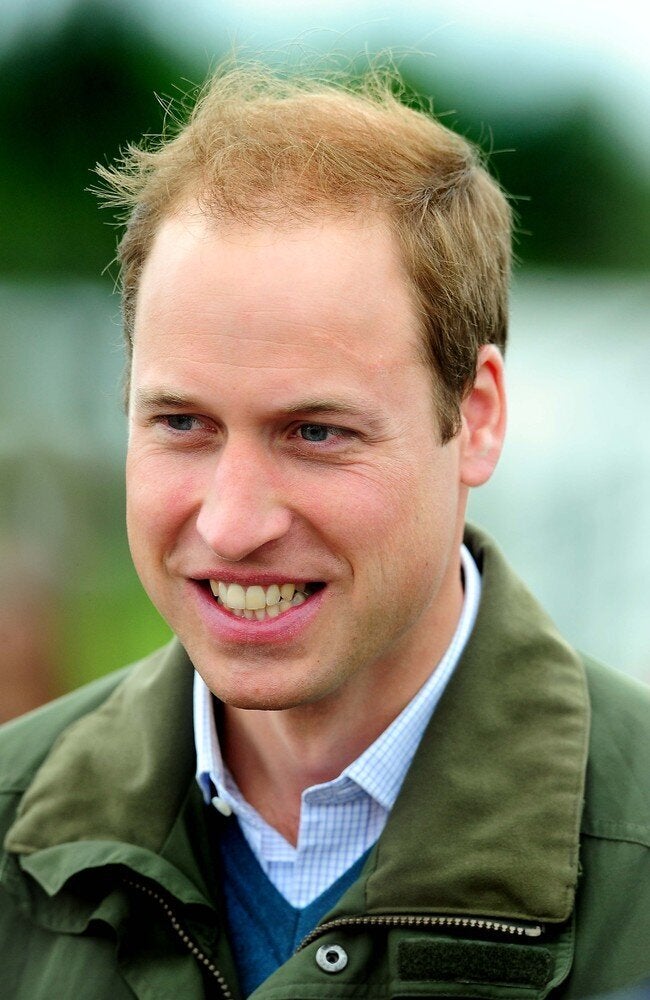 Prince William In Wales
RAF search and rescue pilots can remain at their base for a second tour of duty or opt for a posting at another base, but it is widely thought William will return to his regiment, the Household Cavalry's Blues and Royals, which will allow him to carry out more royal engagements in support of the Queen.
The Duke, known as Flight Lieutenant Wales in the RAF, would have discussed his military future, like all pilots, with a career manager known as a desk officer.
But as William will one day be King, his future is dictated to a large degree and he has to prepare himself for that role.
If he is to leave the RAF, the move appears to have been taken reluctantly as the Duke spoke movingly about his time in Wales.
In his speech, William said: "This island has been our first home together, and it will always be an immensely special place for us both. Catherine and I look forward to returning again and again over the coming years with our family."
With the birth of George last month, the Cambridges are now a family unit and their Kensington Palace apartment is expected to be completed in the autumn.
It will be their main home but the royal couple are also expected to move into their country retreat, Anmer Hall, on the Queen's private Sandringham estate in Norfolk, in the coming months.
During his visit to the Anglesey show, William was thanked by a teenager he rescued while on duty in August last year.
The Duke came to the aid of Sharon West, 17, from Herefordshire, when she was caught in a rip tide.
In a light-hearted exchange with the teenager arranged by Channel 5 News, William said the rescue was the quickest they had carried out.
Sharon told him: "I just wanted to thank you for rescuing me last year."
William, dressed in an olive green coat and beige cord trousers, replied: "Was it you on the beach, you and your sister? How are you, are you all right?"
He added: "No, not at all. I'm glad you made a full recovery. A lot of time you never meet up with anyone after you've done it.
It's a team thing. It was about 38 seconds, I think, it was the fastest ever one we've done - it's a good job it was.
"It was very nice to meet you. When you go out next time be aware of the conditions."
After the meeting, Sharon told Channel 5: "He saved my life, and Squadron 22 as well, all of them together.
"He rescued me when I got swept out to sea. If he'd been a few seconds later I wouldn't be here today."
"I wanted to meet him to say thank you. It was amazing because he saved my life."
William watched gundog and falconry displays at the show, before meeting local young farmers.