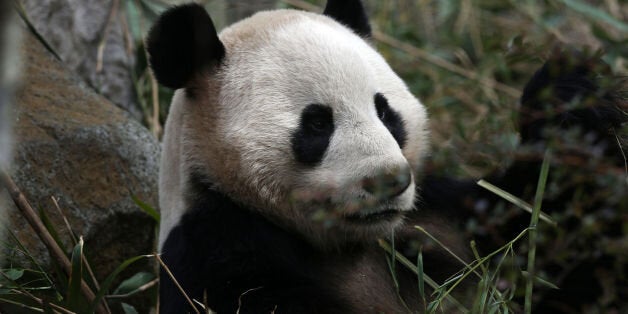 Becoming a father at the age of 10 would normally cause some kind of moral outrage - but thankfully Yang Guang's looming move into parenthood is being applauded.
That's because Yang - who turns 10 today - is the UK's only male panda and experts are waiting to see if his female counterpart is pregnant.
Keepers at Edinburgh Zoo will present Yang Guang with an edible bamboo sculpture to celebrate his tenth birthday.
Last week it was revealed that the zoo's female giant panda Tian Tian could soon give birth to the nation's first panda cub.
A short film taking a humorous look at the lives of Yang Guang (Sunshine) and Tian Tian (Sweetie) will be broadcast to mark the anniversary.
Sunshine and Sweetie, by the Scottish Documentary Institute at the Edinburgh College of Art, will be shown at the zoo's Budongo Trail lecture theatre throughout the day.
Zoo visitors will also have an opportunity to try their hands at origami-making outside the panda enclosure.
Jo Paulson, the zoo's events executive, said: "Turning 10 is pretty special, so we wanted to organise lots of fun activities for visitors to help Yang Guang celebrate his birthday.
"Families can come and learn how to make their own origami pandas and watch Yang Guang receive his bamboo sculpture."
Results from further tests of Tian Tian's hormones are expected in mid-August, which keepers say should give a better indication of whether she is pregnant.
Preliminary results have shown encouraging signs the panda is expecting after an artificial insemination was carried out in April. Her birthday will be marked on August 24.
The pair arrived from China in December 2011 and have been a popular attraction at the zoo, with visits from about 500,000 people in their first year.