Captive-bred tigers are being turned into "tonic wines", a stark new documentary by China Central Television (CCTV) has revealed.
Tigers are facing extinction and as few as 3,500 survive in the wild, yet more than 5,000 captive-bred tigers are held in sickening Chinese 'farms' and 'zoos' in horrific conditions.
There, they are forced to perform routines in front of paying audiences, have their teeth and claws pulled out while they are still alive and are ultimately turned into rugs, charities have said.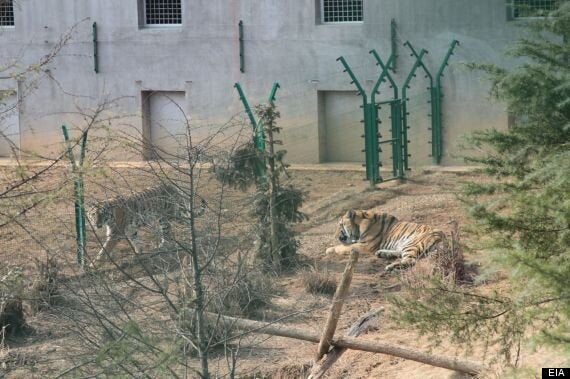 Questions have been raised over the treatment of China's tigers
Animal welfare groups today condemned the barbaric treatment in China, where "many tigers are starved to death because they are worth more dead than alive."
Despite the sale of tiger skins and body parts flouting a UN agreement which calls for such trade to be banned, a tiger farm in Guilin has reportedly continued to sell the remains of these once majestic creatures.
Visiting Xiongsen bear and tiger farm under the guise of being a tourist, a CCTV reporter was sickened to discover animal remains for sale at the end of a performance given by other captive animals.
Among an array of merchandise the report said tonic wines – made from tiger bones soaked in wine – were for sale.
Animal welfare group Peta today slammed the abhorrent treatment of the endangered species.
"China's flouting of an international ban on the sale of tiger organs is beyond reprehensible. It shamefully reduces wildlife to a collection of spare parts," they told The Huffington Post UK.
"Chinese farmers keep hundreds of these highly strung animals locked away in barren concrete cages and subject them to cruel and painful practises, such as ripping out their claws and teeth."
Shockingly, for traditional Chinese medicine, tiger penises are often cut off while the animal is still alive, the charity claimed.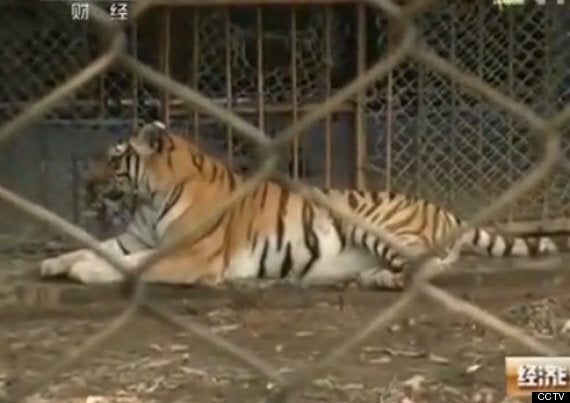 China has been accused of animal cruelty yet again
"With China's wild-tiger population reduced to a mere 40 to 50 individuals, practices such as the illicit sale of tiger bones and penises may well spell the end of the tiger, one of the most magnificent animals in the world," they said.
Xiongsen was founded in 1993 and, according to reports, has expanded its tiger population from 60 to over 1000 today.
Now, questions have been raised over the fate of the endangered animals and why more is not being done to protect them.
One worker at the farm told CCTV that it is impossible to sustain such a large amount of tigers just by selling tickets at the enclosure, and suggested the only possibility to make money is to use the tigers themselves to make a profit.
In 2013, The Environmental Investigation Agency (EIA) visited Changsha, Hunan Province to investigate the business of a company, the Hunan Sanhong Biotechnology Company, which was apparently manufacturing
tiger bone wine on a commercial scale.
There, EIA claimed that they discovered the Company was not only manufacturing and selling wine made from tiger bone, but that were also doing so with the knowledge and endorsement of government authorities at provincial and central levels.
Today, the charity told The Huffington Post UK China's treatment of tigers will "serve only to undermine efforts for conservation of such species in the wild."
"When the vast majority of the public only experience tigers in concrete enclosures, often in unnaturally large numbers, jumping through hoops of fire, pushing prams or being manhandled for photo opportunities, this is not tiger conservation; these abused tigers can never be released into the wild, and we would strongly urge all tourists to China not to visit such places," they said.
Popular in the Community