SEE ALSO: Rainbow Zebra Crossing Protest Outside Russian Embassy In Stockholm (PICTURES)
Two Swedish athletes have shown their support for gay rights by sporting rainbow coloured nail polish as they competed in the Moscow athletics.
Moa Hjelmer made her statement as she ran in the women's 200-meter heat at the World Athletics Championships in the Luzhniki stadium in Moscow, Russia, on Thursday.
High jumper Emma Green-Tregaro had earlier posted an image of her own rainbow painted nails on Instagram, complete with hashtags including #pride and #moscow2013.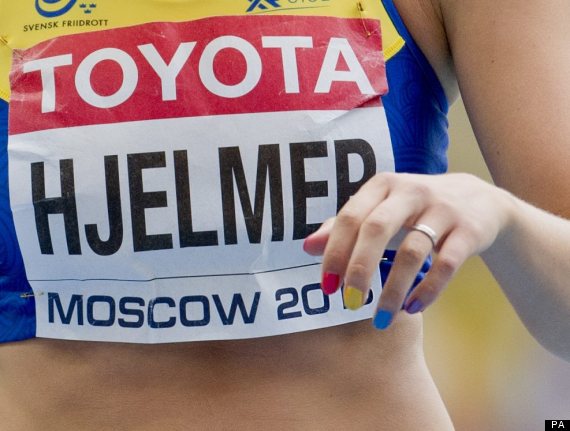 Moa Hjelmer shows off her rainbow nails
Emma Green-Tregaro debuted her nails on Instagram
It came as pole vaulter Yelena Isinbayeva criticised Green-Tregaro for opposing Russia's new law, which essentially bans displays of homosexuality.
It is also "illegal to spread information about non-traditional sexual behaviour" to minors (under 18s).
The controversial law has been targeted by LGBT activists amid the prospect of homosexual athletes and supporters facing arrest at the upcoming Russian Winter Olympics in Sochi, 2014.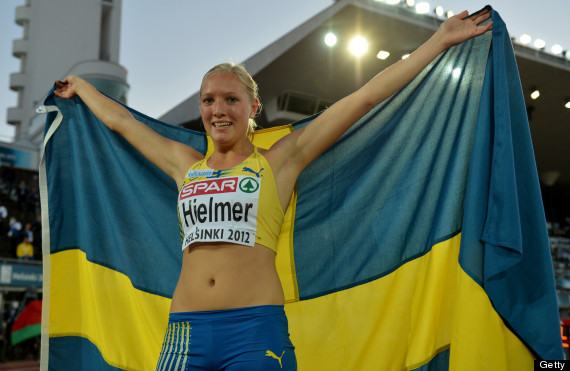 Hjelmer celebrating after winning the women's 400m final at the 2012 European Athletics Championships
Of Green-Tregaro's statement, Isinbayeva said: "It's disrespectful to our country, disrespectful to our citizens because we are Russians."
She added: "We have our law which everyone has to respect. When we go to different countries, we try to follow their rules. We are not trying to set our rules over there. We are just trying to be respectful.
"We consider ourselves, like normal, standard people, we just live boys with women, girls with boys... it comes from the history."