The British summer appears to have vacated our shores once more, and you could be forgiven for looking at the sky with more apprehension than normal.
But if you are concerned about being hailed with man-eating sharks, fear not – Glasgow has come up with a plan that will put your mind at ease.
After a fan of the notorious B-movie Sharknado demanded assurances about how they would deal with a similar disaster, Glasgow council set out a contingency plan on how they were prepared to deal with the pressing issue.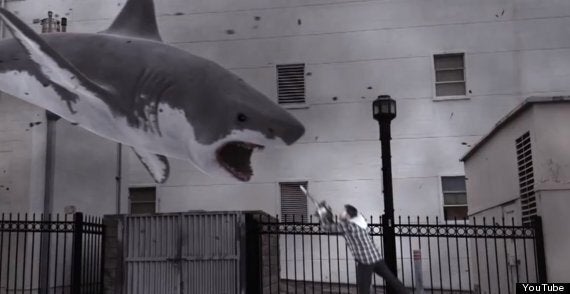 Glasgow council has set out plans for real life Sharknado
In the much-loved and extensively ridiculed cult film, Los Angeles is faced with a disaster of epic proportions when a tornado lifts sharks out of the sea and hurls them through the streets at helpless victims.
After he demanded action, thankfully, the concerned council responded to Rob's plea for assurance.
A statement from the council reads: "Glasgow City Council is unaware of the term 'Sharknado'.
"Assuming it means that a tornado-style waterspout would lift sharks from the water with enough force to disseminate them across the city, causing potential hazards for citizens, then the following processes could cover the planning for and response to such an incident.
"Glasgow City Council, in line with the Civil Contingencies Act 2004, works in collaboration with partner agencies to carry out risk assessments across the city council area.
"These assessments cover elements associated with severe weather, coastal flooding and animal-based risks.
"Whilst each of these three generic risks is rated as high, there is no specific risk identified for Sharknado within the Glasgow City Risk Register.
"The risks being rated as high mean they carry control measures and, where appropriate, specific contingency planning.
"With regards to weather and flooding, the control measures in place for incidents related to a tornado-style waterspout would be based around the Met Office (weather office) and Sepa (Scottish Environment ProtectionAgency) severe weather and flood early warning systems."