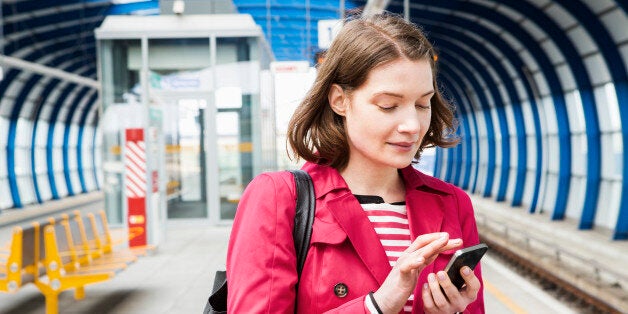 During London 2012, commuters may have noticed a few sly changes to their train routine.
One year on and Transport for London (TFL) have expanded the service to 120 stations across the tube network to cover much of zones 1 and 2, and passengers are now able to access the internet 'seamlessly' (via Wi-Fi-enabled mobiles, tablets and laptops) as they move from ticket hall to platform, according to TFL's chief information officer Steve Townsend.
"We focused on delivering blanket coverage for passengers. So once you're in the underground environment, the experience starts there and your session stays alive.
"The uptake has been unbelievable," he adds.
But transforming mobile communication across a transport system isn't cheap -- or easy.
Conversely, the train service offering the shortest train journey times in the country (London Underground) has lead the way. But that initial decision had more to do with staff, than customers, admits Townsend.
"London Underground has an operational requirement to offer real-time information for our internal users. So, as a result, we initially funded the W-Fi infrastructure," he explains.
"In terms of Wi-Fi access for the public, we worked with Virgin Media to supply the world wide web access and help us fund the Wi-Fi infrastructure, as it stands today.
"It's a self-funding business case, so the revenue that's made from the service will pay for it over a couple of years."
When the scheme first launched pre-Olympics, Wi-Fi access was free to all, but shortly after London 2012 began, Virgin began restricting access. The company now works with O2, EE and Vodafone who offer the service to their customers at no extra charge, while also running a pay-as-go option, which starts at £2 per day.
TFL are also exploring how to make Wi-Fi more available down the tunnels and in the tube carriages.
However, when it comes to overground UK trains, the future doesn't look quite so promising.
According to Martin Abrams from the Campaign For Better Transport, train companies are likely to install Wi-Fi as they acquire new rolling stock, which means customers may not see result for years.
In addition, the Government aren't keen to force train operators to act, and unable to clarify how many train franchises contain a Wi-Fi commitment.
A spokesperson for the Department of Transport said: "In general we do not specify that it should be included. While we encourage operators to look at value for money for customers, ultimately the choice to offer Wi-Fi is a commercial decision for the companies."
It's widely known that Cross Country Trains and Virgin both have contractual agreements to provide the service. And Virgin Trains confirmed that their Wi-Fi roll-out "was an initiative driven by us".
A spokesperson said: "It has been so successful that it has now formed part of the franchise agreement with the Government and is also being included in tenders for other long distance train operations."
At present, 11 train companies offer Wi-Fi for passengers, and new routes are being connected every year.
An ATOC spokesperson said: "In the last year alone, ScotRail has added Wi-Fi to many of its short distance commuter services, and passengers on services between Norwich and London can get online with Wi-Fi from Greater Anglia. Train companies are also funding research looking at new ways of boosting signals on board, such as installing antennas in train carriage windows."
But Abrams from the Campaign For Better Transport insists the pace should be faster.
"We believe Wi-Fi should be free on trains and with rail fares rising above inflation for the 11th year in a row passengers should really see the direct effects of this investment."
But even if Wi-Fi is offered to train customers, its reliability cannot always be guaranteed.
"Even when Wi-Fi is available on the train, there are numerous factors which can affect the quality of your usage. The number of passengers using the service will affect bandwidth. Even if there are more passengers on the train not using Wi-Fi, their bodies will create interference," explains Rob Hodges from Carphone Warehouse, who work with Mobiles.co.uk.
In stations however, the future is a little brighter. Network Rail currently offers Wi-Fi to customers at all 17 stations across the country, in association with BT and The Cloud.
A spokesperson from Network Rail said: "We are always on the lookout for new and innovative ways to improve customer service through use of technology at our stations. For example providing retail/refreshments special offers via passengers' smartphones."