The opening day wasn't as gloriously chaotic as 2012 (19 goals, Alan Pardew shoving a linesman, Liverpool having two players sent off and QPR losing 5-0 at home) but there was still plenty to talk about.
Here are five topics up for discussion from the weekend.
2012-13 SHOULD'VE BEEN WENGER'S LAST AT ARSENAL
It is expected Arsenal will offer Arsène Wenger, whose current deal expires in 2014, a new two-year contract. It would seem perverse if of the other top four clubs in England, Spain, Italy or Germany rewarded a coach who is partly responsible for an eight-year trophy drought and who continues to stand still.
Arsenal were victims of some unfathomable officiating from Anthony Taylor in their 1-3 loss to Villa on Saturday but the problems are greater than erratic officiating.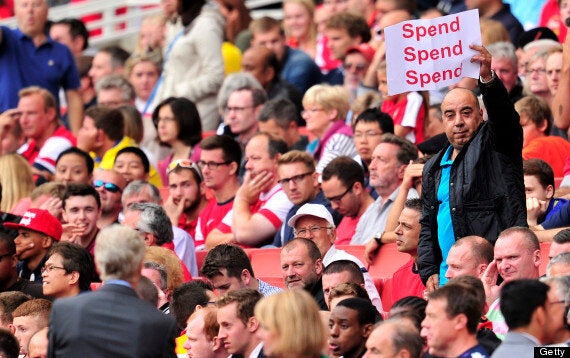 One fan tries to make his point to the Arsenal manager
The Gunners have fallen so far that finishing above Tottenham, once regarded as an unimportant rival, is their annual achievement. and gallingly for supporters, they appear content with that. Irrespective of the result against Villa, they needed to spend some f*****g money and, with two weeks left until the transfer window clanks shut have only brought in a French-African striker on a free transfer. Even bottling Spurs, who have impressively strengthened this summer, should be confident of finishing above their neighbours for the first time since 1995.
Worryingly, there are already parallels with the traumatic start to the 2011-12 term. A depleted squad, a winless start and a tricky Champions League qualifier are just some of the obstacles for Wenger to negotiate this month - all with a distinctly underwhelming squad.
Signing Luis Suárez would merely consolidate Arsenal's top four status. They need a new goalkeeper, centre-back, defensive midfielder and winger. Wenger said earlier this summer, "Show me a list of players better than mine and we'll talk." The list is long and the players (Asmir Begovic, Mohamed Diamé et al.) are nearby.
Robin van Persie's world-class double re-emphasised Manchester United's over-reliance on their £24 million striker, but also overshadowed the impact of the team's spine in one of their most impressive Premier League away performances in recent years.
Nemanja Vidić and Rio Ferdiand, one of the great English football defensive axes, have started alongside each other just 16 times in the last two seasons but when reunited are still an indomitable pairing. Vidić's reading of the game hasn't diminished and United are a meaner outfit with their two leaders in defence. Ahead of them, Michael Carrick was his usual consistent and composed self, as the visitors weathered a mini Swansea resurgence in the final 10 minutes to regain their three-goal lead courtesy of Danny Welbeck's superb chip.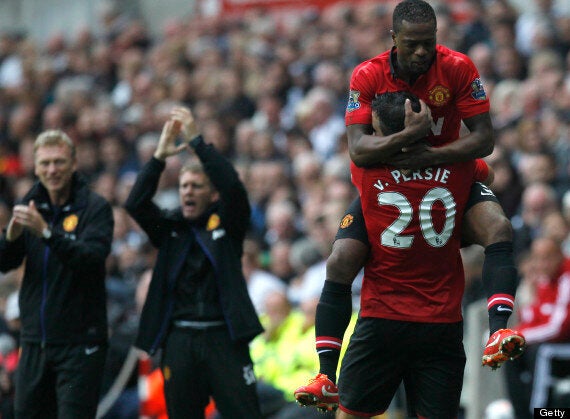 United remain over-reliant on the fantastic Van Persie
Vidić, Ferdinand and Carrick all started United's three Champions League finals between 2008 and 2011 and the quartet are all out of contract at the end of the campaign. David Moyes would be prudent to extend their Old Trafford careers even at this premature juncture of the new season.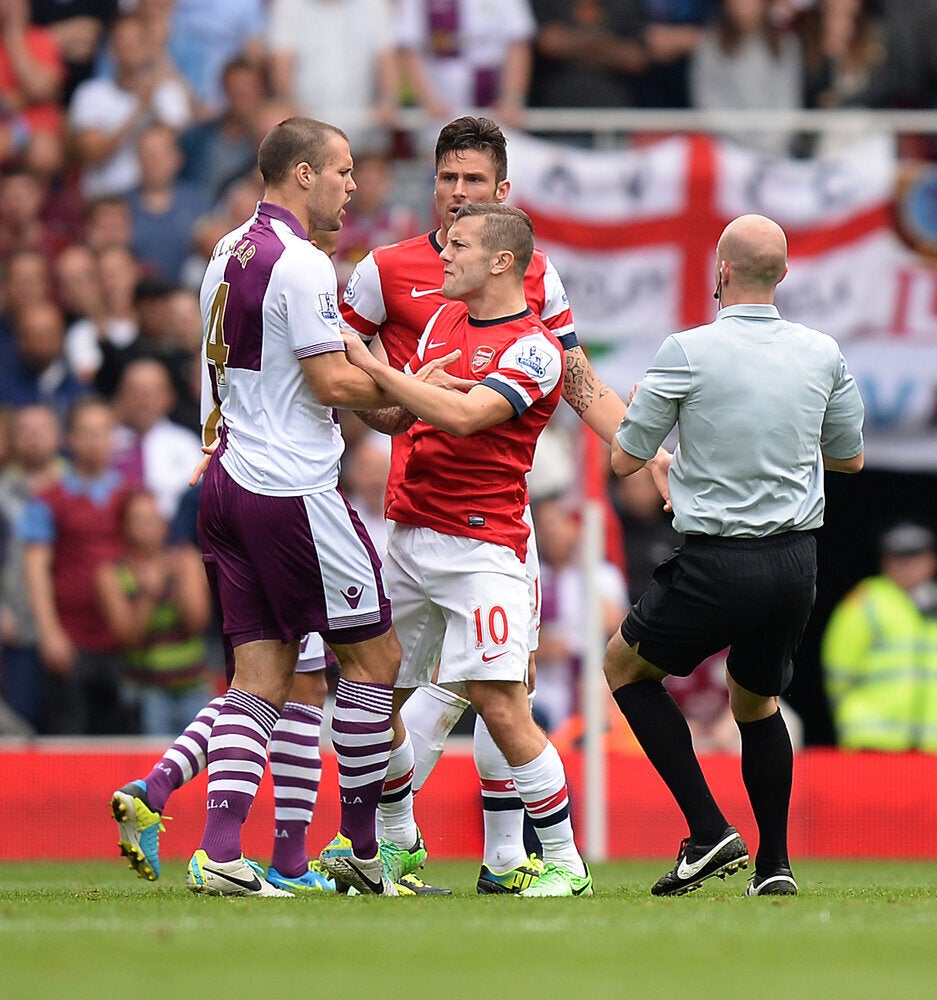 Premier League opening day pictures
SAME PLAYERS, NEW EVERTON
Roberto Martínez declined to start any one of his three new signings but Everton's approach at Norwich City was markedly different from the David Moyes era.
Kevin Mirallas, Steven Pienaar and Ross Barkley interchanged encouragingly off the selfless Nikica Jelavić while Marouane Fellaini, often the battering ram under Moyes, was played in his preferred position in midfield. Even Phil Jagielka, an unashamed artisan, showed cultured glimpses with his passing.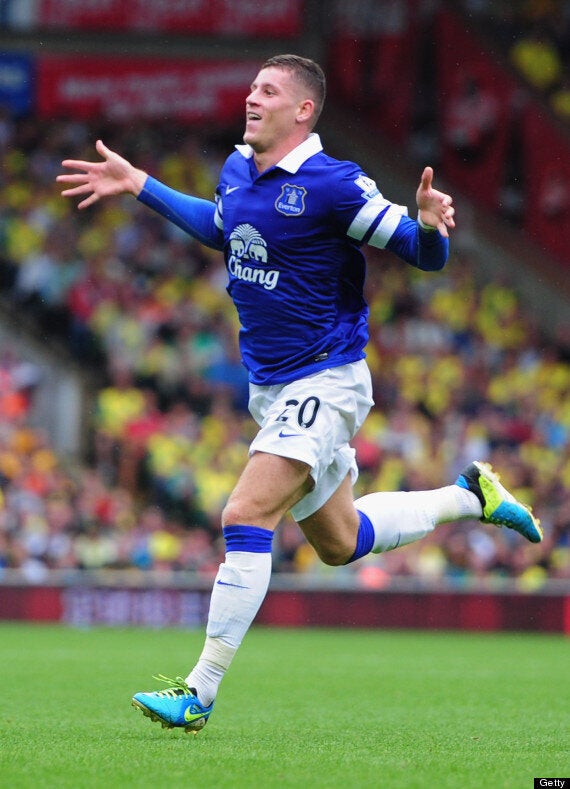 Ross Barkley could be the outstanding breakthrough of Everton's season
They were the superior side at Carrow Road but the cost of their new possession game came in defence. The manner of Steven Whittaker's opener and Ricky van Wolfswinkel's equaliser were uncharacteristic of the same back four who excelled under Moyes, and the new approach could result in a lower finish than 2012-13. But the style of football is destined to be more adventurous, at least.
LIVERPOOL NEED ANOTHER STRIKER - WITH OR WITHOUT SUÁREZ
The difference with Liverpool in 2011-12 and 2012-13 was Luis Suárez's finishing. In the former campaign, commentators' regular phrase to complement Suárez was "What a goal that would have been" whereas the last four words were rarely required last season.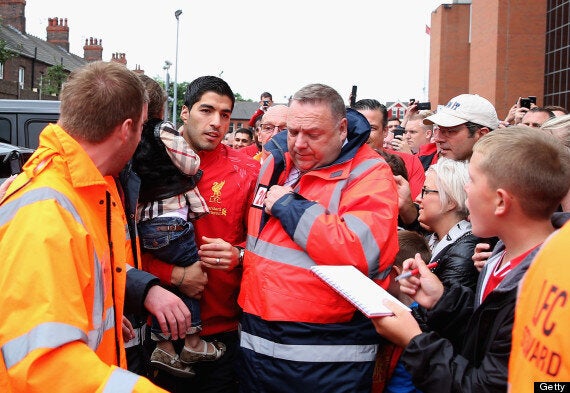 Liverpool missed Suárez's ruthlessness
Against Stoke, the Reds should have won comfortably, yet were it not for the hapless Jonathan Walters' profligacy they would have dropped two points at home in a manner typical of Kenny Dalglish's final term. Daniel Sturridge now has an exceptional 13 goals in 17 games - six in five without Suárez - but is unlikely to prolong such potency throughout an entire campaign. Even the nondescript Jordan Henderson could have had a couple at the weekend, but Stoke - one of the easiest teams to play at home - are not a reliable barometer for chance creation.
HUGHES HAS TIME ON HIS SIDE
Liverpool away was never going to be a reliable measure of Stoke's progression - or regression - under Mark Hughes, and their conservative approach on the road was a carbon copy of Tony Pulis's set-up.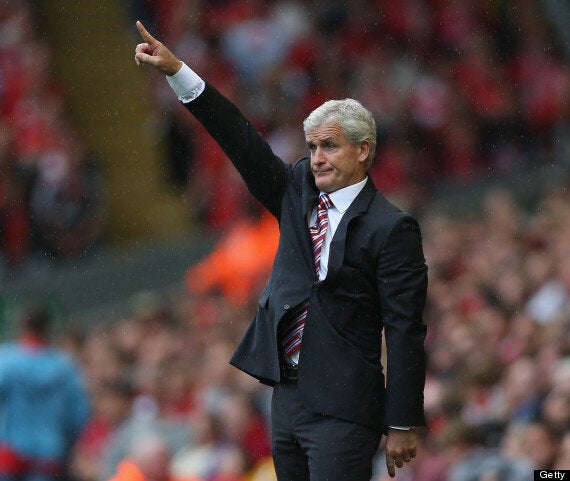 Hughes got off to a losing start with Stoke
Hughes has brought just two players in - both defenders - but jetted off to the continent on Saturday to scout further potential acquisitions as he endeavours to alter the team's identity. It might take as long as nine months to make a conclusive judgement, but his successful Blackburn team was hardly renowned for stylish football.
ONE THIRD IMAGINATIVE, TWO-THIRDS IMPENETRABLE
Hull City played with the fear of Amity Island residents going for a swim but Chelsea were crowd-pleasingly vibrant in the first 30 minutes of the second José Mourinho era and will be disappointed to have won by a 2-0 scoreline.
Mourinho was the chief cause for the Blues' 65-minute lockdown after Frank Lampard's free-kick. However mundane Chelsea were for two-thirds of the game, the manner in which they secured their three points was somewhat ominous. At their zenith under the Portuguese, games were won early and included long periods of inactivity.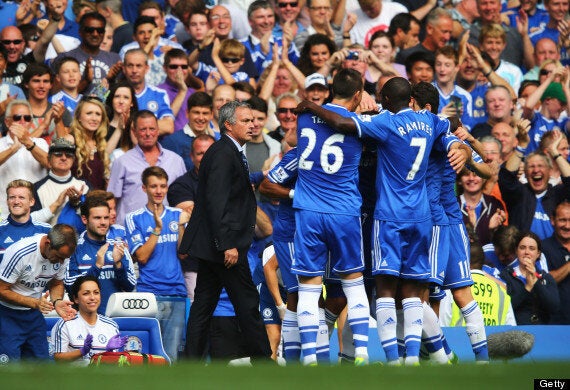 Mourinho enjoyed a winning homecoming at Stamford Bridge
It was only Hull, though. And Chelsea's defence lacks the pace and co-ordination of Mourinho Mk.I while there is currently no insurance policy in midfield. If a coach can make up for squad shortcomings it is Mourinho, but the competition is fiercer this time.
FAIL TO PREPARE, PREPARE TO FAIL, PALACE
A glance at Crystal Palace's starting XI for their first Premier League fixture in nine years suggested that, like 2004-05, 1994-95 and 1992-93, they will make it four relegations in four top-flight seasons in 21 years.
Their 0-1 loss to Tottenham flattered them. There was a late rally but Spurs controlled the majority of the game and should have made certain of their victory earlier, only Gylfi Sigurdsson and Jermain Defoe missed presentable chances.
Ian Holloway's sole foray into the Premier League with Blackpool in 2010-11 was delightful but doomed. It was a minor miracle they lasted until the final day before their relegation was confirmed in what was the worst Premier League season, which maybe explains the extensive stay of execution.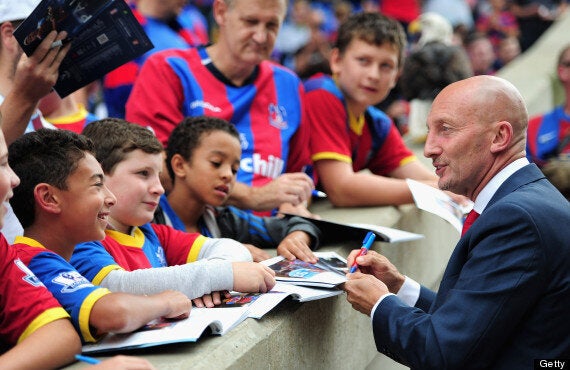 Holloway in signing shocker
Holloway did at least reinforce the Tangerines' squad, but his Palace is the most underprepared for the top flight since Billy Davies' Derby County six years ago. Derby finished the season with a pitiful 10 points and registered just one victory. Kevin Phillips, occupying Palace's super-sub role, fulfilled that obligation for Birmingham City four seasons ago.
Their manager's antics are also overlooked. The act which charmed the masses three seasons ago has become tiresome and Holloway remains a Championship-level manager at best. Unlike at Bloomfield Road, he might not be given the chance to see out the season at Selhurst Park.