The latest addition to the Royal Family is a "little bit of a rascal" according his father, the Duke of Cambridge.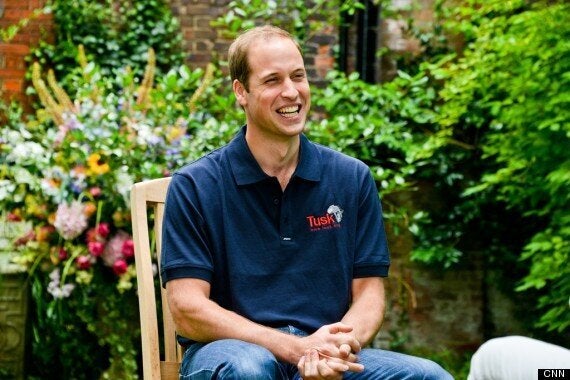 The full interview will premiere CNN on September 15
"He either reminds me of my brother or me when I was younger, I'm not sure, but he's doing very well at the moment."
"He kind of, he wriggles around quite a lot," he said. "And he doesn't want to go to sleep that much, which is a little bit of a problem."
The Duke admitted he does not get up in the night to see to the baby as much as Kate, adding that she is doing a "fantastic job".
William said he believes fatherhood has changed him already.
"I think the last few weeks for me have been just a very different emotional experience," he said.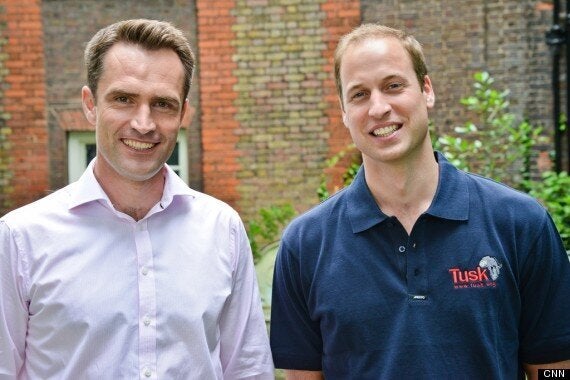 The Duke was interviewed by
"Something I never thought I would feel myself. And I find, again it's only been a short period, but a lot of things affect me differently now. "
Asked about the moment he and Kate brought George out of St Mary's Hospital in Paddington, central London, for the first time, William said they were "happy to show him off to whoever wanted to see him".
"I think I was on such a high anyway," he said. "As any new parent knows, you're only too happy to show off your new child and, you know, proclaim that he is the best-looking or the best everything.
Story continues after slideshow...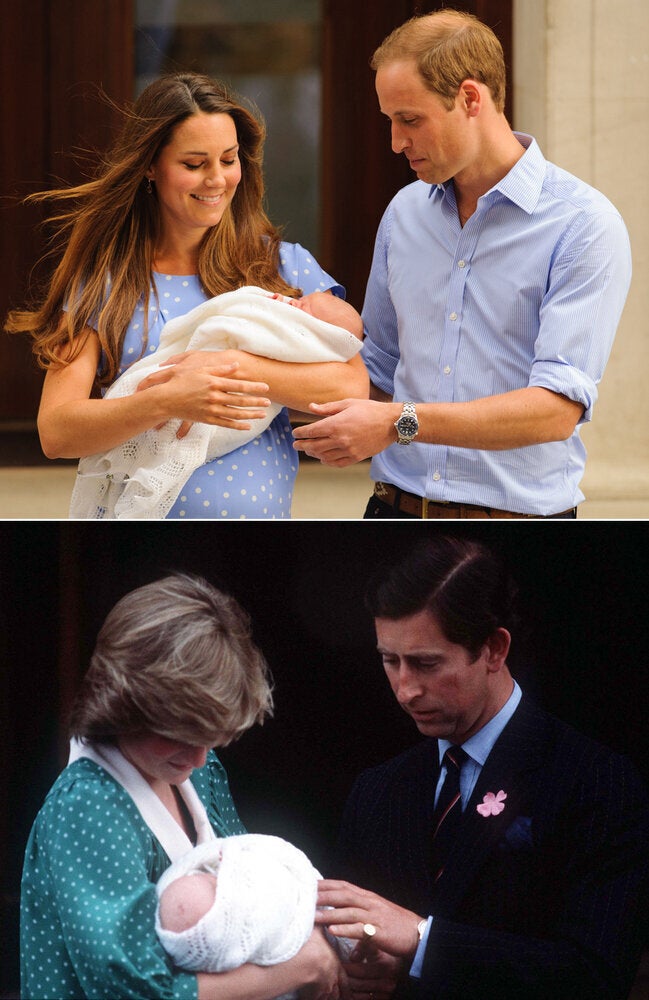 William and Kate 2013/Diana and Charles 1982
"It's nice that people want to see George, so, you know, I'm just glad he wasn't screaming his head off the whole way through."
William said he was "terrified" he would mess up fixing the baby's car seat into the back of the vehicle in front of the world's press and admitted he had practised the manoeuvre.
He said: "I know there's been speculation about that. I had to practise, I really did. I was terrified that I was going to do some... you know, it was going to fall off or it wasn't going to close properly.
"So, I had actually practised with that seat, but only once before."
William said it was important to him to be able to drive his family away from the hospital. William and Kate present Prince George to the world
"Where I can be, I am as independent as I want to be. And same as Catherine and Harry," he said.
"We've all grown up differently to other generations. And I very much feel if I can do it myself, I want to do it myself. And there are times where you can't do it yourself and the system takes over or it's appropriate to do things differently.
"But I think driving your son and your wife away from hospital was really important to me. And I don't like fuss so it's much easier to just do it yourself."
The Duke, who looked casual in a navy blue polo shirt bearing the logo of the Tusk Trust, of which he is a patron, said he was "headstrong" about things he believed in.
Asked if he was doing things his own way as second in line to the throne, he said: "I'm just doing it the way I know this, you know. If it's the right way, then brilliant. If it's not, if it's the wrong way, then I'll try to do it better.
"I'm reasonably headstrong about what I believe in, and what I go for, and I've got fantastic people around me who give me great support and advice."
William said he had changed the first nappy.
"I had every midwife staring at me, 'You do it. You do it'," he said.
He added that George - who is four weeks old today - is "growing quite quickly".
He said Kate was doing "very well", while their black cocker spaniel is "coping alright" with the new addition.
"As a lot of people know who have got dogs and bringing newborn back, they take a little bit of time to adapt, but, no he's been alright so far," he said.
"He's been slobbering sort of around the house a bit so he's perfectly happy."
Asked about returning to work as an RAF search and rescue helicopter pilot, William said: "Well as a few fathers might know, I'm actually quite looking forward to going back to work.
"I'm just hoping the first few shifts I go back I don't have any night jobs."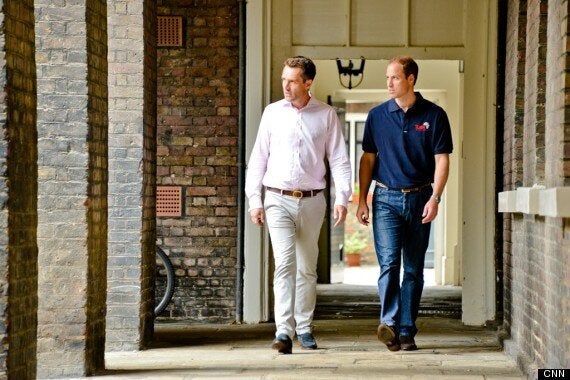 The Duke, who was appearing on the programme to talk about his passion for wildlife conservation, said it was something he would like to pass on to his son.
"I'll have toy elephants and rhinos around the room. We'll cover it in sort of, you know, lots of bushes and things like that. Make him grow up as if he's in the bush," he said.
But he also joked that this could wait until George was older. "At the moment, the only legacy I want to pass on to him is to sleep more and maybe not have to change his nappy so many times."
The full hour-long documentary - Prince William's Passion: New Father, New Hope - is to be broadcast on ITV next month.
Last week the Duke described his new son as "pretty loud but of course very good-looking'' when he made an appearance at an agricultural show on Anglesey, where he has been based as a pilot for the past few years.
He has confirmed he will be moving ''elsewhere'' when his military posting on the Welsh island comes to an end next month.
He has almost completed his three-year tour of duty and is widely expected to return to London with Kate and George to take on more royal duties rather than stay in the service.
Although William has been seen on a number of occasions since the birth, Kate's first public engagement will be at an awards ceremony for wildlife conservation charity Tusk Trust next month.
It had been thought the duchess would spend much of the autumn out of the limelight and away from public duties caring for George, but confirmation from Kensington Palace that she will take part in the event may indicate she plans to juggle motherhood with royal engagements sooner than expected.
The ceremony, on September 12, is also expected to be filmed for the documentary, which is being produced by Spun Gold TV in partnership with CNN.
Related