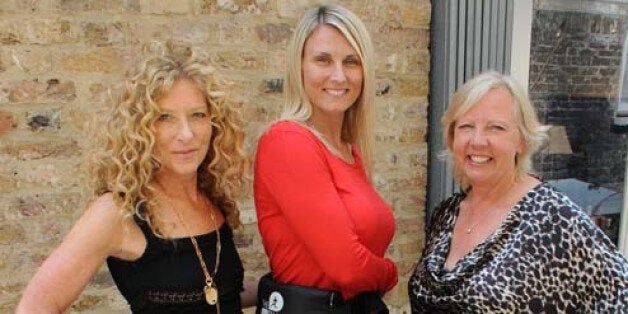 Fitness instructor Donna Kerr-Foley dreamed up her "Running Mat" as an exercise tool that would help people train outdoors while managing her ladies-only boot camps.
The 36-year old's design was a cushioned, waterproof, foldaway exercise mat with a reflective coating that retains heat in winter and keeps cool in summer, which is worn around the waist or hips when not in use.
Appearing on Dragons Den last night, Kerr-Foley sought £50,000 investment from the Dragons to take her business global, but was met with short shrift by fitness club entrepreneur Duncan Bannatyne.
However, Deborah Meaden and new Dragon Kelly Hoppen teamed up to offer Kerr-Foley the required cash sum for 40% of her business, and now she is racing off in the hope of business success.
After the investment, Deborah Meaden said: "I am not a runner myself but was listening intently to the debate between Duncan and Kelly about the usefulness of Running Mat. I came down on the side of Kelly's view and was won over by Donna's presentation and professionalism, and I am glad I was. This is a great Investment with orders already placed by some of the Big Retail names."
Hoppen said: "As soon as I saw The Running Mat I knew it was something people would use on-the-go or even at home. I can't believe no-one has thought of it before."
Speaking to the Huffington Post UK, Kerr-Foley reveals how she survived her pitch and her plans to take "Running Mat" around the world.
What is the Running Mat and how did your idea come about?
The Running Mat is a portable outdoor exercise mat used for outdoor training. It is a compact unit which fastens around the waist to enable the user to run and exercise without any obstruction. It opens up into a cushioned exercise mat which protects your hands, joints, back and clothing.
It is ideal for runners wishing to add strength and conditioning work to their workout, personal trainers and their clients, boot camp participants, hikers and for people participating in yoga in the park.
I run ladies only boot camps called "No Lippy" boot camp, and it was whilst training my clients I realised I needed this product as the outdoor environment hindered my clients. The Running Mat helps me as a Trainer as I no longer need to carry 40 exercise mats for my clients, my clients are no longer covered in mud and dog mess. My clients are no longer going in their cars or going home in soaked clothing from lying on wet grass and concrete.
How did you prepare for the pitch?
I spent weeks preparing my pitch, and although i was very nervous, I feel I managed to keep calm and came across well. It was a lot harder than I expected. I thought I would be in and out within 20 minutes but I think I was in with the Dragons for over an hour.
Were the Dragons tougher than you expected?
I expected a negative reaction from Duncan though as he's in the indoor fitness industry. The outdoor fitness industry is massive competition for gyms and health clubs so I expected Duncan's response.
What did you learn from doing the pitch?
I definitely realised I sometimes talk over people when I'm trying to get my point across. I get so excited as I'm passionate about what I do and the fitness industry.
Were you happy with Kelly and Deborah coming on board?
I went into the den to get an investment and I wasn't leaving without one! I knew Kelly was into her fitness so I knew she would see the potential immediately. I was hoping Deborah or Peter would see potential in me. To have both Kelly and Deborah on board is amazing and can't wait to take the running mat global. I didn't want to give 40% away to be honest, but it never entered my mind to not accept it.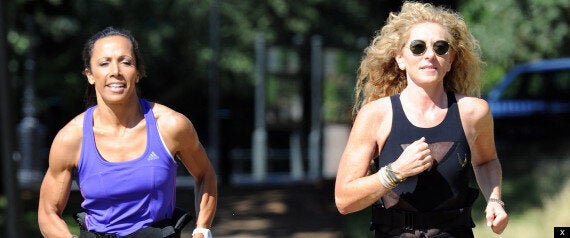 Kelly Hoppen trains with the Running Mat, alongside Dame Kelly Holmes
What are your plans now Kelly and Deborah are on board?
It has been all go. We plan to bring a range of colours and designs out including a yoga mat as well as a mat with storage for keys and phone. I've been up and down the country meeting with big name retailers who are all interested in stocking the product.
I aim to have various styles of the running mat stocked in retailers across the globe. I'm in this business for the long term. The outdoor fitness industry is a massive growing industry not just in the UK but across the globe too. I have many ideas for solving problems for people training outdoors.
Popular in the Community