A pleasure cruiser on the River Ouse in East Yorkshire caught on fire on Tuesday morning. Two people on board were rescued.
Humber Rescue volunteers said those on board the 35ft Moonraker vessel abandoned the vessel when it caught fire as it drifted further upstream to near Reedness.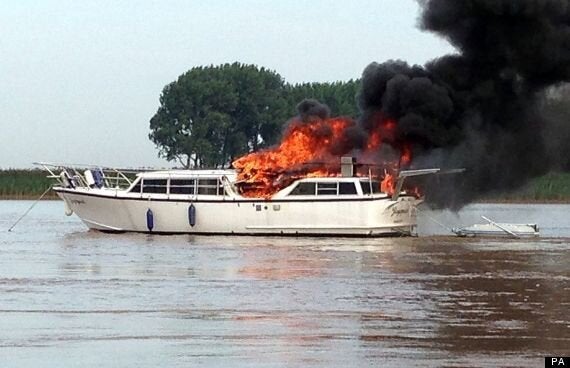 Emergency services were called around 8am
As the people were pulled from the water, the boat was described as "well alight". It later sank.
Martin Rumford, trustee and coxswain at Humber Rescue, said: "This incident serves as an illustration as to how quickly things can escalate, leaving crew members with no option but to abandon their vessel.
"We cannot emphasise enough the need to make sure that all of your safety and communication equipment is checked and working before setting out on a journey."
Humberside Fire and Rescue said the boat was well alight when firefighters arrived and was carrying a gas cylinder and 125 litres of diesel fuel.
But they said the two people on board were rescued by Humber Rescue before the crews arrived and no-one was injured.
The service's firefighting tug boat was mobilised but not used.
The people rescued are understood to have been a middle-aged couple.
Witnesses said that when the rescuers arrived, the woman was already in the vessel's own small rescue craft but the man was still on his boat well after the flames took hold.
Both were examined by paramedics but did not want to go to hospital.
Related