The opening day loss to Aston Villa has provided the kick up the a**e the Arsenal needed and now they are BIDDING FOR PLAYERS. The problem, since there always is one with Arsène Wenger's transfer policy, is they are not necessarily going after the right names, and those names are Yohan Cabaye, Michu and Ashley Williams.
Michu was linked with the Gunners last week as they scour for a striker to belatedly replace Robin van Persie. The Spaniard signed a new contract with Swansea earlier this year and is likely to cost around £20 million.
Arsenal will have to pay a similar amount if they are to sign Cabaye, but Williams is a curious case, simply because Arsenal offered £6m earlier in the summer, had it rejected and ne'er returned.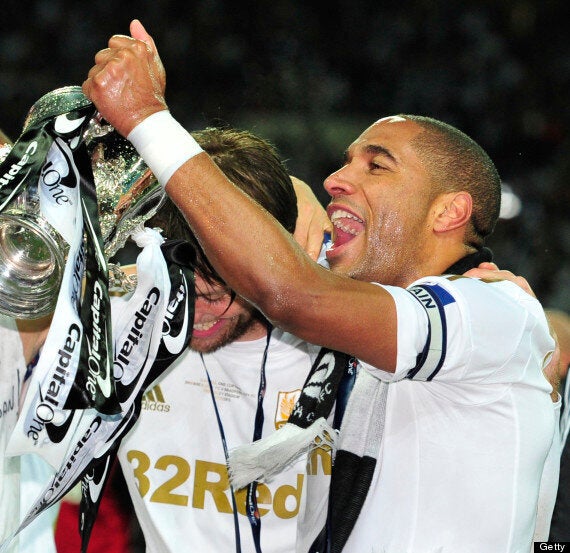 Williams and Michu have won more trophies in eight years than Arsenal
Williams, a solid and competent centre-back, turns 29 this week and is hardly an upgrade on the current Gunners centre-backs, though. Essentially, Michu aside, Wenger is targeting the wrong men at the wrong price (£35m for Michu and Williams, apparently).
The Telegraph also say Newcastle will try and rinse Arsenal for as much as possible for 2013's Mikel Arteta, Cabaye. While the Mirror add Wenger is interested in Manchester City's invariably injured Micah Richards and has not given up hope of bringing Luis Suárez to the Emirates Stadium.
Manchester United are attempting to address their won't-buy-won't-sell strategy by shipping out the abysmal Alexander Büttner on loan and signing Marouane Fellaini and Leighton Baines.
Of course, when you attempt to buy players you should offer a relatively respectable price. David Moyes, who managed Baines for six years and Fellaini for five, essentially values the former as £1m more than Diniyar Bilyaletdinov and the latter less than the amount he cost when he joined Everton five years ago. Derisory and insulting. "Moyes values us 'this' much."
Alas, Everton's short, sharp statement did not include the words "not for sale". A useless phrase, some clubs do actually fulfil that statement occasionally, and United will return with two separate offers for both Baines and Fellaini.
The Guardian say Toffees coach Roberto Martínez will replace Fellaini with Manchester City's Gareth Barry and Wigan Athletic's James McCarthy.
Javier Hernández rejected the chance to move to Valencia, claim the Mirror, which is sensible considering the Mexican is worthy of a bigger club and is still a valuable squad member at United.
And Stoke boss Mark Hughes watched Rennes striker Mevlüt Erdinç against Nice on Saturday. The Potters are preparing a £5m bid for the Turkey international.