A disorientated dolphin has been causing a splash after it unexpectedly swam miles up a Welsh river and into English waters.
The frolicking dolphin left walkers strolling along a river path near Chester city centre stunned after it leapt out of the water and started performing flips.
The confused creature was first spotted by the public in Connah's Quay docks in Flintshire, North Wales, on Monday but then swam further up river to Saltney, near Chester, in Cheshire. The lost dolphin which has taken up residence in the River Dee
The dolphin – which has already picked up several nicknames including the Great Dee Rivermonster, the Dee Dolphin, and Dave the Dolphin – then carried on up the river and was most recently seen near Chester Racecourse.
Volunteers say the dolphin "seems to be okay" despite being stranded for a short time close to Queensferry on Tuesday before being rolled back into the water.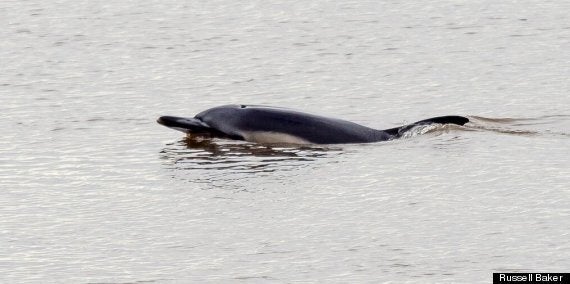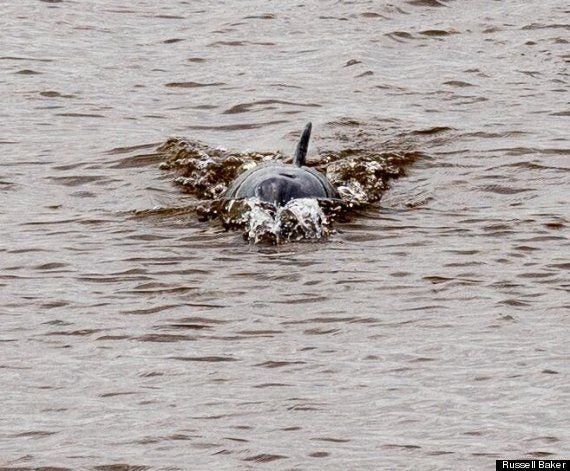 The lost dolphin is now being monitored by a marine rescue charity as it attempts to make its way back downstream towards the sea.
Stephen Marsh, from charity British Divers Marine Life Rescue, told Wales Online: "The reports from the public said it was swimming quite a lot, clicking quite a lot, so it's probably feeding.
"Unless it gets into difficulty we don't really need to intervene.
Mr Marsh said such an event is quite rare, adding that the charity would step in to take it back out to sea if it does get into trouble.
"We will monitor it and hope it goes back out to sea," he said.
"It's probably been chasing fish in from the sea and then got caught up in the tidal system."
This is not the first time a dolphin has been spotted in the river, with a pair of porpoises having been spotted near Queensferry Bridge eight years ago.
Popular in the Community