Gruesome pictures coming out of Syria show the aftermath of a chemical weapon attack, rebel fighters say.
They said rockets with poisonous gas heads were used by President Bashar al Assad's forces during a bombardment of rebel-held areas outside the Syrian capital - a claim flatly denied by government officials.
Unverified footage of casualties, including children, in makeshift hospitals suffering convulsions and breathing difficulties has circulated on YouTube.
The graphic images appear to show rows of bodies covered in sheets. Footage emerged apparently showing the aftermath of the attack
Rami Abdul-Rahman of the British-based Syrian Observatory for Human Rights monitoring group said "poisonous gas" was fired in rockets as well as from the air.
He said he has documented at least 100 deaths, but said it was not clear whether the victims died from shelling or toxic gas.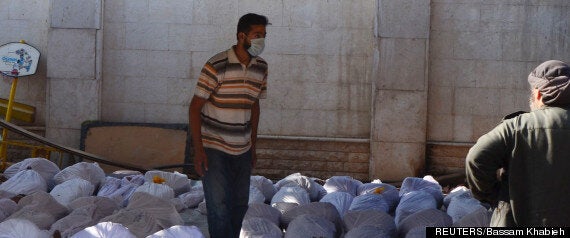 Syrian activists inspect the bodies of people they say were killed by nerve gas
The Syrian National Coalition, the main opposition group in exile, put the number at 1,300. The group said it was basing its claim on accounts and photographs by activists on the ground.
The Syrian government and opposition groups have repeatedly accused each other of chemical warfare, something US president Barack Obama warned was a "clear red line".
Earlier this year Prime Minister David Cameron backed Washington's "candid assessment'" that the Assad regime had used chemical weapons.
Ake Sellstrom, a chemical weapons expert leading the UN team, has said he wants to look into the attack. Syria would need to agree to any request made through UN by a member state.
Popular in the Community