Three-and-a-half-years ago, Harry Redknapp wanted to sell Gareth Bale. The Welshman hadn't scored in over two years, was injury-prone, a one-time curse and a liability at left-back. He was struggling to impose himself at Tottenham and, according to Richard Keys, his former Sky Sports colleague Jamie Redknapp asked him and Andy Gray for advice on who would be willing to sign the then-20-year-old.
Birmingham manager Alex McLeish nearly bought him. Nottingham Forest were interested. They had signed his compatriot, Chris Gunter, from Spurs in 2009 and £3 million was the reported fee for Bale. Then Benoit Assou-Ekotto got injured and Spurs could not afford to sell their only other recognised left-back, who turned over a new leaf in his career.
Bale has not looked back since and is now the most expensive player in football history. His form last season has propelled him into a new heady atmosphere, but Bale has been in the limelight since he was 16.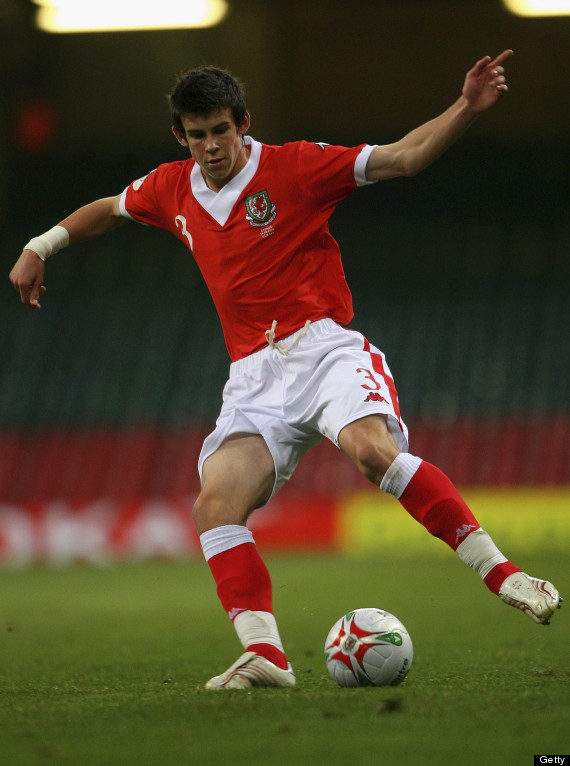 A 17-year-old Bale in action for Wales at the Millennium Stadium
At 16 years and 288 days, he made his Southampton debut in the midweek Championship defeat of Millwall. Bale's start might have garnered more attention had Theo Walcott not featured against Wolverhampton Wanderers aged 16 years and 143 days in August the previous year, but he was not to go unnoticed for much longer.
On the opening day of the following season, Bale bent in a sweet free-kick to equalise at Derby in front of the Sky cameras. The precision for his age was exceptional, and he scored three days later at Coventry City to confirm his burgeoning reputation.
He had already made his Wales debut two months after his first appearance in a Saints shirt but scored his maiden Dragons strike in a 1-5 humiliation versus Slovakia in October. It was another free-kick and before his set-pieces rippled the back of the net supporters were whispering about comparisons with Ryan Giggs.
Three months later, Tottenham approached Southampton with a view to signing the teenager. Bale, commendably, declined because he wanted to help the club win promotion back to the Premier League, but it wasn't to be.
After 50 appearances for the south-coast club he joined Spurs for £10m. Manchester United were interested but Patrice Evra and Giggs were an established and intimidating duo on the left wing and Nani was en route. Arsenal were said to be keen, too, but it was perennial underachievers Tottenham, who had an unreliable left-back in Benoit Assou-Ekotto and no outstanding left-winger, who got him.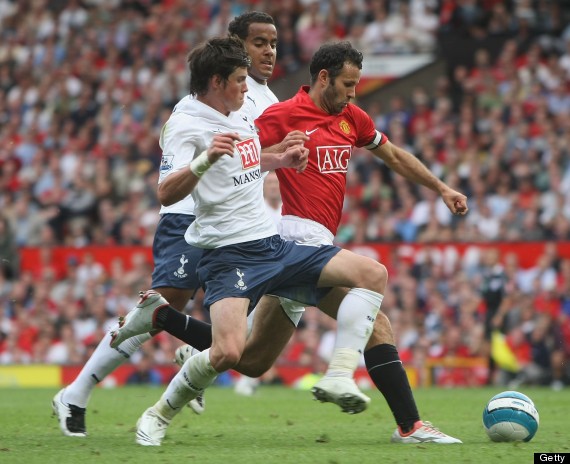 Bale views for the ball with his hero Ryan Giggs on his Spurs debut
Sidelined for the first three games through injury, Bale was ebullient on his debut. The pre-match debate was over Bale's best position and he was deployed on the left wing by Martin Jol to such devastating effect United fans couldn't help but harbour regret that the latest Welsh winger was playing in white rather than red.
United fortuitously won the game 1-0, but Bale was so impressive in contrast to the maddening Giggs that when the latter was substituted the Spurs fans heckled "You're just a s**t Gareth Bale". The auspicious start was deceiving though, and little did anyone - or Bale - know it was the beginning of a personal two-year curse.
He scored his first Tottenham goal in a 3-3 draw at Fulham the next month and followed that up with a free-kick in the north London derby with Arsenal, but Martin Jol was soon sacked and replaced by Juande Ramos. An injury in a home defeat to Birmingham in December ended Bale's season prematurely and he missed out on a League Cup winners' medal in Spurs' 2-1 victory over Chelsea.
Ramos was sacked after another stuttering start to the season a year after his appointment, with Bale sent off in his final game at Stoke's Britannia Stadium. Harry Redknapp was destined to win Spurs their first game of the season because Bale wasn't playing: he had not played in a Premier League win after 15 attempts, and Spurs beat Bolton without him.
Bale played in nine league more matches that season which ended winless, and it was at the 25th attempt in September 2009 that the curse ended with a 5-0 home triumph against Burnley. He emerged as an 85th minute substitute to gallows humour in the stands.
However, Bale was rarely used in the first half of the campaign as Spurs chased the coveted fourth spot. Niko Kranjčar was preferred on the left. Gallingly, so was Robbie Keane. Then Assou-Ekotto injured and a move to Birmingham was scrapped.
Bale warmed up for his first-team ascension with some impressive form in Tottenham's FA Cup run to the semi-finals before his double derby delight against Arsenal and Chelsea. He scored the winner past both teams in the space of three days at White Hart Lane for his first strikes in 31 months, toying the calamitous Paulo Ferreira and eliciting the tackle which saw John Terry sent off in the latter fixture.
Tottenham ultimately booked their Champions League ticket and Bale had proved to be indispensable in the run-in. And it was on the continent that he announced himself to world football with the evisceration of the European champions.
His hero Giggs had humiliated Italians from Torino to Milan but Bale surpassed his compatriot with a hat-trick at the Giuseppe Meazza. Spurs were trailing 0-4 to Internazionale before Bale struck to repair some of the damage and dominate the headlines in defeat and in the return match he embarrassed Maicon, then regarded as the best right-back in the world, on one of Tottenham's greatest nights in Europe. The Brazilian's career never recovered from the ordeal and Bale's dual displays effectively earned him the PFA Player of the Year accolade even though he did not register a single goal after 1 January.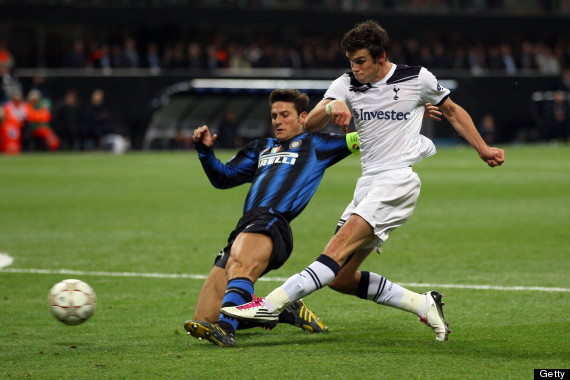 Bale scores one of his three goals at Inter
Bale finished on 11 goals in 2010-11 and scored one more the following campaign as Redknapp's stint drew to a frustrating close. Tottenham were 10 points clear of the worst Arsenal team in two decades in the spring of 2012 but were usurped by their nemesis and Chelsea's flukey Champions League win in Bayern deprived them of a Champions League spot.
Redknapp's replacement, André Villas-Boas, was pivotal in Bale's emergence into a truly world-class player. In 2012-13, Tottenham's set-up was geared around their marauding forward who was now instructed to operate across the front three in a free role, as opposed to getting chalk on his garish boots on the left wing.
His goals earned Tottenham a staggering 28 points for their highest points haul in the Premier League era in a season peppered with Bale brilliance. A hat-trick at Aston Villa, a superb brace versus Newcastle, late winners at West Ham and the home games against Southampton and Sunderland, and stunning strikes at Norwich, West Brom and Swansea all contributed to Bale's PFA and FWA Player of the Year awards.
It was not without its blemishes. The previous season, Bale executed a diabolical dive at Anfield but was not punished and earned a dubious penalty at the Emirates, yet last term he was booked five times in all competitions for simulation. Some were deserved, some were not, but his reputation is all his own doing and his popularity outside N17 plummeted.
Such transgressions are but a footnote as he swaps the Lilywhites for the blancos, when it could have been the Blues.