The Spa Intercontinental at the Park Lane Intercontinental Hotel on Hyde Park Corner, is one of my favourites in London. I've only ever been once before (I took my oldest best friend for her 40th on a Wahanda deal) but was blown away not just by the treatment, but by the beautiful spa itself and the incredible staff.
With another best friend's 40th imminent, it was the only place to take her. This time round, I opted for us both to have the English Rose Treatment, knowing Tash's favourite fragrance was rose, and that as the mum of two very young children, she'd welcome two hours of childfree spa bliss as a birthday present.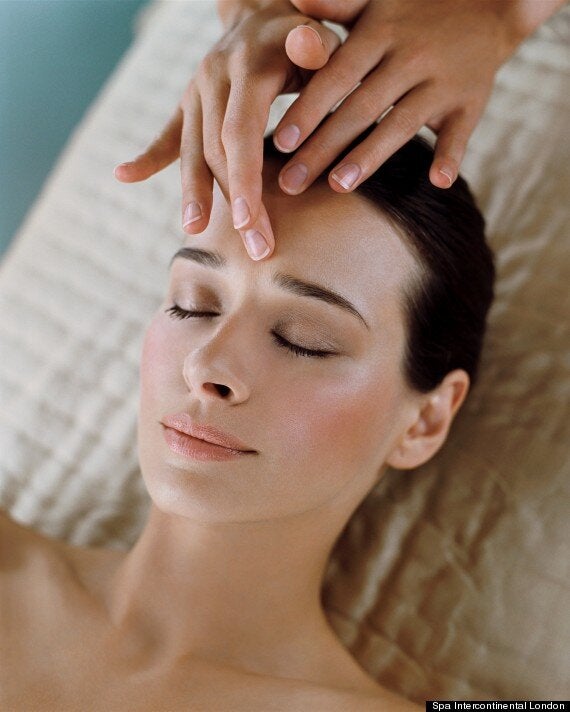 Client experiencing the English Rose Treatment at the Intercontinental Hotel, London
On arriving at the sumptuously-appointed spa on the first floor - all dark wood and understated glamour - we did the usual form-filling. The questionnaire was more thorough than most however - not just any medical issues, but asking what was your skincare regime, what were your skin and body issues that you needed addressing? While ticking boxes, we were treated to a delicious cup of tea and a cute little selection of berries to nibble on while penpushing.
Soon we were ushered through by our individual therapists to the gorgeous treatment rooms where my therapist, Amy, sat me on the massage bed and asked where I wanted attention in particular. Having informed her of my back problems and chronically rock-hard shoulders and neck through overuse of keyboards, she talked me through which Elemis products (one of my absolute favourite brands) she was going to use to tackle my sensitive, dehydrated dry skin. Then it was time to strip off so she could get to work.
First, your feet are soaked in a warm rose petal bath, before Amy uses a sumptuous-smelling lime and ginger scrub to exfoliate the skin from toe to knee.
A foot and leg massage follows with a Muscleease massage oil, which makes me realise that I have been overdoing the running a bit - my footarches are agony. Legs whipped into shape, hot towels are applied to my shoulders, then it's time for a hot stone back massage, using the same Muscleease oil and incorporating Balinese, Hawaian and Thai techniques. Though perhaps not as firm and deep as I prefer, it was an excellent relaxing massage.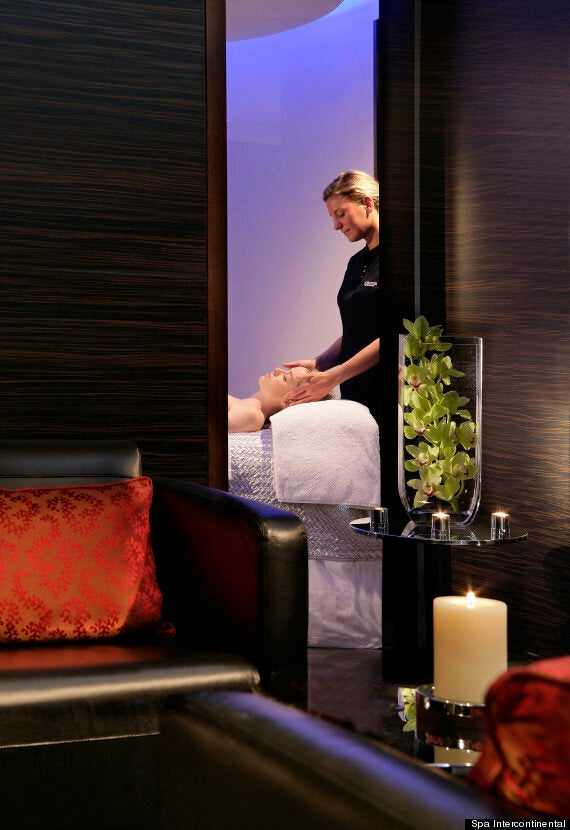 Time to bliss out during an English Rose Treatment
Time to flip over for the Elemis Visible Brilliance facial. After again using hot towels impregnated with rose oils as a facial compress, Amy begins her treatment tailored for my skin. She starts with a double deep cleanse with Gentle Rose Exfoliator, which as well as rose, includes cucumber and little beads of jojoba oil that burst when rubbed onto the skin.
After using Soothing Apricot Toner to get rid of the last vestiges of the exfoliator and any make-up, Pro-Collagen Quartz Lift Serum is applied before the Pro-Collagen Quartz Lift Mask and Pro-Collagen Eye Renewal cream is then slathered on expertly. Apparently, this stuff is clinically proven to reduce the appearance of wrinkles by up to 78% and increase hydration by up to 45%.
While the mask does its job, Amy massages my scalp and arms. It's so deeply relaxing I almost fall asleep numerous times, and jolt back to consciousness just in time to halt imminent dribbling. The glamour indeed.
Who cares though, as the effects of the facial alone last for days - my skin looks AMAZING. And even after two hours of bliss, it's not the end, as after you've dreamily put your clothes back on in some kind of reverie, you relax back in the spa lounge with some white peony and rose tea with some delicious rose chocolates. You're also given a gift bag full of Elemis products specifically for your type of skin and a dinky tea caddy filled with the white peony and rose tea.
This is not a cheap treatment, but for an occasional treat, it can't be beat. Two hours of absolute bliss, and you really do feel – if not look - like an English Rose afterwards. You'll certainly have blossomed at any rate, petal…