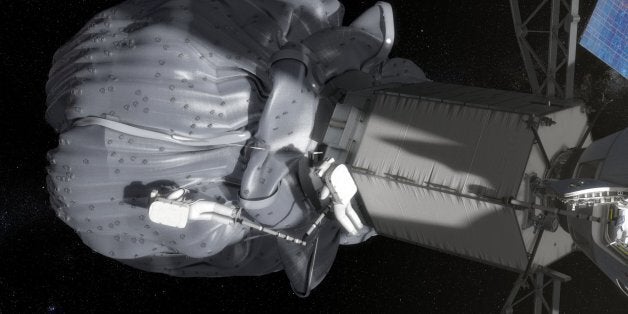 Nasa has already stated its ambition to hunt for an asteroid, capture it and redirect it for further study. In fact that incredible target is already part of President Obama's 2014 budget request for the agency.
Until now, however, we haven't seen how the mission could actually work. But thanks to a new set of concept images and a video, we can start to visualise what the mission would actually involve - and look like.
The video released by Nasa this week shows a a robotic craft capturing the asteroid in what is essentially a giant sack. The craft then redirects the asteroid closer to Earth, where it waits for a two-person crew to arrive via an Orion spacecraft, and take samples.
"The agency is creating an asteroid mission baseline concept to develop further in 2014 to help engineers establish more details about the mission. Meanwhile, engineers and scientists across the agency continue to evaluate several alternatives, as well as ideas from the public, for consideration throughout mission planning.

The asteroid initiative will incorporate advanced solar electric propulsion technology as a power source for spacecraft, offering greater flexibility to the spacecraft and mission planners. The mission also leverages the agency's progress on the Space Launch System rocket, Orion spacecraft and other cutting-edge technology developments."
Nasa began its asteroid mission formulation review in July, and will assess more than 400 ideas and responses before holding a technical workshop in October.
Related