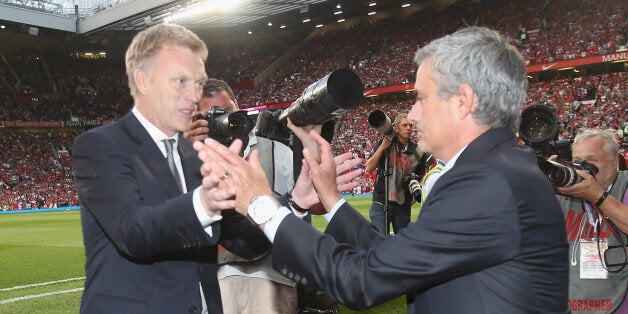 José Mourinho's tactics evoked memories of his conservative table-topping clashes from yesteryear while David Moyes has still not won in 12 attempts at Old Trafford, but at this early juncture the result was always going to be inconsequential.
Here are five talking points from Old Trafford...
MOURINHO RISKS UPSETTING ABRAMOVICH
With no striker in his selected side and the late substitution of John Obi Mikel a contented gesture, Mourinho risked antagonising Roman Abramovich with his pragmatic approach.
Chelsea's opening game win against Hull, featuring an hour-long lockdown after a vibrant first 30 minutes, was a homage to Mourinho Mk.I but the Portuguese is acutely aware of how such businesslike football displeased the club owner. Abramovich wanted Pep Guardiola when Roberto di Matteo was sacked but has had to settle for second best, and team's approach was too negative at Old Trafford.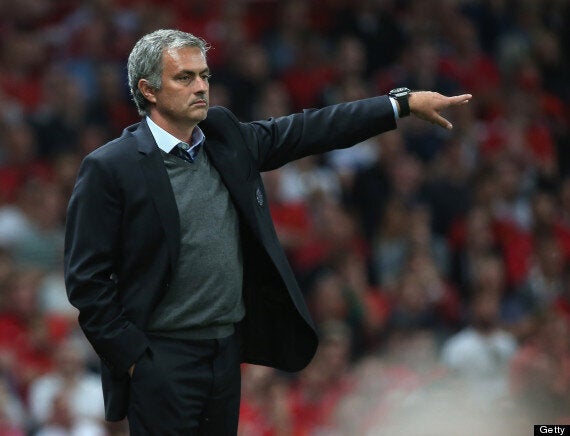 "Get back and defend. Now."
Whereas United were let down by ineffectual wingers and a lack of creativity from midfield Chelsea, somewhat understandably as the away team, were shy. It was a throwback to the "big four" bore draws Mourinho infamously experienced in his first era, when goalless games with Liverpool were the norm. His reconciliation with Abramovich could yield more silverware but the signs suggest it might not be in the manner the Russian desires.
ROONEY REVELS BUT WELBECK WILTS
The conversation Wayne Rooney had with Sir Alex Ferguson which triggered his stultifying summer saga was, ostensibly, regarding his desire to start in his favoured position. The 27-year-old's inclusion at the wasteful Ryan Giggs' expense meant either he or Danny Welbeck would be forced out wide and given the current circumstances, Moyes effectively had no choice, despite Welbeck's two goals at Swansea.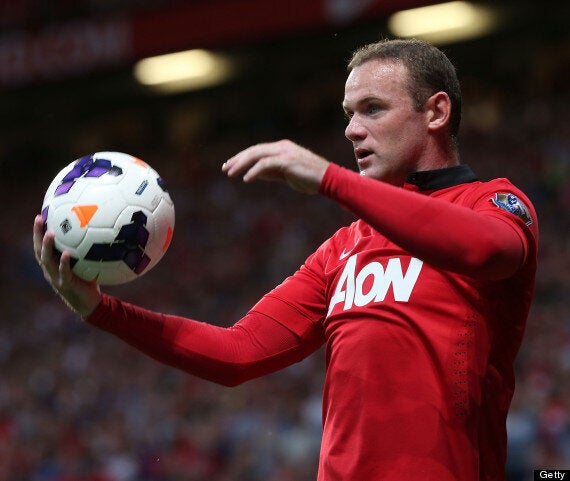 Rooney was United's best player
Rooney was slick and sharp over the 90 mimutes while Welbeck's display was reminiscent of the gamely but goalless performances which were a hallmark of his in 2012-13. He began the season encouragingly playing off Robin van Persie, but missed two good chances on Monday night which suggests his finishing and confidence are dependent on where he is deployed.
United fans, meanwhile, were in a forgiving mood - again - as Rooney's name was hollered louder than any other of the 18-man matchday squad and his attitude, just like at Swansea was unquestionable, and he will surely retain his starting berth - and role - at Anfield on Sunday.
PREMIER LEAGUE'S EGO TAKES A BATTERING
The Rooney issue, Mourinho's return to Old Trafford, Moyes' first game at Old Trafford and back-biting dominated the build-up to the extent that the Rio Ferdinand and John Terry's reunion for the first time since the latter was alleged to have, and subsequently charged with, racially abusing Ferdinand's brother did not even warrant a footnote.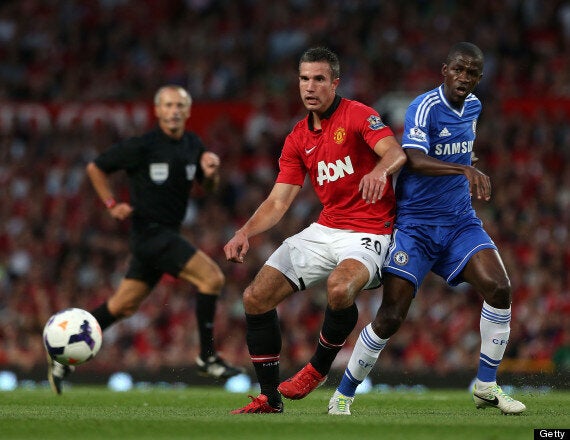 Van Persie was off-key against Chelsea
High on hype and low on quality, it was a match which symbolised the Premier League's ego. For all the commercial lucre it boasts, the league's six-year regression continued on a turgid night. The visitors have not got a striker the manager believes in and the hosts' midfield was worryingly cautious in a match which won't be worrying the Bundesliga or Primera Liga's top two.
SPANISH ARMADA INSTRUCTED TO STEER AWAY FROM THE BRIDGE?
Juan Mata played 70 games in 2012-13 and was withdrawn after 65 minutes in Chelsea's win against Aston Villa, but his absence from Mourinho's XI at United was telling, especially since there was no striker.
Mata, along with David Luíz, was linked with a player-plus-cash deal for Rooney and Mourinho appears to have all-but-confirmed this remains the case. Chelsea's two-time player of the year might have to be eased back into the first-team fold, but the tiredness excuse is an easy and hollow one and Mata had five days to recover in time for the Old Trafford clash. He was one of the first names on the team sheet before Mourinho returned and that should remain the case.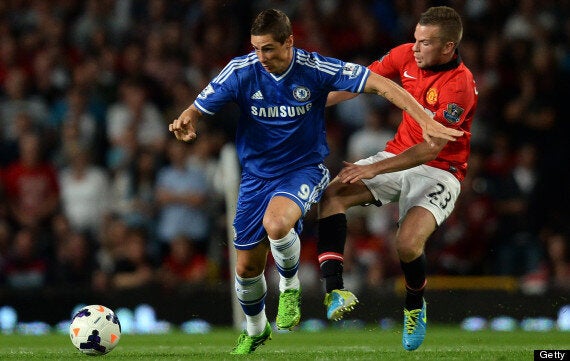 Mourinho is easing Torres towards the Chelsea exit
Asked why Fernando Torres was left out prior to the match, Mourinho said he required "mobility". He brought Torres on when the false nine experiment backfired but had Chelsea signed a striker by now Torres' miserable spell in west London might have ended. On Monday night, Mourinho signalled it might have already.
UNITED'S WING PLAY HIGHLIGHTS NEED FOR BAINES
The best and the worst of Antonio Valencia was summarised with one burst past Ashley Cole as if he was a training cone before a telegraphed pass was easily cut out.
United's wingers floundered again. Welbeck was unlikely to have the effect of a traditional winger, so Patrice Evra was encouraged to venture forward more regularly but his crossing didn't trouble John Terry and Gary Cahill, while Jones' delivery confirmed he played like a centre-back filling in at right-back.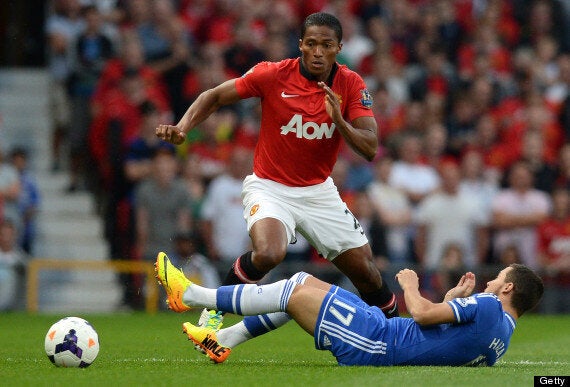 Valencia's crossing was woeful again
It is easy to see why Moyes has continued his pursuit of Leighton Baines, but United's wing woes were well documented last season. Valencia, Nani and Ashley Young all contributed little and aside from one exceptional cross, Young's cameo versus Chelsea was forgettable. The cautiousness from the Reds' midfield and wingers is a concern as Ferguson's successor attempts to alleviate the pressure on Robin van Persie.
Popular in the Community