'Assassin's Creed IV: Black Flag' is the latest instalment in Ubisoft's long-running action adventure parkour and stealth-em-up, out 1 November on Xbox 360, PS3 and PC and next-gen consoles.
"It is 1715 and Pirates rule the Caribbean. Among them is Edward Kenway, a Captain, member of the Assassins who, despite his young age, has earned the respect of his peers. Explore the luxuriant islands and vibrant cities of the area as you experience the brutal life of pirates and discover the reasons behind the creation of this unique Republic with unlimited freedom. "
Brand-new open-world setting in the Caribbean
Improved naval warfare and exploration
Hunting for big game in the open seas
Next-generation graphics and detail (for Xbox One and PS4)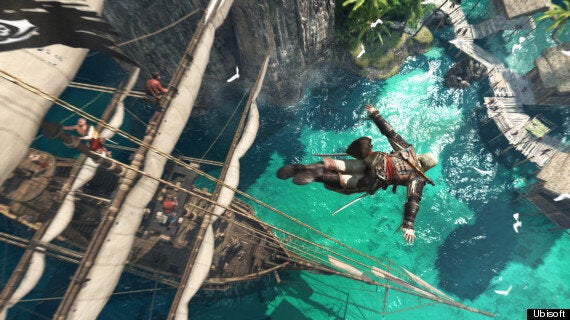 As should be obvious from the various gameplay videos that have emerged so far - and common sense, to be frank - 'Assassin's Creed IV: Black Flag' is not going to shock fans of the series. From our playthrough it's clear the game retains the trademark parkour stealth action of the series, while refining and extending the naval battles introduced in last year's American Revolution-themed adventure - and sprinkling a few new features on top.
That said, what's not quite clear from some of the more hum-drum reactions to the game so far, is just how fun it is to play.
To whit: in our play test we started out piloting the Jackdaw ship through the open seas, marvelling at the new watery graphics (very watery), before dropping anchor close to a suspicious flock of circling birds and harpooning a bull shark. That job swiftly dispatched we hauled anchor and took off to Havana, pulled into port, ran across the pleasingly tight and compact rooftops of the city before fulfilling a couple of assassination contracts, escaping thanks to a handy group of ladies of negotiable affection and making it back to the ship in time for songs and weasel biscuits. High in spirits we set off back to sea, quickly attacked and waged war with another ship, destroyed it, boarded and stole as much gold as possible before swimming back to the Jackdaw and calling it a day.
It all took about 10 minutes. It was all fun, intuitive, engaging and very impressive.
What we're saying is that while the game is obviously going to please Assassin's Creed fans, and bore its detractors rigid, it's fluidity, colourful and resonant setting - and frankly gorgeous next-gen visuals - might attract a surprisingly broad new audience of more casual gamers who haven't played a game this varied and enjoyable since GTA IV. If this was a new IP, we'd be bowled over by its ambition and playability.
Popular in the Community