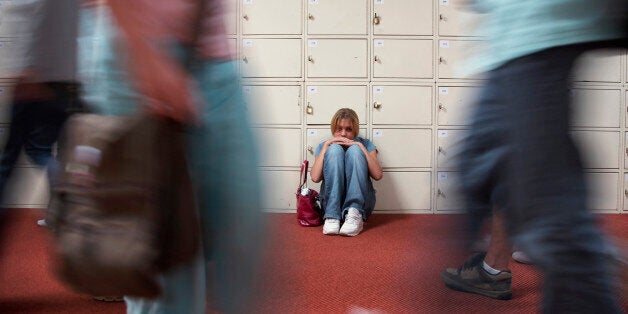 Young British people are at risk of becoming a generation of aimless, career-less 'inbetweeners' because of government cuts, a leading charity has warned.
Jane Evans, research and policy officer at Barnardo's, revealed her concerns on the state of careers advice in an interview with the Huffington Post UK.
"I would say the government is prioritising saving money over the futures of young people. Schools have not been given any extra money by the government to provide careers advice. They will have to find inexpensive ways of doing that, which will probably affect the quality."
Evans' warning follows research which revealed government changes to school careers guidance have risked "squandering" the futures of young people. Since last September there has been a duty on schools and colleges to provide all pupils aged between 13 and 16 with impartial careers advice.
"I didn't really know what I wanted to do. In school you always get told that you need to go to university and that. You don't get taught much about trades and that. It was just go to sixth form, or go to college, but when you're not the academic kind you don't want to do that."- Young person interviewed by Barnardo's
Evans, who authored the 'Helping the Inbetweeners' report, said the Department for Education had failed to provide schools with enough information to help their students.
"Schools have been given minimal guidance by the government - about seven or eight pages - very little indeed. They're supposed to provide impartial careers advice but young people have told us their schools found this difficult to do.
"People who did well academically were automatically pushed into staying on at school and doing A-levels, even if they wanted to do something more vocational.
"Conversely, some young people told us they'd been badly behaved and so their school really wanted to see the back of them so they weren't given the option to stay on or given any advice. Instead they were sent out [of school] to not do, or achieve, anything."
"I used to be naughty at school and the teachers told me I wouldn't get in. They didn't even let us apply; they just told us we wouldn't get in." - Young woman interviewed by Barnardo's
According to the report, young people not destined for higher education or advanced apprenticeships, but also not considered most likely to be out-of-work, education or training, were least likely to receive careers guidance.
Evans adds one of the biggest problems is reaching out to disengaged youths who may not be attending school every day.
"[They] aren't in school to get the advice, and there's no system to pick those people up and reach out to them. So they aren't getting it at all. There's no back-up.
"The young people we work with really need face-to-face advice. This has gone. None of the young people we spoke to knew anything about the careers website the government has provided."
"The careers adviser only spent time with Oxbridge candidates. Everyone else was told to pick their top five universities. I didn't even know apprenticeships existed until midway through uni." - Student from a state school in Berkshire
The quality of advice is also highly dependent on the individual views of head teachers. Evans adds: "There is a risk schools won't advertise apprenticeships or other qualifications as schools may not value them.
"There are young people who aren't the most academic who need a little bit of extra support and their aspirations raised and schools are not able to do this."
Paul Chubb, who heads up Careers England, an association for employers to promote careers education, says the system is a "postcode lottery".
"It's about whether the head teacher sees career advice and alternative qualifications as important. I believe every school can do this job well if they choose to.
"Some schools do a fabulous job, but there are some who do next to nothing. And this is not good enough. We've got a postcode lottery.
"The most important thing is securing independent access to advice. The statutory guidance to schools is flimsy. It's not properly inspected and it's not regulated."
Chubb calls for schools to publish annual statements detailing what careers advice they offer. "This would be a measure of proper public accountability. What's the point in having a statutory duty if it is not regulated? It is just unacceptable.
"Young people are poorly prepared about what to do with their lives.
"If you have central heating, you don't get any Tom Dick or Harry to come service it, you get a qualified engineer. So why would you have any Tom Dick or Harry doing careers advice? It doesn't make sense. The government's decision to place the duty on schools is not founded on any evidence that this works."
Craig Abrahart, operations director at notgoingtouni.co.uk, called the current careers advice provision an "absolute scandal".
"The scandal is that the landscape for university graduates has changed beyond all recognition - debts are over £50,000, graduate unemployment is still at around 10% - but the advice that "university is best" has stayed static for decades," he told HuffPost UK.
"The absolute scandal of modern careers advice within schools is that it is still so overwhelmingly focused on the traditional progression from school to university."
Barnardo's says the government's decision to axe the duty on local councils to provide a universal careers service is "jeopardising" many people's chances of getting sustainable work.
The replacement of face-to-face guidance with online or telephone-based services following cuts to the Connexions service has been "wholly inadequate", according to the report.
Barnado's interviewed 29 young people from across the county and found none of those questioned were aware of the National Careers Service (NCS) website or Government-funded Plotr site.
The NCS helpline - which is free to call from landlines but costs up to 40p per minute from a mobile - was "virtually unaffordable" for many young people, the charity added.
"You're not going to get challenged from a website, are you?" Chubb, who has been a careers adviser for years, continues.
"It's utter nonsense to think there is one route for everyone," he adds. "[The situation] is down to the leadership of the DfE not understanding or valuing professional careers advice.
"If you're the head of an 11-18 school then you will promote your own offering."
Barnado's has set of a raft of recommendations which it believes will improve the careers advice system including a guarantee that young people will receive face-to-face guidance should they request it.
The Government must clearly indicate how much resource schools are expected to devote to providing effective careers guidance and betters promote online services available, it said.
The charity also called for the national NCS phone line to be free to call from mobiles as well as being Skype-accessible so callers can gain face-to-face advice.
Barnardo's assistant director of policy Jonathan Rallings added: "Changes to our careers guidance system risk squandering young futures by failing to guarantee sufficient vital face-to-face support for people who need it.
"It's crucial that the Government doesn't miss the opportunity to step in at this pivotal age, especially when access to trusted, personally tailored careers advice at an early stage can help to make the difference between young people sinking or swimming in the world of work."
A Department for Education spokesperson said: "For the very first time this government has introduced a legal obligation on schools to deliver independent and impartial careers advice for all pupils up to 18. This replaces the previous system which was patchy, costly and often of poor quality.
"The National Careers Service provides a high quality helpline and webchat service which has been used over 67,000 times in its first year alone, and a website which has attracted seven million visits. 'The website offers a free call back service and there is also a smartphone app coming soon.
"We have issued guidance to schools and colleges to help them fulfil this new obligation and Ofsted has said it will prioritise the inspection of careers guidance."