Mike Hollings, 24, from Rossett, Wrexham, is an undergraduate apprentice with aircraft manufacturer Airbus at their plant in Broughton, north Wales. He's about to embark on the third year of his apprenticeship which will lead to a BEng degree in aeronautical engineering.
If I'd listened to my teachers at school, I would have avoided apprenticeships at all costs. I've always wanted to be an engineer but the advice given at parents' evenings was that I must go to university to do it. They were wrong.
Living locally to Broughton, I always knew Airbus was there and I'd always heard good things about them as an employer. They were offering a new apprenticeship which allowed me to get paid and also get a degree which I'd always planned to do anyway.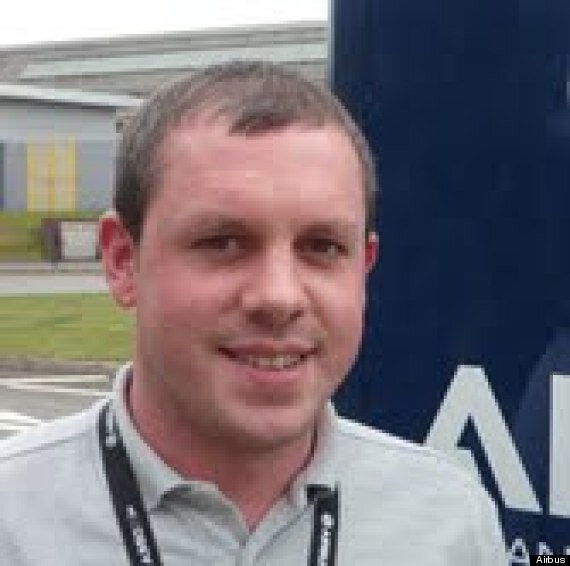 Mike will end up with a degree in aeronautical engineering
The undergraduate apprenticeship with Airbus is a different experience to university. I'll still have a degree after three years, but I'll have been sponsored by the company and I will also have worked in the company and applied my knowledge in real situations.
It's not typical student life as I arrive into work at 7.45 in the morning, attend our start of shift meeting when we all find out about any issues that may affect what we do during the day before getting stuck into proper work. Apprentices go on placements within Airbus so we experience a mix of office and shop floor based work, but everything we do makes a contribution to the business. We're all very much part of the team and I enjoy doing my bit for the company's success.
In work I have a mentor who gives me tasks and is available to provide advice on solving any problems I encounter. My mentor also helps me find the right people, which is a great help in a company with 60,000 employees! Mondays are different because that's my university day, which includes lectures and study time.
But every degree involves study so I also work at home during my free time. It's hard work but I know it'll be worth it.
It was a great feeling knowing that I'd obtained my foundation degree and passed my bridging course which allowed me to progress onto the BEng. You really see the progression on an apprenticeship, and I hope that I'll be able to continue with Airbus once I graduate and eventually work my way up the organisation.
There are lots of myths about apprenticeships. Poor pay is the main one but by getting my degree through my apprenticeship, I've avoided tuition fees, I'm able to run a car and go on a holiday every year without racking up huge debts.
The first time I stepped into one of the factories on the Airbus site, I was surprised at how clean and well organised it was. We're not told about this in school but really we should have been.
So my advice to anyone looking at their career options is to consider the possibilities apprenticeships can offer. If I'd listened to the advice I was given, I'd probably be at university now and worrying about getting a job after my graduation. By choosing this career path, I feel far better equipped to take my career wherever I want it to go.