The poignant and heartbreaking last recorded words of thousands of Britain's fallen heroes from WW1 are to be made available online.
Her Majesty's Court and Tribunal Service (HMCTS) has worked with Iron Mountain to digitise its historic archive of 230,000 WW1 wills, written by soldiers as they headed to the Western Front.
In the first month of WW1, the British Government asked for 100,000 volunteers to step forward. The call up for what was to prove one of the bloodiest conflicts in modern history was answered by 750,000 volunteers.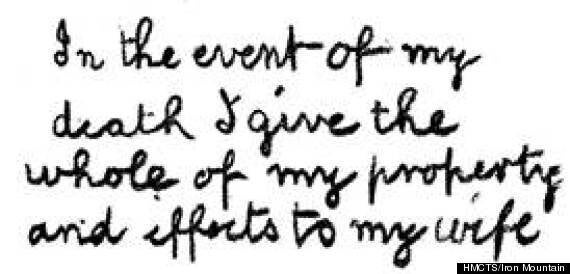 Before departing for the frontline, servicemen completed a personal, often hand-written will to keep in the pocket service book which was tucked into their uniform.
More than half of the soldiers would be wounded and one in four destined for the Western Front would not return home.
The precious documents were key to ensuring that the soldiers' estates were administered in accordance with their last wishes, should the unthinkable happen.
Dearest Mother

Just a few lines to let you know how I am getting on hoping this finds you well as I am in the best. I dare say that this will be the last letter you will receive from me until the war is over as I am prepared to move to the front at any moment and I am only sorry that I did not see you all before I went, but then mother dear, do not lose heart I may come back again.
The unnamed soldier died "of wounds" on 14th October 1914.
Story continues after slideshow...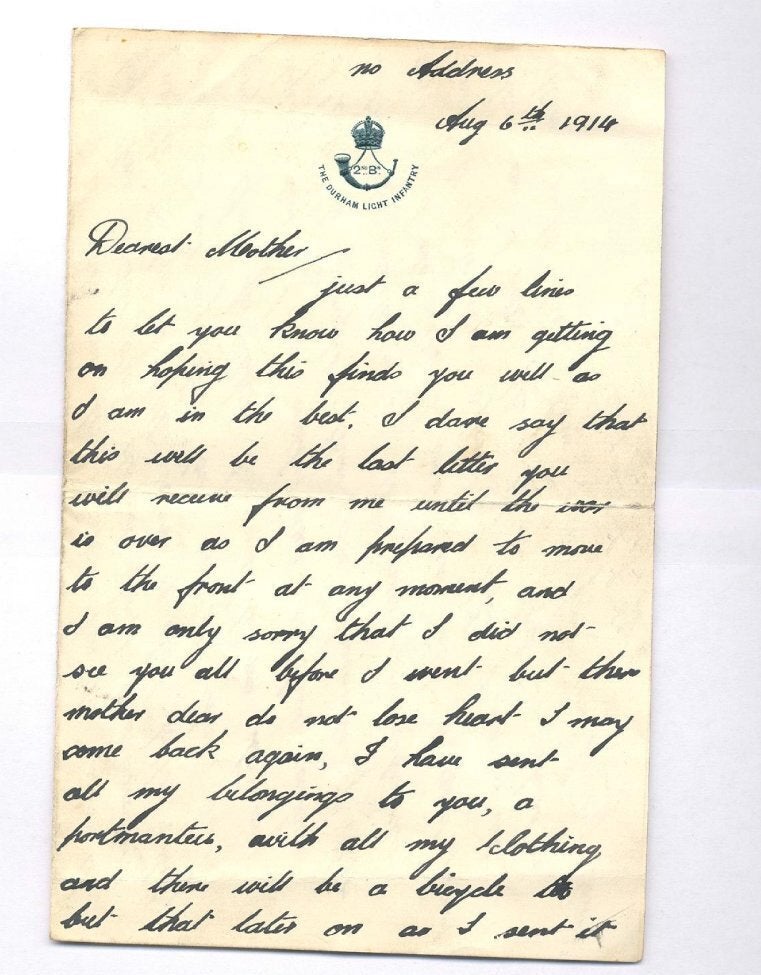 If I never come home again I leave the boy in your charge and I know you will do your best to him. I have to make out my will this afternoon. I shall make it out to you everything of what I possess.

If I get killed in active service there will be a medal for me somewhere and I hope you will try and get it and keep it for the boy to wear when he grows up.
The WW1 wills form just part of the huge archive of 41 million wills preserved by Iron Mountain on behalf of HMCTS. The wills are being made available online in time for next year's centenary of the Great War as part of a larger project to digitise all war wills dating from the Boer War to the Falklands.
The wills of English and Welsh soldiers who fought and died in the Great War will be digitised and made available through an online portal, enabling members of the public to request copies of the documents easily.
John Apthorpe, Director of Business Services at Iron Mountain said: "The archive is not only a valuable source of information for historians, it gives the general public, here and overseas, the chance to get closer to their lost ancestors.
"The original paper records are preserved for future generations in a secure, temperature-controlled environment.
"We have scanned everything contained in the pocket books so that people will be able to see the soldiers' wills along with any personal messages that the wills may contain. For many of the soldiers, these were the last words they sent home."