Arsène Wenger has risked further antagonising frustrated Arsenal fans by saying he intends to play unpopular striker Nicklas Bendtner.
Bendtner, 25, has not played for Arsenal since August 2011 and was loaned out to Sunderland for the 2011-12 season before a disastrous spell at Juventus in 2012-13.
Wenger has shown interest in signing Gonzalo Higuaín, Wayne Rooney and Luis Suárez this summer but, having not spent any money on signings, has admitted Bendtner could return to the Gunners first-team.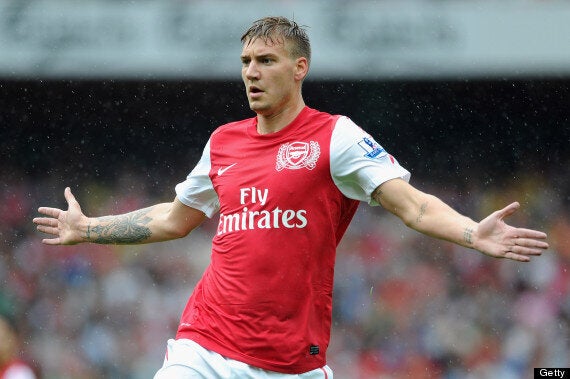 "The chance for him [Bendtner] to leave now is very small," Wenger said at his Friday press conference. "If he comes back well and gets fit, I will use him."
Wenger's candour comes a day after Mathieu Flamini, who left the club five years ago, re-signed for Arsenal having been released by AC Milan. Both he and Bendtner were a part of Arsenal's creditable 2007-08 Premier League title assault.
Bendtner has not scored in club football since April 2012 and the Denmark international even declared in September 2011: "I will never go back to Arsenal… If I can have it my way, I will never play for them again"
He signed a long-term deal along with midfielder Denilson in 2009, but the duo have come to symbolise Arsenal's supposed lack of ambition.
Wenger opted against signing Liverpool's Xabi Alonso in 2008 out of the fear it would "kill" Denilson's progress.