Gareth Bale was finally unveiled at the Bernabéu Stadium earlier and is officially a Real Madrid player. Gareth Bale, his relatives, and Real Madrid President Florentino Perez pose during his official presentation at the Santiago Bernabeu stadium in Madrid
The Welsh winger finally completed his record-breaking £85.3 million transfer after months of speculation.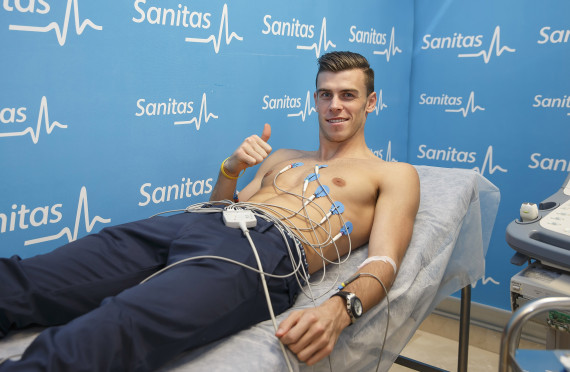 Gareth Bale undergoes his medical at Real Madrid on Monday morning
Bale took to Twitter earlier to thank the Tottenham fans 'To all the Spurs fans, your support the last 6 years has been incredible and I'll never forget it, thank you #COYS'.
The former Spurs man also said 'I know many players talk of their desire to join the club of their boyhood dreams, but I can honestly say, this is my dream come true.'
Gareth Bale was introduced by Real Madrid president Florentino Perez, who then posed with the Welshman as he appeared with his new Real jersey.
He was then joined under the glare of the world's media by his family, including his partner and their young daughter. Real Madrid's new £85.3m signing has been presented to the fans
The new Madrid winger took the microphone saying 'I just want to say that it is amazing to be here. I hope I can help bring success to the club and that we can win the club's 10th European Cup this season.' he then proceeded to confidently speaking in spanish to the press.
'I just want to try a few words in Spanish. 'Hello. It is a dream to be here in Madrid.' Thank you for this welcome.'
The presentation at the Bernabéu finally brings to an end the most protracted transfer saga of the summer.