Lady Gaga had a hell of a lot to prove to her critics as she took to the stage at Camden's Roundhouse for her big comeback gig at the iTunes Festival in London on Sunday night.
After months out of the spotlight recovering from a broken hip, it feels like we've all become a bit indifferent to the the once adored Mother Monster, with her new single 'Applause' receiving a lukewarm reception and failing to set the charts alight on either side of the pond.
But undeterred, Gaga made the bold decision to dedicate her entire 70-minute set to showcasing eight new tracks from upcoming album 'ARTPOP', as she kicked off a month of live music at the London venue.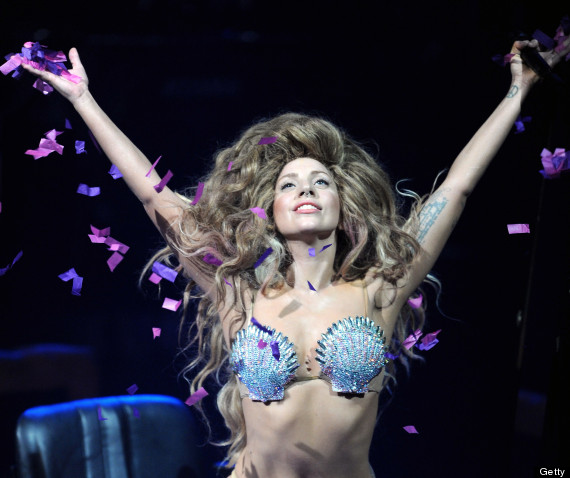 Lady Gaga kicked off the iTunes Festival on Sunday night
Arriving onstage a fashionable 26 minutes late, Gaga opened with previously leaked track 'Aura', which sounded more pulsating and crazed than the unfinished demo.
"Do you wanna see me naked, lover?/Do you wanna peek underneath the cover?/Do you wanna see the girl who lives behind the aura, behind the aura?" she belted out from a cage suspended above the audience, her lyrics setting the tone for the rest of her set.
Themes of transformation, evolution and stripping back seem to be the backbone of her new album campaign, with many of Gaga's seven costume changes actually taking place on stage, giving fans a glimpse of how Stefani Germanotta creates the mystique of Lady Gaga.
"This is my real hair," she said, taking off a mass of tumbling blonde curls to reveal a cute, jet black bob.
"I used wigs for a long time to become different people… when I didn't feel strong enough to be me.
"In order to grow, I knew I had to show you what's underneath all the theatre, so here I am."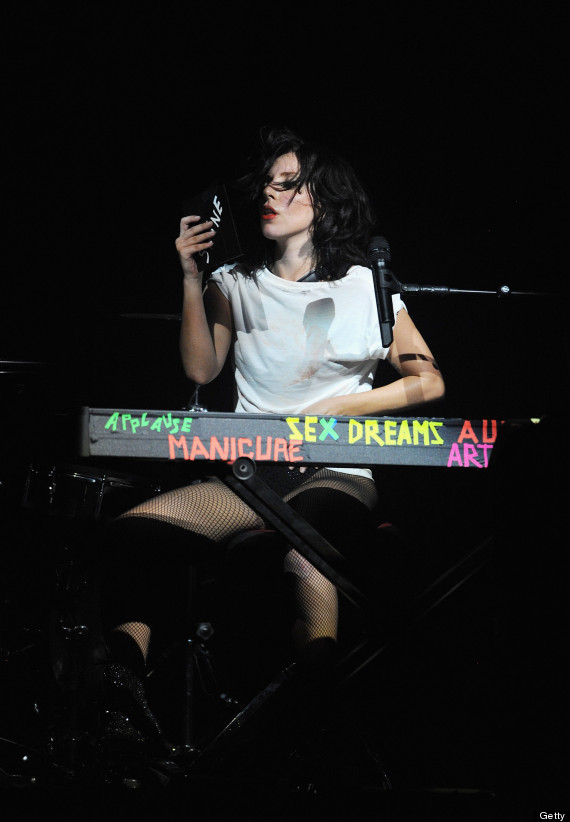 Gaga strips back to reveal her natural self
Seeing the Lady stripped of her Gaga-ness, was by no means the most shocking event of the night though. Nor was it some of the questionable lines to the bass thumping 'Swine' ("You're just a pig inside a human body/Squealer, squealer, squeal out, you're so disgusting") - the real-jaw dropper came in the shape of hip-hop track 'Jewels And Drugs'.
Yes, Gaga has gone all urbz with a grimy hip-hop number, performed with the help of rappers Too $hort and Twista. The verdict's still out on that one.
It was title track 'ARTPOP' - a mid-tempo electro number - which showed the most promise on stage, with its tinges of tropicality.
Elsewhere, 'I Wanna Be With You' sparked a genuinely emotional moment, as Gaga broke down at her piano explaining how she wrote it while suffering in pain with her hip, while knowing that she would have to cancel the remainder of her Born This Way Ball tour. She proclaimed the ballad was "for you fans", as she wiped away her tears.
'MANiCURE' also impressed as Lady G revealed her rockier edge, while 'Sex Dreams' made 2009's 'LoveGame' with its disco stick look like a nursery rhyme, as she delivered its racy and oh-so-Gaga lyrics.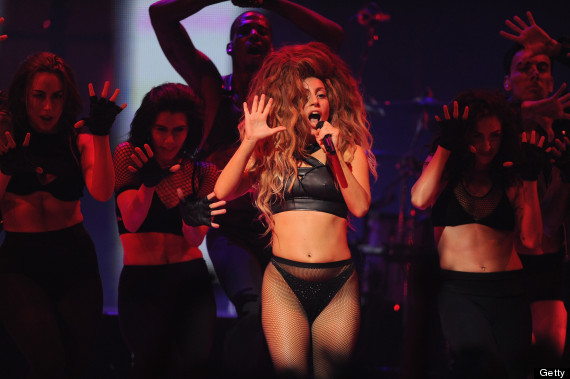 Lady Gaga performs 'Sex Dreams'
However, nothing performed seemed to possess the instantaneous anthemic-ness of previous smashes 'Poker Face' or 'Bad Romance', with only lead single 'Applause' coming close. While it ended the show to a rapturous response, we were still left yearning for the 'Fame Monster' days of old.
That said, what became clear as we piled out of a very sweaty Roundhouse is that Lady Gaga has evolved. No longer is she concerned with making straight-up pop hits - she wants to push its boundaries by mixing it with her own bonkers blend of art and culture, not seeming to care what effect it has on her commerciality. Sure, her army of hardcore Little Monsters will lap it up, we just hope she doesn't alienate too many of her other fans in the process, else 'Applause' could be the highest charting hit she has for a while.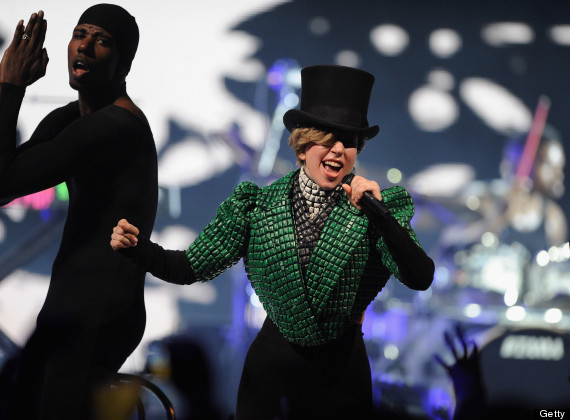 Worthy of Applause: Lady Gaga closes the show
Full set list:
'Aura'
'MANiCURE'
'ARTPOP'
'Jewels And Drugs'
'Sex Dreams'
'Swine'
'I Wanna Be With You'
'Applause'
LIKE US ON FACEBOOK | FOLLOW US ON TWITTER