We've got a confession here on HuffPost UK Lifestyle. We're just not the type of woman proving so popular at the moment - you know the type, likes baking (a LOT), stitches their own bunting and makes their own cordial.
So it seems like fate that we've got the chance to chat to a woman who also hates being pigeonholed even more than we do, meet our latest food crush: Gizzi Erskine.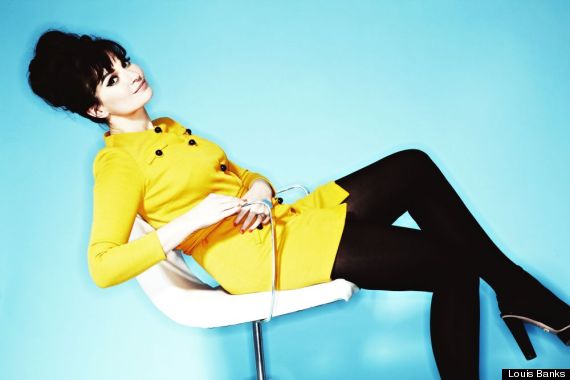 We knew it was love the moment we read a quote of hers in The Guardian: "If I turn on the telly and see another twee girl making cupcakes, I'm going to jump out of the window. It bores me; everything is very safe. You will never see me cooking to camera, really sweet and lovely, because it's just not me. I want to do the boys' stuff."
That 33-year-old Gizzi isn't quite like other female chefs at the moment is evident from the front cover of her latest cookbook, Skinny Weeks And Weekend Feasts. Rather than posing sexily with a slab of butter, there she is with her 60s beehive and a giant tattoo of angel wings on her back (that took 24 hours to ink).
The professional TV chef and author has been busy, having just cheffed at the ever-popular Street Feast event in Hackney and will be appearing at the Liverpool Food Festival this weekend. Her food pedigree is solid if eclectic: she dropped out of school, became a body piercer and then trained at Leith's professionally.
Ever since she appeared on Channel 4's Cook Yourself Thin, she's been somewhat of a go-to for healthy but delicious meals. By her own admission she has the propensity to '"eat like a pig" but since she clearly looks fabulous, we wanted to know what her secret was.
We all have that painful moment when we realise we can't eat as much as we used to – what was yours?
The beginning of last year, I had an epiphany. I'm a pig, I'm a big eater. Because I never had to worry about my weight, last year, when I was filming, due to boredom, long days and exhaustion, I started to eat like a beast and wasn't exercising. I was tired, so I would eat loads of carbs by saying :'Well, I need the energy'. That was my excuse.
One day I went on the scales and was shocked - I had put on two stone, and it had happened very slowly so that at first, I didn't even notice. In the end I started exercising but it didn't show results as quickly as it did before. What could I do? I cooked really well in the week, healthy food, and then if I was working and couldn't work out, I would eat half the volume of what I normally would. It made all the difference.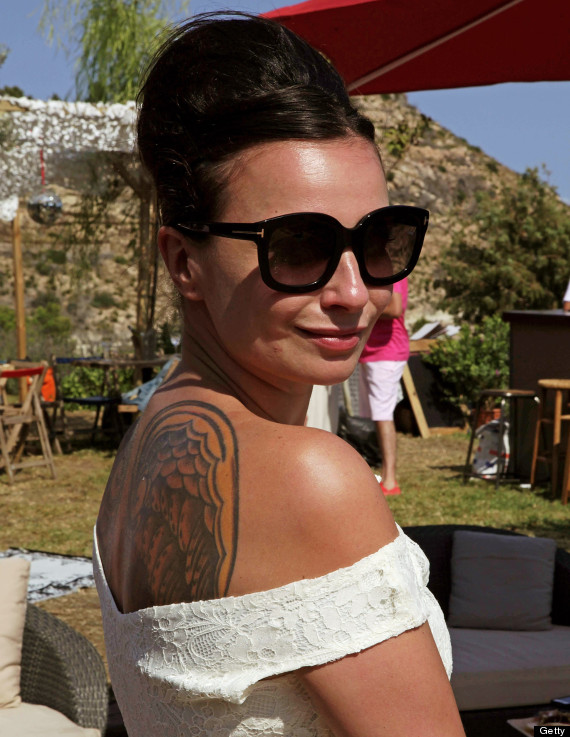 I then found some information that said that bodybuilders were giving themselves days off in the week. You know, one day where they pig out. And by giving themselves that one day off, it gave them the ability to pursue a strict diet the rest of the time.
What if you're really busy at work and don't have time?
It's all about organisation. We have great online supermarkets –so even if you can't physically get to the shops, you can always be prepare. When it comes to indulgence, just eat half of a naughty thing. Have a delivery made at your door so you can cook with healthy ingredients. If you cook too much, share things out with your friend. If you're having a burger, maybe don't have the fries.
What is the biggest thing that is holding us back from eating healthily?
I feel like it's to do with supermarkets. The fact is that someone on a low income budget doesn't have good options especially if they are trying to work at the same time. They are trying to fit everything in, and the reality is that you can buy a whole load of unhealthy, frozen fast food really cheaply.
I wish it wasn't like this, but we have to be realistic – the majority of people want shortcuts. I want to inspire people to change the way they look at what they are eating. I feel the west is so used to eating a certain volume of carb and protein ratio. In the east,it's completely different. It's about how you make little protein go a long way and how you use vegetables.
Chef Bruno Loubet shows how you can get protein from a lot of things. I wanted to show how in Korea, they use 150g of minced beef that can serve four people. They have a ton of veg and it makes for a very low calorie dinner. That's how they eat. I think we have access to all this food, and we need to rethink as a culture. We also eat way too many carbs – having a sandwich might be easy for a lunch option but you eat double the amount of carbs than you need.
Nigella is all about indulgence – why did you decide to hone in on the healthy angle?
I hate being pigeonholed! I think I'm an expert in world ingredients. Healthy is what I eat naturally and people in the rest of the world are so much savvier about eating healthily.
Female chefs you admire?
Angela Hartnett – without a doubt – she's a great friend and supporter. She has taught me to love the simplicity of the ingredients – she just gets on with it. Also, there are these two amazing pastry chefs, The Meringue Girls and they are so inspiring. They are proper go-getters and they have only been up and running for a year.
The foodie world can be full of pompous twats – have you come across them?
I've always found it difficult because I have an image that people don't always get. I've been into rock and roll since I was 15 – I love music. I don't wear my hair down often and I struggle with people who think the way I look and dress is a gimmick but it isn't. It may have something to do with leaving school, but I wanted to prove myself to these people and it's happening now.
What did you want to be when you were a kid? Ever thought you'd be a telly chef?
My mum used us like little slaves in the kitchen – helping her with pastry, chopping up vegetables – we've always worked in the kitchen. My epiphany was when we were in Thailand and I saw the food markets. I would always eat everything. I knew how much my mum loved food – it was our bonding thing.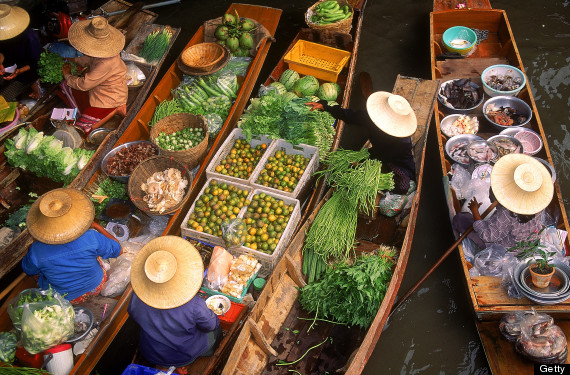 Thailand food markets
Then suddenly you start feeding people - I fed my sister when she was ill – and the praise and gratitude is just great for your ego! Cooking for people is amazing because it's both about giving something back and, I am greedy.
Best hangover food?
Eggs – I'm obsessed with them. Followed by a can of coke, two Nurofen and a Bloody Mary .
Any advice for the women who say they are 'too busy' to cook?
Just have one or two dishes that are emergency dishes. For me, I fry two eggs, cook some broccoli, a tiny portion of rice, Sriracha chilli and some soy sauce. It's low cal, takes five minutes and these are ingredients I always have in the fridge.
Or make a vat of good nourishing stew. Whip out.
Is cooking relaxing or cathartic for you?
When I'm at home, I enjoy it, cooking at work, it's stressful only because service is hectic. But, I love it – it's cathartic.
How do you like to relax?
Eating, drinking red wine and Bloody Mary's while sitting in the sun. I love B movies and horror movies.
Gizzi is appearing at the Liverpool Food and Drink Festival (7-8th September). Buy tickets online.